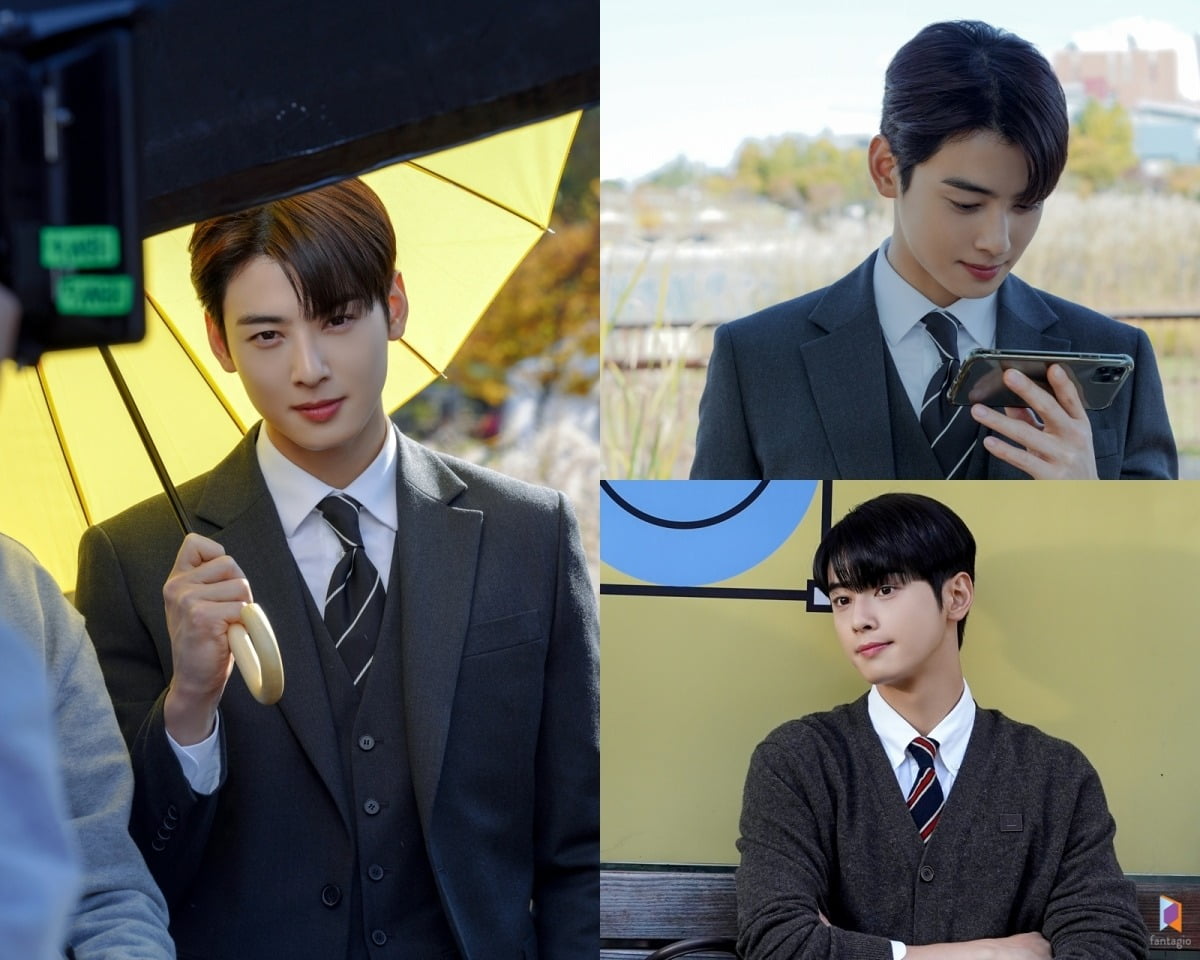 Cha Eun-woo from 'I'm Lovely Dog Today' is attracting attention with his high synchronization with the character in the drama.
On the 9th, agency Fantagio released an on-set cut of Cha Eun-woo, who is playing the role of 'Jin Seo-won', a math teacher at Garam High School with an 'outside and inside' charm, in the MBC Wednesday drama 'Lovely Dog Again'.
In the released photo, Cha Eun-woo is rehearsing the ending umbrella scene of episode 3. He smiles softly and gazes somewhere, making us guess that Han Hae-na (played by Park Gyu-young) is at the end of his gaze, and at the same time, it evokes excitement by recalling the scene where Jin Seo-won appears with a yellow umbrella.
In another photo, Cha Eun-woo is monitoring and showing a very serious side. His efforts to show a high level of synchronization with the character and his passion for acting are clearly felt, which catches the eye. He is then taking a break on the scene in a comfortable position with a somewhat mischievous smile. Cha Eun-woo, who has completely immersed himself in his character, from rehearsing to taking a break, raises expectations about what he will show in the future.
In this way, Cha Eun-woo is perfectly portraying the character of a cool-headed but kind teacher with an unexpected charm who is afraid of dogs. In addition, he is spreading excitement to the small screen in the direction of Seowon's heart, which becomes deeper as the episode progresses, making viewers 'addict'. As curiosity grows about how the relationship between Seowon and Hae-na will change in the future, Seowon's tears and crisis are predicted in the preview for episode 5, amplifying curiosity about the story further.
MBC's Wednesday drama 'Lovely Dog Again' airs every Wednesday at 9 p.m.
Ten Asia Reporter Kim Seo-yoon seogugu@tenasia.co.kr