ENTERTAINMENT
'Kidnapping Day' ended with its highest viewership rating of 5.2%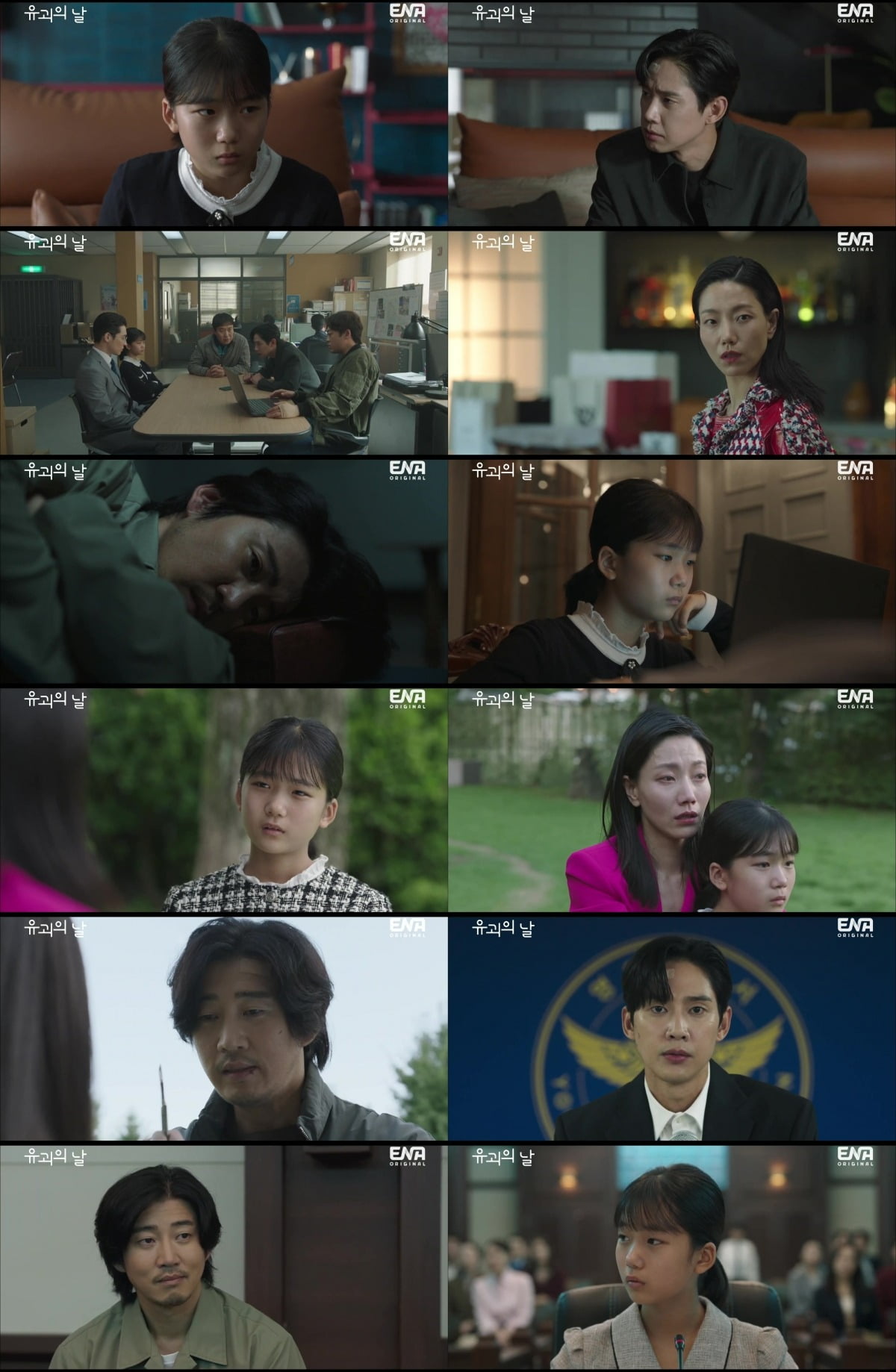 'Kidnapping Day' left a lasting impression until the end with warm laughter and emotion.
ENA's Wednesday-Thursday drama 'Kidnapping Day' ended with favorable reviews after episode 12, which aired on the 25th. The final episode's viewership rating was its highest, 5.2% nationwide and 5.5% in the metropolitan area (Nielsen Korea, based on paid households), ranking first across all general and cable channels. Amid the enthusiastic response, the highest viewership rating per minute exceeded 7.1%, and the 2049 viewership rating was 2.2%, ranking first among ENA dramas aired in 2023, achieving the highest average household viewership rating.
On this day, the entire truth about Choi Jin-tae's (Jeon Kwang-jin) murder case, which left behind many mysteries, was revealed. After Myung-jun (played by Yoon Kye-sang) was arrested by the police, Ro-hee (played by Yuna), with the help of Sang-yoon (played by Park Sang-hoon) and other police officers, set a trap to catch Hye-eun (played by Kim Shin-rok), the prime murder suspect. As planned, Ro-hee made Hye-eun come to him on her own, and the thrilling game of truth between the two unfolded under the watchful eyes of the police, including Myeong-jun and Sang-yoon, leaving viewers holding their breath.
Ro-hee accepted the reality that she had no choice but to break up with Myeong-jun, and the first thing she did was use the power of her great-uncle Dong-jun Choi (played by Man-seok Oh) to free Sang-yoon. And he summoned Sang-yoon and Taek-gyun (Woo Ji-hyun), trustworthy adults, to fill the void left by Myung-jun. He suggested restarting the investigation into the murder case, saying a bigger issue was needed to quell public opinion critical of Myung-jun.
May 20th, which disappeared from Rohee's memory, was the day Director Choi was murdered. Based on their memories of the day they returned, detectives at Yeongin Police Station re-checked the black box video of the car in front of the house that day. And not only was the person who entered the house different from the person who came out, but also the gender changed from male to female. Although all the circumstances pointed to Hye-eun as the real culprit, Sang-yoon and Ro-hee were in no hurry and gradually suppressed him through the media.
Rohee's prediction was not wrong: "Because he believes he is smart, if he knows that all the arrows are pointing at him, he will probably come to attack me head on." Hye-eun was contacted by Ro-hee and entered the mansion of Choi Dong-eok (played by Kim Seong-gon), who had nightmare-like memories from her childhood. Finally, Ro-hee and Hye-eun's private meeting began, and the two walked a precarious tightrope between truth and lies. Ro-hee penetrated Hye-eun's psychology and continued to conduct guided interrogations based on her feelings.
Hye-eun, who was hiding her anxious feelings for a moment with a poker face, explained the reason for using Myeong-jun, saying that he should pay the price since he took the pain that was Myeong-jun's share. And Ro-hee and Choi Jin-tae took away everything he should have enjoyed, and Myeong-jun and Hee-ae (played by Choi Eun-woo) went on a rampage, saying they were trying to take it away from him as well. In the end, Hye-eun, who was caught in Ro-hee's trap, revealed through her own mouth the fact that she killed Choi Jin-tae.
Rohee attended Myeongjun's trial. While reading the statement prepared for Myung-jun's sentence reduction, Ro-hee's question, "How can we free that man?" made the viewers cry. Although Myeong-jun must be punished for the crime of kidnapping, to Ro-hee he was never a scary kidnapper. Rohee's sincere confession that "the time I was with my uncle was a special time for me" and "the time when my uncle kidnapped me was the most free time for me" was heartbreaking.
At the end of the broadcast, Rohee was shown going to school with Myeongjun's daughter Heeae. The sight of the two people as if they were real sisters brought out a warm smile, while also cheering for the change of Rohee, who was able to meet a precious daily life because it was natural for her to be the 'ordinary 11-year-old' that Myeongjun had hoped for. It was a happy ending, foreshadowing the future of Myung-jun and Ro-hee, who announced the birth of a new family at the beginning, not the end.
Ten Asia Reporter Kim Seo-yoon seogugu@tenasia.co.kr