ENTERTAINMENT
Hyun Jin-young received his high school diploma after 33 years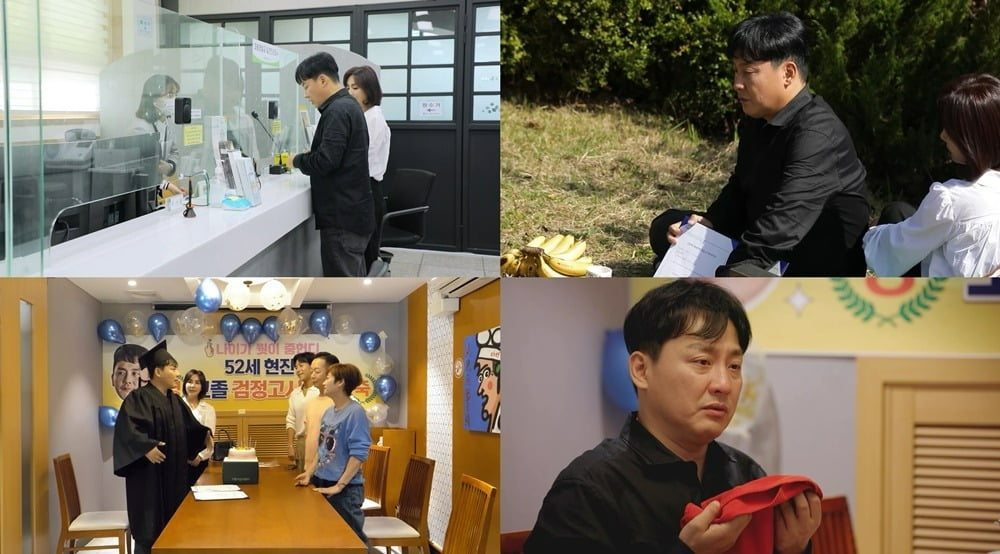 'Housekeeper' Hyun Jin-young cries.
In KBS 2TV's 'Men Who Do Housework Season 2' (hereinafter referred to as 'Salimnam'), which will be aired on the 28th, Hyun Jin-young is shown enjoying the joy of passing the high school qualification exam.
Hyun Jin-young, who was angry at the negative comments that he had not learned before and attempted to take the high school qualification examination, passed the qualification examination like a miracle, contrary to everyone's concerns. Hyun Jin-young heads to the Office of Education with a majestic appearance to receive his certificate of acceptance, and makes people laugh by making a joke with the comment, "I've been to the Prosecutor's Office before, but this is my first time at the Office of Education?"
Hyun Jin-young said, "There is someone I really want to brag about. It means more than any other award," and as soon as he received the certificate, he headed to his mother's grave. Hyun Jin-young, who boasted of his passing certificate to his mother who wanted her son to study rather than music when he was alive, saying, "I brought you a big gift today. Please praise me," shed tears as he confessed, "I alleviated my mother's resentment too late." After fighting cancer for eight years, Hyun Jin-young confesses his true feelings in front of his mother, who passed away when he was 14, breaking everyone's hearts.
Meanwhile, to celebrate Hyun Jin-young's passing the qualification exam, another family, Kim Hak-rae and Lim Mi-sook, and their son Kim Dong-young prepare a party. For Hyun Jin-young, who has never attended a proper graduation ceremony before, he enjoys the joy of passing by holding a graduation cap presentation ceremony, graduation certificate presentation ceremony, and a congratulatory performance.
Next, Hyun Jin-young, who was reminiscing about his school days while eating Jjajangmyeon, a must-have at graduation ceremonies, told the sad story of his mother who passed away without being able to close her eyes. Lim Mi-sook also confessed the story of not being able to properly take care of her son, who was studying abroad in Russia due to severe panic disorder in the past. , Hyun Jin-young wiped away tears, saying that he would understand his mother's feelings.
The scene of Hyun Jin-young's GED passing party full of laughter and emotion, who earned the title of high school graduate after 33 years, will be revealed on KBS 2TV's 'Salimnam', which airs at 9:25 pm on the 28th.
Ten Asia Reporter Kim Seo-yoon seogugu@tenasia.co.kr