ENTERTAINMENT
'Somehow I'm the Boss 3', 6% from the first room, 'a good start'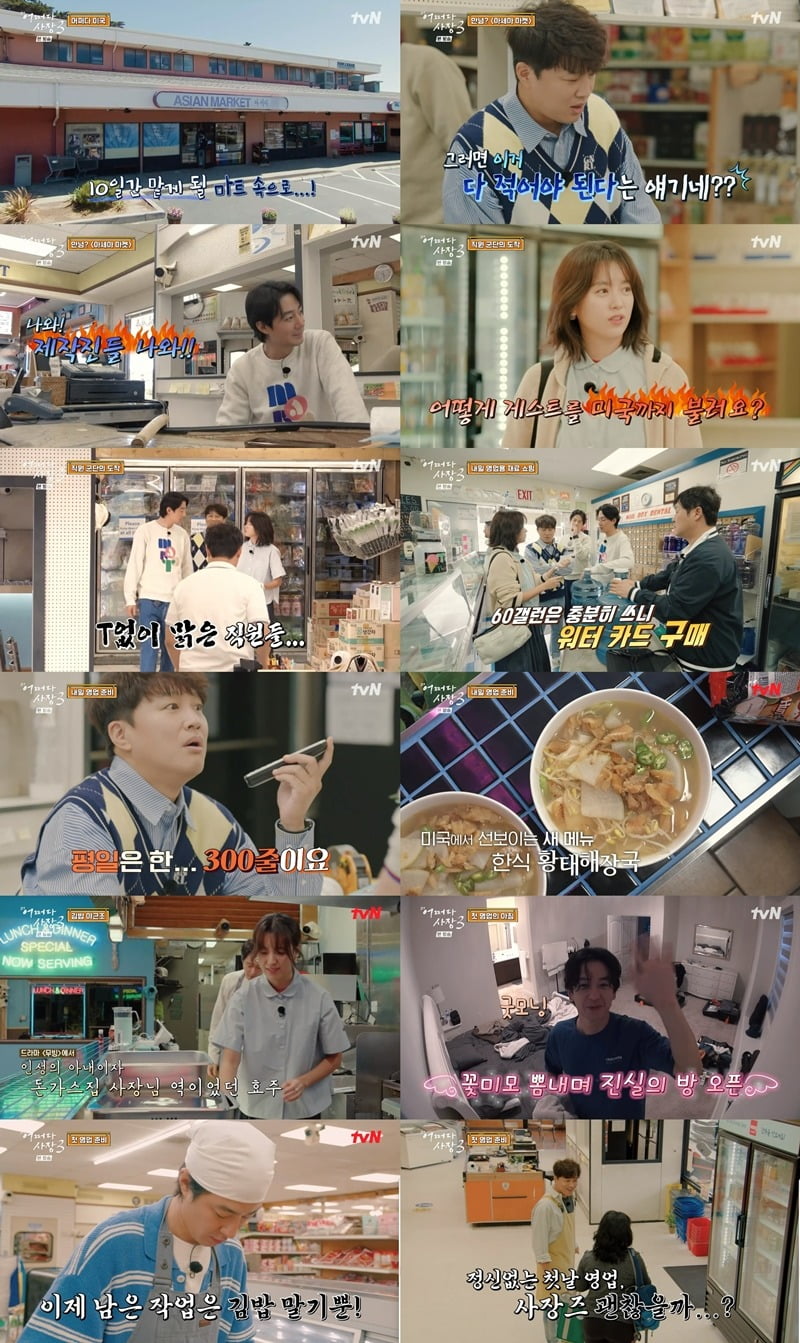 Cha Tae-hyun and Jo In-seong, who entered the U.S. market through tvN's 'Extraordinary Boss 3', announced the start of their first overseas sales season.
The remarkable growth of 'Presidents' in their third year and the warm best friend chemistry of 'Albaz' Han Hyo-joo, Yoon Kyeong-ho, and Lim Joo-hwan, who crossed the Pacific for them, have raised expectations for what kind of fun, healing, and emotion it will provide in the future.
Viewer reaction to this was enthusiastic. The viewership rating for the first episode was 6.4% on average for households in the metropolitan area, with a peak of 8.4%, and an average of 6.0% for households nationwide, with a peak of 7.7%, ranking first in the same time slot including cable and general programming channels. tvN's target audience rating for men and women in their 20s and 49s was an average of 3.2% in the metropolitan area, a peak of 4.1%, and a national average of 3.0%, with a peak of 3.9%, making a good start by taking first place on all channels, including cable and comprehensive channels. (Based on paid platforms such as cable and satellite / Provided by Nielsen Korea)
In tvN's 'How To Be President 3' (directed by Ryu Ho-jin and Yoon In-hoe), which first aired at 8:45 pm on Thursday the 26th, CEOs Cha Tae-hyun and Jo In-seong, who happened to run an American Korean supermarket for 10 days, and 'experienced part-timers' Han Hyo-joo and Lim Joo-hwan. , Yoon Kyung-ho's appearance was revealed.
'Asia Market' located in Marina City, California, USA. Cha Tae-hyun and Jo In-seong were surprised by the enormous scale of the Asia Market, reminiscent of Naju Gongsan Mart, and when they saw the checkout counter without a barcode reader, their pupils dilated at the analog operating method that seemed to return to the days of Hwacheon Woncheon Sanghoe. When Jo In-seong found a sickle at the checkout counter, he took the sickle and called the production crew.
The CEOs received a letter from Producer Ho-Jin Yoo leaving a message for the Asian market 'Jin CEO'. President Kim, who started his first business 23 years ago, wrote down the supermarket operation manual in a letter every day from opening at 8:30 in the morning to closing at 8:30 at night.
More than anything else, Sangjangz was distracted by the sales of kimbap, which surpassed that of communist meat. To make matters worse, Jo In-seong realized that there were no Cheongyang peppers in the United States while talking on the phone with his client, the CEO of Vegetables, and fell into a 'mental breakdown.' At this time, a customer for kimbap came in. Cha Tae-hyun provided free kimbap prepared by President Kim and even promoted the restaurant while he was away, showing off the 'CEO mindset'.
When the reinforcements Han Hyo-joo, Lim Ju-hwan, and Yoon Kyung-ho entered the mart, the boss welcomed them warmly. When Han Hyo-joo was surprised by the kimbap and Lim Joo-hwan and Yoon Kyung-ho were surprised by the price tag, Jo In-seong apologized, saying, "I'm sorry." Cha Tae-hyun and Jo In-seong tried to force Albaz, who appeared on the show for only 8 minutes, to sign a contract by saying, "I can't go (to Korea)," making them regular appearances, drawing laughter.
As experienced workers, they began to distribute work in earnest. Han Hyo-joo was in charge of the counter and interpretation, Lim Ju-hwan was in charge of the kitchen, and Yoon Kyeong-ho became the restaurant's main bartender. Jo In-seong's new menu was also revealed. It was dried pollack hangover soup with excellent spicy taste. Sasangz and Albaz went out to buy ingredients to prepare for the opening. Uncharacteristically, Jo In-seong made a stuttering laugh from starting the electric car.
The water in Monterey, where Asia Market is located, has a lot of lime, so there was a 'water store' selling drinking water, which attracted attention. After successfully completing the purchase of drinking water thanks to Han Hyo-joo, who is skilled in language, Jo In-seong made people laugh by instructing them, "Now just quietly take away (Hyo-joo)'s passport." Those who went to another supermarket to buy jalapenos for pollack hangover soup also bought peppers to replace Cheongyang peppers.
After returning to the Asia Market, Sasangz and Albaz began diligently preparing the ingredients for kimbap. Everyone despaired when they heard from CEO Kim that 300 rolls of kimbap were sold on weekdays alone, but they couldn't just despair. Everyone watched the kimbap recipe video step by step, shredded carrots, and boiled fish cakes. Han Hyo-joo made meat pancakes and bulgogi to eat with the employees.
Jo In-seong's signature snow crab ramen also faced a crisis due to giant clams, but by adding water, delicious ramen was completed. Both Sasangz and Albaz quickly finished their first meal in the United States and started working overtime as if they had promised. Jo In-seong and Han Hyo-joo created a heartwarming two-shot as a couple moment in the Disney+ drama 'Moving' while cleaning up the kitchen.
Boss and Albaz, who had barely finished preparing for the opening, were on their way home from work. The men, except Han Hyo-joo, went to sleep at President Kim's house. The next day, at 5:30 a.m. on the first day of business, they went to work at the supermarket, breathing in the cool American morning air. There are about 30 minutes left until the opening, but Sasangz and Albaz are still confused. On the first day of business, anticipation and excitement surge as to what will happen to them.
On this day's broadcast, the owner, who runs a Korean supermarket for 10 days in an unfamiliar land, the United States, is embarrassed by the new environment to which he is still not accustomed, but takes responsibility and immediately begins preparations for opening in order not to cause inconvenience to the owner and the local people who have cherished the place. Growth was depicted.
Albaz, an experienced worker, also found and carried out his duties based on his previous experience, and created a warm atmosphere with his 'true friend' chemistry with the boss. The story of Sasangz and Albaz's adaptation to the Korean market in the U.S. and the stories that K-stars will share with American locals is raising expectations.
Cha Tae-hyun
Ten Asia Reporter Kim Seo-yoon seogugu@tenasia.co.kr