ENTERTAINMENT
Actor Eom Ki-jun, madness and laughter ending that caused viewer confusion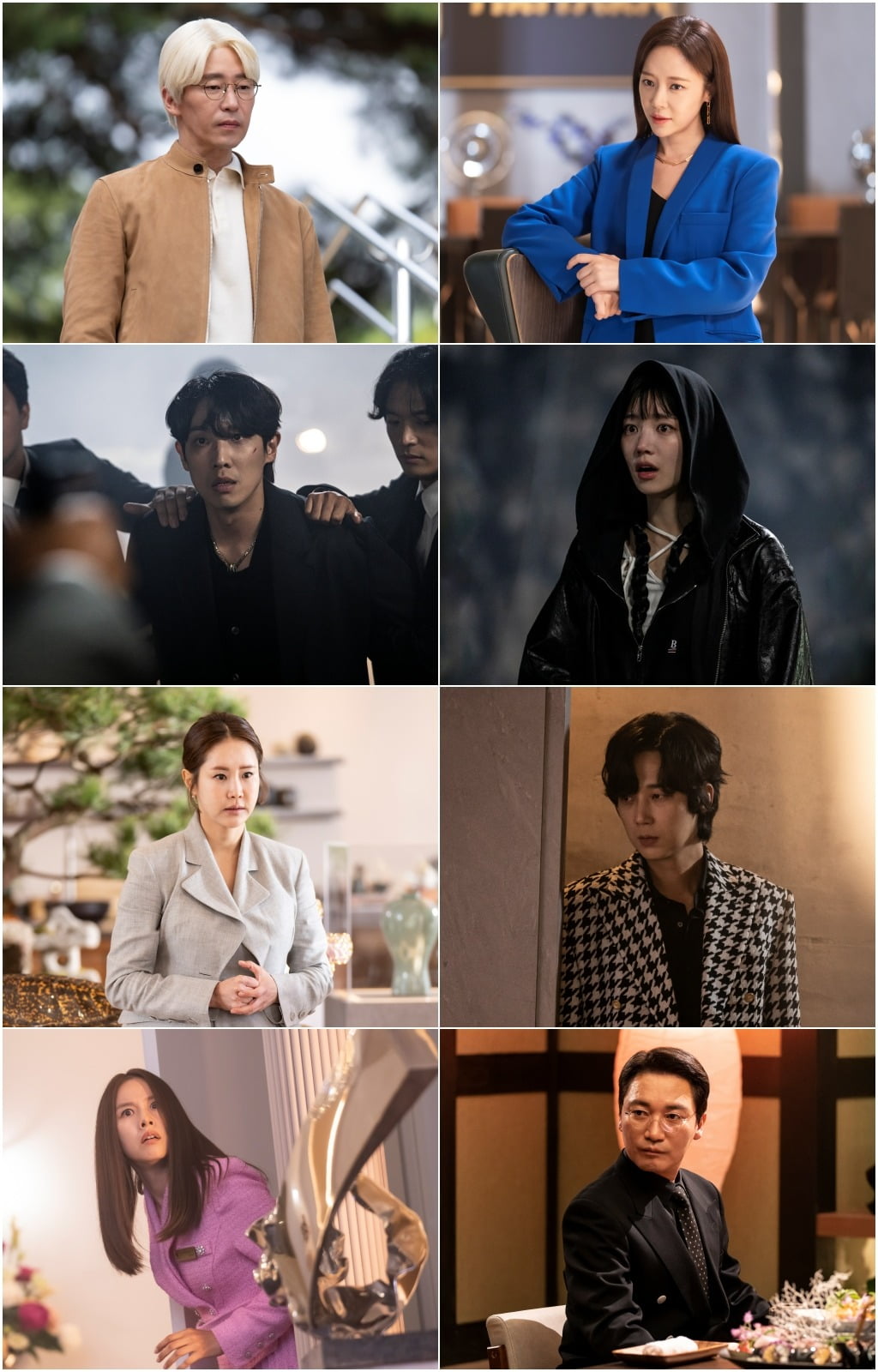 'Escape of the Seven' is in the midst of an unprecedented twist that goes beyond expectations.
The SBS Friday-Saturday drama 'Escape of the Seven' brought about an unprecedented twist with a development that no one could have imagined. The suspicious actions of condemner Matthew Lee (Eom Ki-jun) made everything suspicious and confused viewers. 'Anti-Tacticist' Kim Soon-ok's revenge drama is showing its true value and continues to receive a warm response. In order to get revenge on Bang Da-mi (played by Jeong Ra-el), Lee Hwi-so (played by Min Young-ki) faced off as Matthew Lee and planned bloody punishment for a long time. Matthew Lee used the villains as pawns in the death game and even targeted the hidden mastermind, 'K'. The absolute 'condemner''s twist was to turn the whole game upside down. As doubts about Matthew Lee's identity grow, curiosity is growing about how the revenge against the seven will end. Accordingly, we pointed out the points to watch in the second half of the game that you should watch without losing your nerve.
#One. Matthew Lee is not Lee Hwi-so?! Curiosity pouring into his twisted identity
Matthew Lee's appearance was unique from the beginning. Matthew Lee invited the villains to Hell, where they had to survive fiercely. He hid his identity as the owner of the dock and appeared in front of the seven people. He naturally became entangled with the seven people who did not know that he was Bang Dami's adoptive father, Lee Hwiso, and waited for the time for revenge. The harsh education for those who trample on others without hesitation for the sake of success and desire was only the beginning. Matthew Lee used them as 'horses' in the death game and designed a plan to find the hidden mastermind. And after learning that the mysterious 'K' was Shim Jun-seok (played by Kim Do-hoon), the successor to Sungchan Group, Matthew Lee finally revealed that he was 'Lee Hwi-so'. Matthew Lee used the 7 players as the 'horses' of the game to put in place a counterattack plan. But his unexpected actions added to the confusion. The fact that Matthew Lee may not be Lee Hwi-so is quite shocking. At some point, Matthew Lee became more interested in money than revenge and encouraged a rift between Min Do-hyuk (played by Lee Joon) and Kang Ki-tak (played by Yoon Tae-young). The ending, where Matthew Lee laughs maniacally despite Kang Ki-tak's interrogation, gave me goosebumps. What is the meaning behind that smile, and what twist is hidden there? This also raises curiosity about whether it is a huge big picture designed by Matthew Lee.
#2. Will Min Do-hyuk, who has pledged revenge on his family, be able to succeed?
Min Do-hyuk seemed to be receiving bloody punishment from Matthew Lee as 'Bullii's nickname', but in fact, his true identity was Matthew Lee's Joker, who caused a rift among the seven. Min Do-hyuk, who joined hands with Matthew Lee and prepared for revenge due to his anger towards his family who died unjustly, gritted his teeth and endured everything next to the evildoers for a long time. And when he finally found out that the person seeking revenge was 'K', he couldn't hold back. In particular, I could not forgive the deception of 'K', who came to the family's funeral and played pranks with fake checks. However, 'K' was not an easy opponent. He moved hastily and was counterattacked. From that day on, Min Do-hyuk suffered from nightmares and was shocked by the betrayal of Kang Ki-tak, whom he thought was on his side. Now, Min Do-hyuk believes that he has no one to rely on but Matthew Lee. However, as Matthew Lee's suspicious actions are revealed, the sense of crisis is increasing. I wonder what will be the fate of Min Do-hyuk, who played as Matthew Lee's Joker while waiting for the day of revenge, and what choice he will make when he faces the truth.
#3. Matthew Lee's bloody retribution, the fate and choices of the seven people who became the 'horses' of the death game?!
The seven people who do not hide their desires are the driving force that maximizes the charm of the picaresque revenge drama. They committed evil acts without brakes as if the world was on their side. And just when each achieved success, they faced an unexpected crisis. Meeting the 'condemner of evil'. They succeeded in escaping as the last survivors in an unprecedented survival game, but in reality, it was another hell designed by the condemner. And when they found out that all of this was planned by Lee Hwi-so, they tried to escape the crisis by making 'Matthew Lee' and 'K' on their side. However, they found out that the Lee Hwi-so they were trying to deal with was actually Matthew Lee, and that 'K' was also a threat to them. To make matters worse, Matthew Lee urged him to repent for his sins by carrying out the mission he had given him if he wanted to survive. Geum Ra-hee (played by Hwang Jeong-eum), Han Mone (Lee Yu-bi), Cha Ju-ran (Shin Eun-kyung), Yang Jin-mo (Yoon Jong-hoon), Go Myeong-ji (Cho Yoon-hee), and Nam Cheol-woo (Cho Jae-yoon) became the 'horses' of the death game he designed. ). The tearful struggle of those who became puppets to catch 'K' gave us goosebumps, reminding us how carefully Matthew Lee had planned his revenge. Those who have faced backlash for the 'fake news' methods they committed in the past have nowhere else to fall. However, attention is focused on what will be the fate of the six people who are still struggling to escape from Matthew Lee, and their choices, which could be a variable until the end.
The production team of 'Escape of the Seven' said, "There will come a moment when the truths that have been revealed so far will be questioned," and "Matthew Lee's revenge will be unpredictable until the end. "I wonder what kind of game the condemner Matthew Lee has planned, and the thrilling twist beyond imagination heats up the second half of the game."
Meanwhile, SBS's Friday-Saturday drama 'Escape of the Seven' will be broadcast at 10 p.m. on the 3rd.
Ten Asia Reporter Kim Seo-yoon seogugu@tenasia.co.kr