ENTERTAINMENT
Actor Cha Tae-hyun, attacks on unfamiliar systems and English → 'Panic' in the long checkout line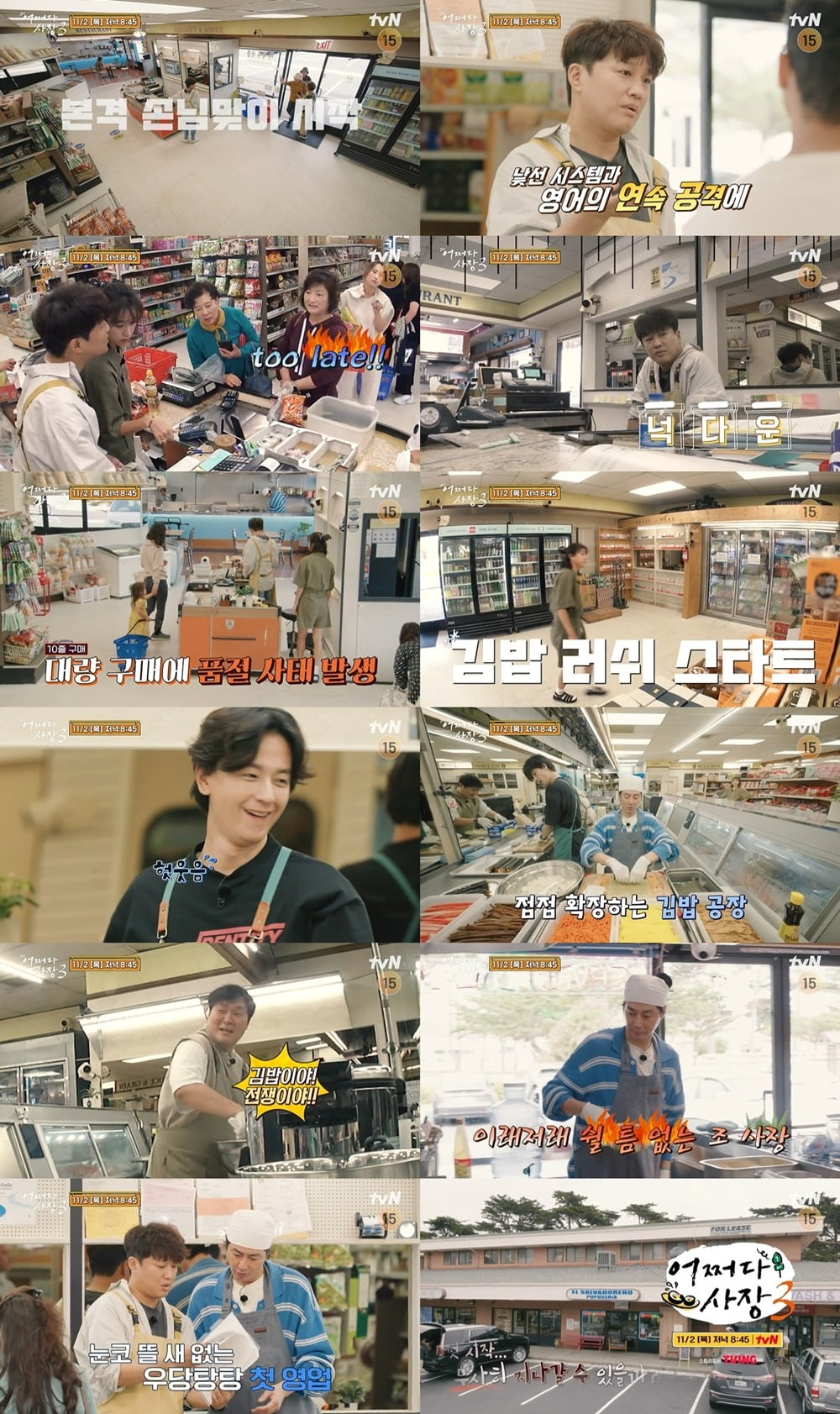 'CEOs' Tae-hyun Cha and Jo In-seong, and 'Albaz' Han Hyo-joo, Lim Ju-hwan, and Yoon Kyeong-ho fall into panic over the unfamiliar checkout system and unexpected work on the first day of business at a Korean supermarket in the United States.
In tvN's 'Sometimes I'm the Boss 3', which will be aired at 8:45 pm on the 2nd, the first day of business for 'CEOs' and 'Albaaz' at a Korean supermarket will be revealed.
The trailer released earlier showed customers coming as if they had been waiting for the store as soon as it opened, and Tae-Hyeon Cha, the 'cha president', pricking up his ears and looking nervous as if he were taking an English listening test. The continuous attacks of unfamiliar systems and English knock down Cha Tae-hyun, who has three years of experience as CEO. One word, "Too Late!!" uttered by a customer in line further heightens the tension.
The popularity of gimbap, a specialty product of the 'Asia Market', is beyond imagination. 'Interpreter' Hyo-joo Han gets busy going back and forth between the counter and the kitchen. As kimbap orders are not only delayed but also sold out, 'chef Jo In-seong' Jo In-seong, along with Lim Joo-hwan and Yoon Kyeong-ho, roll up their sleeves. Jo In-seong's appearance as he rushes to the 'gimbap factory(?)' when he hears the sound of kimbap while preparing ingredients for the lunch menu 'snow crab ramen' conveys the urgency of the time.
Jo In-seong's 'Snow Crab Ramen', which was launched for the first time on this day, is also expected to sell like hot cakes. After hearing the rumor, customers flock in and fill the place. Jo In-seong, who has no time to rest as he is busy making kimbap and boiling ramen, reaches the state of liberation, saying, "I burned myself white." With the first opening, 'Seojangz' and 'Albaz' are unable to keep their eyes open amidst a storm of customers and work. Expectations are high on whether they will be able to successfully complete their first business.
'Somehow, CEO 3', which first aired on the 26th of last month, is about a Korean supermarket located in an unfamiliar United States, but the familiar scenes within it that stimulate memories and nostalgia caught the attention. In particular, the upcoming activities of 'CEOs' and 'Albaz', as well as the life stories told by Korean residents and residents of Monterey, combined, raised curiosity about what kind of relationship will be created.
Accordingly, 'Sometimes the Boss 3' recorded a peak of 8.4%, ranking first in the same time slot on Thursday, and also ranked first in viewership ratings for all channels, including cable and comprehensive channels, with a peak of 4.1% in the 2049 target viewership rating, signaling a good start. (Based on paid platforms such as cable and satellite / Provided by Nielsen Korea)
In addition, according to the topicality ranking by Good Data Corporation, a TV topicality analysis agency released on the 30th, 'Somehow I'm the President 3' ranked high in both the non-drama work and performer categories, proving its hot topic.
Ten Asia Reporter Kim Seo-yoon seogugu@tenasia.co.kr