ENTERTAINMENT
Lee Soo-geun breaks the previous record for urban fishermen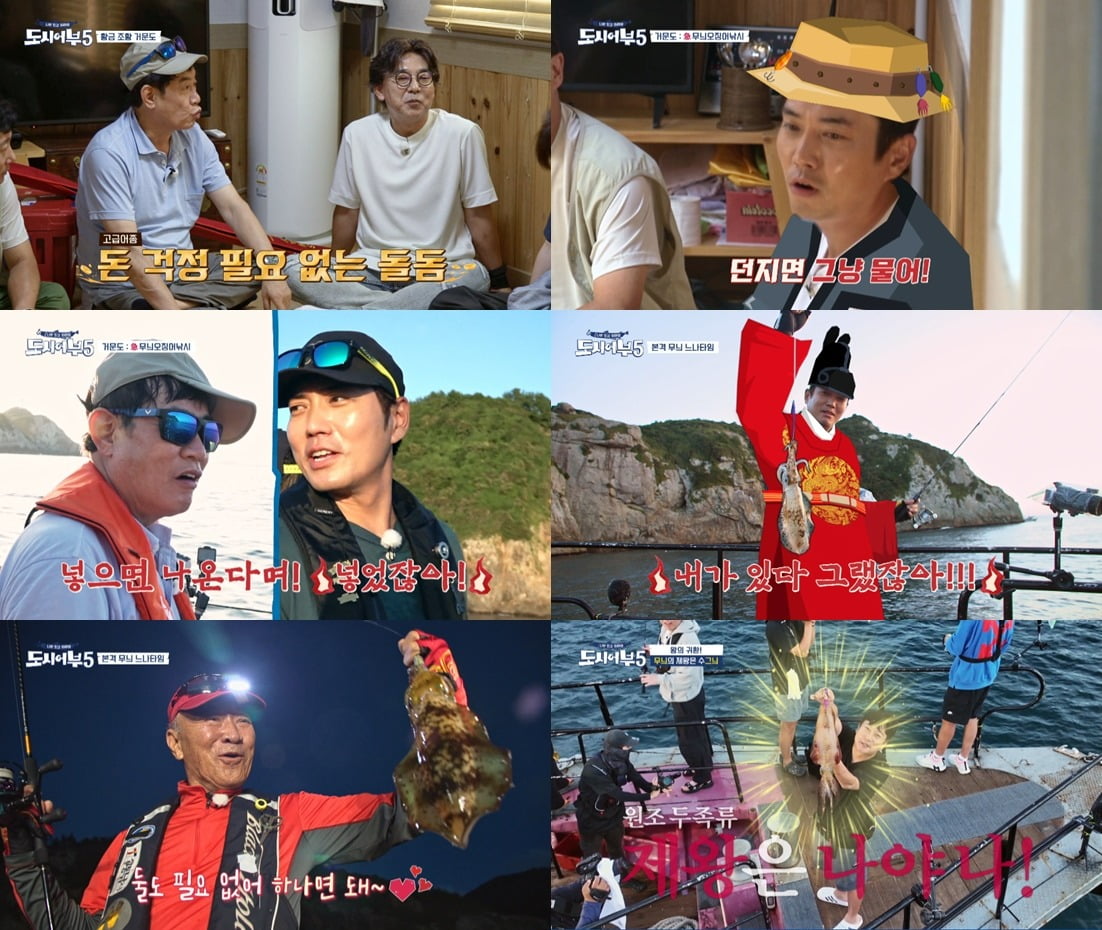 Lee Soo-geun set a new record in 'Urban Fisherman 5'.
In Channel A's entertainment program 'Just Trust Me and Follow Me, Urban Fisherman 5' (hereinafter 'Urban Fisherman 5'), which aired on the 19th, the lives of real fishermen on Geomundo Island in Yeosu were revealed.
On this day's broadcast, the members who visited Geomundo Island in Yeosu, the 'mecca for anglers', were shown struggling to fish for parrotfish, known as the 'king of the sea'. First, while the members were curious about the guest's fishing skills, comedian Lee Jin-ho appeared as a guest. He bowed deeply to his senior, Lee Gyeong-gyu, and appealed that he was a 'big fan of urban fishermen,' saying, "I see urban fishermen even on airplanes." Then, when professional Park Jin-cheol, who appeared to help, said that Geomundo Island's fishing conditions were good, the members were confident that they would live as rich fishermen without worrying about money.
Meanwhile, Joo Sang-wook delivered the news to the members that 'Currently, a large number of spotted squids have exploded on Geomundo Island,' and it was eventually decided that a large number of spotted squids would be released. However, when the bite did not come as expected, Lee Gyeong-gyu regretted going out for casual fishing, saying angrily, "If you put it in, it will come out!!", but the mood turned around with Joo Sang-wook's consecutive hits. In response, Joo Sang-wook showed a triumphant appearance, saying, "I told you I was there!" Seong-Hoon, who was envious of this, shouted out a huge hit of a large-sized squid after a long effort. Lee Deok-Hwa acknowledged, saying, "You're an admirable guy, I'm proud of you as well," and Pro Park also praised him, saying, "Seong-Hoon did something."
Then, when Lee Deok-hwa also surprised everyone by gaining momentum and hitting a big one, Joo Sang-wook quickly showed a despondent look, saying, "I lost." Meanwhile, Lee Gyeong-gyu, who had not caught a single fish, gritted his teeth at the first hit, but soon took off his hat with a short bite and became indignant, causing the entire production team to run away while securing a safe distance. In the end, Lee Gyeong-gyu shouted, "We have to endure it, let's be good, let's kill our temper," and performed the 'Campja Dance' with his brilliant feet. The squid fishing ended in a scene filled with laughter.
On this day, Deok-Hwa Lee, Sang-Wook Joo, and Sung-Hoon Lee emerged as strong candidates for the Golden Badge of Casual Fishing with a Big One bet. In particular, the weight of the first and second place squid was only 10g different, raising expectations even more. In the end, Seong-Hoon, who caught one 480g squid, took first place, and Joo Sang-wook, who came in second place, caught six but did not get the golden badge by 10g, so he expressed his disappointment by stuttering for words.
The next day, for parrotfish fishing, Lee Gyeong-gyu wore a striped parrotfish look reminiscent of parrotfish (?) and showed his strong will toward becoming a rich fisherman. He then became the main character of the first number, raising expectations, but his identity was revealed to be a red sea bream. When the production crew, who were watching this, ignored him and said, "I caught something I couldn't eat," Lee Gyeong-gyu, who got angry, said, "Even if I only get 1,000 won, the red sea bream is first," and continued fishing for red sea bream with hopes of becoming a rich fisherman. Afterwards, Gyeong-gyu Lee, Soo-geun Lee, and Jin-ho Lee caught parrot sea bream, but they were all released in the same size as the fish, and it was disappointing that no one was able to catch the parrot sea bream.
Meanwhile, while fishing on the seashore, the members faced the worst weather ever. Unusual rain clouds gathered and thunderstorms struck at the same time. Moreover, as soon as Lee Gyeong-gyu said, "It's pouring rain, we must withdraw," the weather worsened, and Park Pro, who was watching the pouring rain and lightning, urgently called the old PD and eventually withdrew the parrot fishing.
After the rain stopped, Joo Sang-wook's successive hits continued in the squid fishing. He triumphantly caught 960g of squid and set a new record for squid by urban fishermen, heating up the atmosphere at the scene, but this did not last long. Lee Soo-geun, the original 'Emperor of Cephalopods', caught a 1.28 kg squid the size of a kilogram and recaptured the 'new record for squid among urban fishermen of all time.' As the Big One record changed in an instant, Joo Sang-wook made people laugh by handing over the throne with tears, saying, "Why am I crying?"
On this day, great attention was paid to the price of Lee Gyeong-gyu's red sea bream at the exchange. Gyeong-gyu Lee greeted the purchase expert with the best wishes and appealed to him as politely as possible. Lee Gyeong-gyu, who heard from the purchasing expert that "Humpback sea bream is a delicious fish," expected at least a minimal transaction, but the purchasing expert made a 'reverse declaration' that he would not purchase it because it was too small, making Lee Kyung-gyu angry. Lee Deok-hwa, who saw this, laughed and fell back due to difficulty breathing, making the scene a sea of laughter, but in the end, it was disappointing that no one received a golden badge in the parrotfish fishing that morning.
Ten Asia Reporter Kim Seo-yoon seogugu@tenasia.co.kr