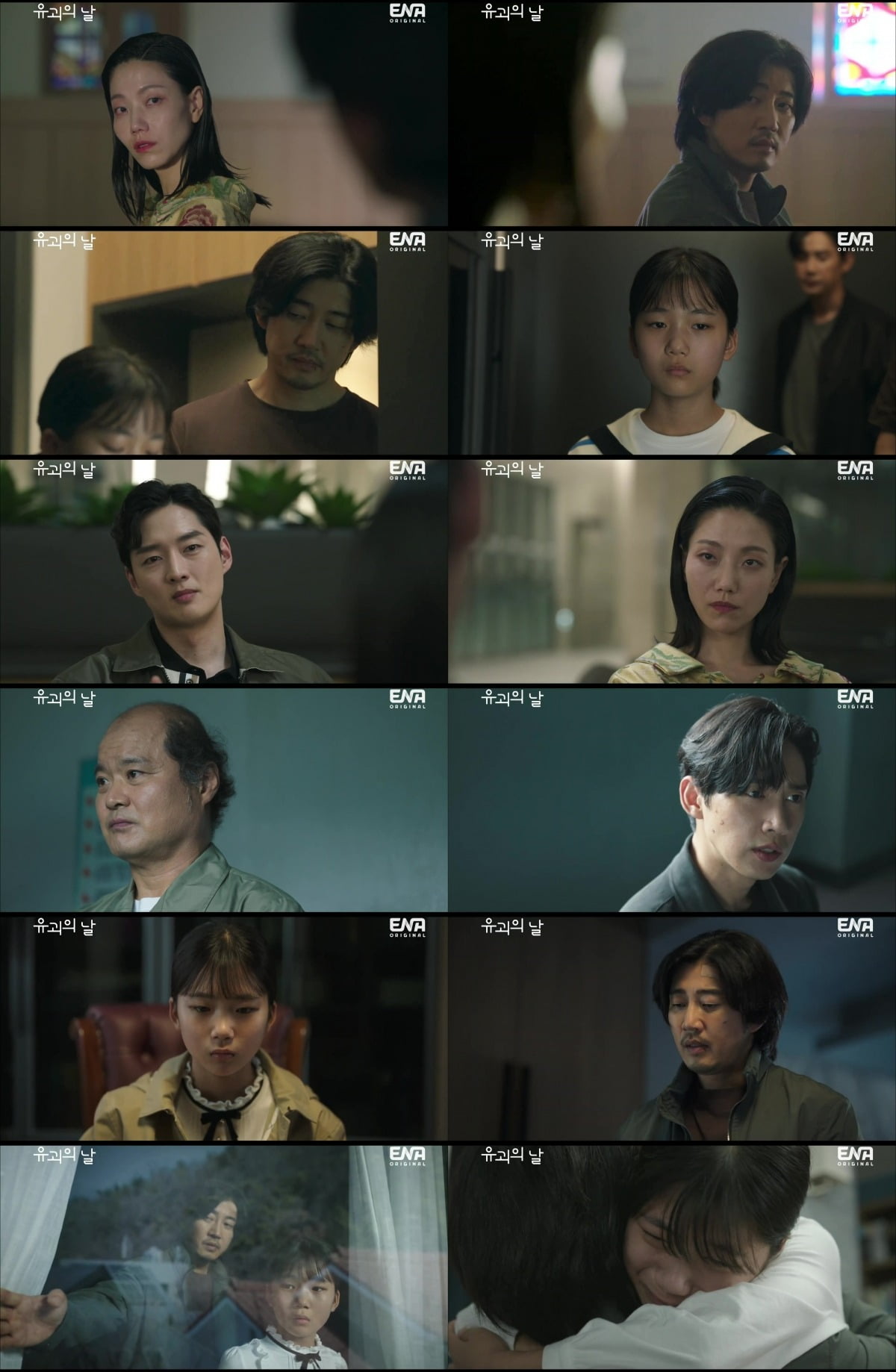 'Kidnapping Day' Yoon Kye-sang and Yuna had a tearful farewell.
In the 11th episode of ENA's Wednesday-Thursday drama 'Kidnapping Day', which aired on the 19th, Myeong-jun (played by Yoon Kye-sang) was finally arrested by the police and had to say goodbye to Ro-hee (played by Yuna). Rohee's confession as she held Myeongjun in tears until the end, saying that everything must end before they can start again, brought tears to the eyes of viewers. There was only one piece of the puzzle left: the secret hidden by Hye-eun (Kim Shin-rok), who was presumed to be the likely culprit in the murder case. The viewer rating for the 11th episode was 4.3% nationwide and 4.5% in the metropolitan area (Nielsen Korea, based on paid households), ranking first among all cable channels and Wednesday-Thursday dramas. In particular, the highest viewership rating in Bundang in the metropolitan area soared to 5.6%, continuing to receive a warm response.
On this day, Myeong-jun and Hye-eun met in the chapel of the orphanage where they spent their childhood together. Myeong-jun asked Hye-eun why she met Choi Jin-tae (Jeon Gwang-jin). As if she had guessed it, Hye-eun said, "It was mine originally," and made a sophistical argument that everything that was hers was taken away by Choi Jin-tae, who was newly adopted by the abandoned family. He also said that it was a necessary meeting to prepare for Rohee's kidnapping. But there was something else Myungjun wanted to ask. It was about whether Hye-eun was connected to the murder case. Hye-eun responded sharply to Myeong-jun, who began by saying, "Isn't that right?" When Hye-eun asked what he was thinking, Myeong-jun answered, "I hope you are not a murderer." Myeong-jun's trembling voice was simultaneously showing suspicion, distrust, and a hint of expectation and faith toward him.
Myeong-jun and Ro-hee meet again at Sang-yoon's (Park Seong-hoon) house. Jeong-man (played by Jeong Soon-won), who came to visit after receiving a call from Sang-yoon, was shocked to see the three of them together, but played an active role as a helper. Sang-yoon asked Jeong-man to check the CCTV at Director Choi's home and the black box video of vehicles around the house on May 20, the day before the estimated date of the incident. And Jeong Man delivered new news. Ro-hee's great-grandfather Choi Dong-jun (played by Oh Man-seok) is looking for Choi Jin-tae's laptop. In response, Rohee said that it must have been Jayden (played by Kang Young-seok) and that they should catch him first, as he is the most dangerous person. And I decided to go home to recall the lost memories of the day of the incident.
Myeongjun hesitated when he arrived in front of the house. A situation where the parents die mysteriously in a house that was used for Director Choi's research and experiments and had vague happy memories. I couldn't show Rohee those cruel and terrible traces. Myeongjun cleaned up the house for Rohee, saying he wanted to erase the traces himself. For Rohee, the house she returned to with Myeongjun was different from before. "I'm going to have a nice dream now. Myeong-jun's warm comfort, saying, "Because there are people around you who truly care for you," wrapped Ro-hee warmly. With the help of Sang-yoon and Jeong-man, Myeong-jun was also able to meet his daughter Hee-ae (Choi Eun-woo), who was recovering from surgery. Myeong-jun, who visited the hospital room with Ro-hee, hugged his daughter and shed tears as he realized that he would no longer be able to stay by Hee-ae's side for the time being.
And Myeongjun was even preparing to break up with Rohee. As soon as he returned from the hospital, he decided to show Ro-hee the CCTV footage of Hye-eun. But for some reason, Rohee closed the laptop screen as soon as Hyeun's back was shown in the video. Myeong-jun, who found this strange, noticed that Ro-hee had already checked the video and that the lost memories had also returned. Of course, Rohee denied everything Myeongjun said, saying that her memories had not returned. Because it also meant that I would have to break up with Myeongjun. At the very moment when the two were fighting, Rohee's house was surrounded by several police cars.
Rohee packed her bags and tried to escape, but Myeongjun was mentally prepared. "I have to finish it. At Myungjun's calm voice, "Only then can we start again," Rohee burst into tears and grabbed the hem of his clothes. "I really like having you with me. With someone who doesn't expect or expect anything from me... "This is the first time I've been with someone who pays attention to me, whether I'm hungry, sleepy, or bored." Myeong-jun's heart ached at Ro-hee's sincerity mixed with complaints. Eventually, detectives from the Gwangsoo Unit burst into the house and Myeong-jun was arrested right in front of Ro-hee. The tears of Myeong-jun and Ro-hee, who cried out for each other, resounded hotly in the home theater.
Due to Hye-eun's report, Myeong-jun and Sang-yoon were arrested, leaving Ro-hee alone, and the direction of their pursuit of the truth became unknown. Meanwhile, Jayden, who had not yet been able to open the USB, made another offer instead of revenge to Hye-eun, who had stabbed him. If Director Choi retrieves the laptop from his home, a $10 million deal will be completed. Attention is focused on whether the second transaction between Hye-eun and Jaden, who seem to have similar yet different desires, will come to fruition. Above all, the mystery of Hye-eun, who emerged as a new suspect, heightened curiosity about the final episode as the statements of Cheor-won (Kim Sang-ho), who was arrested and imprisoned as a suspect in a murder case, Ro-hee's memories, and the records of the black box began to diverge.
Meanwhile, the final episode of ENA's Wednesday-Thursday drama 'Kidnapping Day' will be broadcast at 9 pm on the 25th.
Ten Asia Reporter Kim Seo-yoon seogugu@tenasia.co.kr