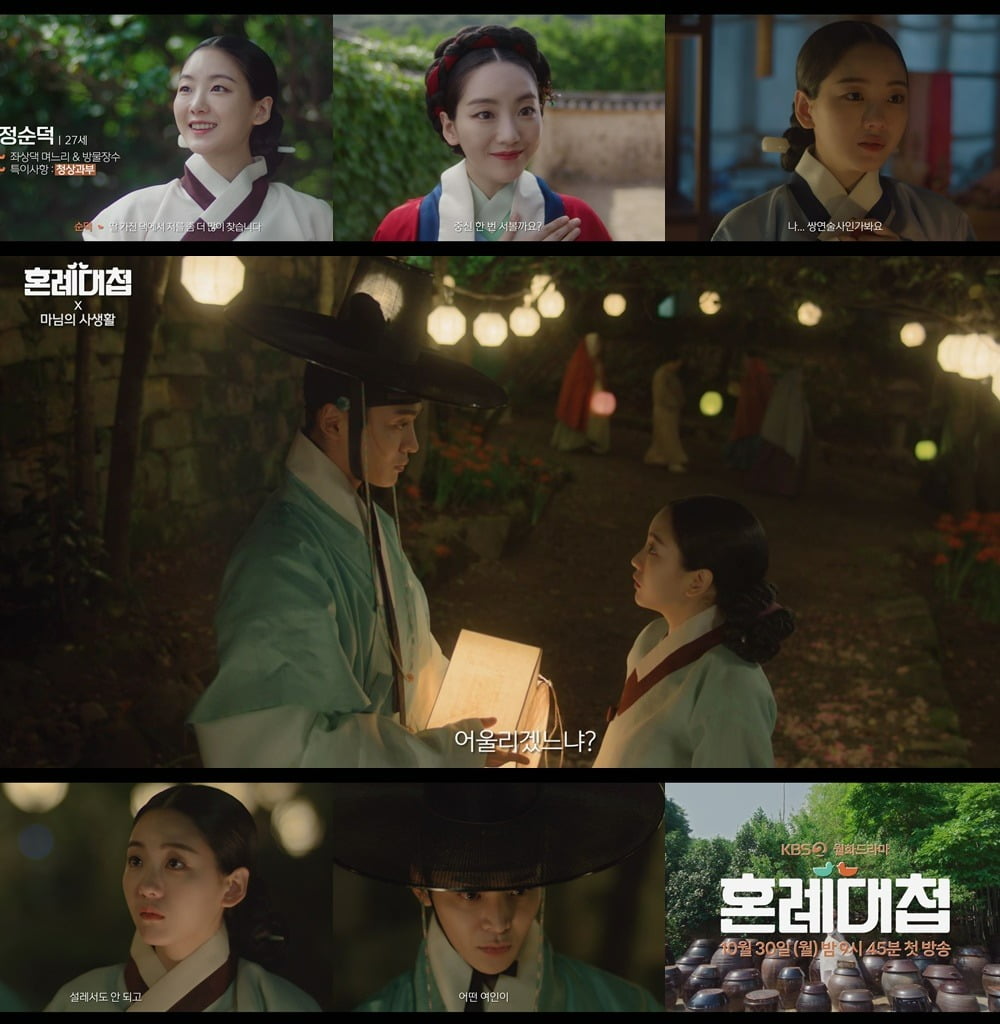 Actress Jo Yi-hyeon revealed 'Madam's twisted private life' in the 4th teaser for 'Wedding Battle'.
KBS 2TV's new Monday-Tuesday drama 'Wedding Battle', which will be aired for the first time on the 30th, is a matchmaking comic melodrama in which a Joseon Dynasty sire and a maid of honor meet, and a miner (a term referring to an old maid and an old bachelor in the Joseon Dynasty) unfolds a 'wedding battle'. all. Shim Jeong-woo, the most angry man in Hanyang, and Jeong Soon-deok, a widow living a double life, join forces to present the 'Joseon version of Love Actually'.
Above all, 'Wedding Battle' is written by Ha Soo-jin, the writer of 'Daebak Real Estate' who broadened the horizons of the genre with a fresh story, and Hwang Seung-gi, who created a unique drama with unique attempts in 'The Runner-Up', 'Justice', and 'My Dark History Wrong Answer Note'. The directors are working together, raising expectations. The addition of popular actors Rowoon and Jo Yi-hyun, who bring firepower to their characters in each work they appear in, is attracting a lot of attention.
In relation to this, on the 16th, the '4th teaser' in the form of an interview was released, attracting attention, with Jo Yi-hyun of 'Wedding Battle' transforming into Jeong Soon-deok, who navigates a dizzying double life. For 53 seconds, the '4th teaser' impressively unfolded the twisted personal life of Jeong Sun-deok (Jo Yi-hyun), a widow of the late husband Jwasang-daek and who plays an active role as a matchmaker.
First, Soon-deok Jeong exudes elegance with her messy hair and simple bare face, saying, "The couple I matchmaking has good gold threads and is prone to having children, so I am more sought after by families with daughters." She said that she is living a double life as a bangmul seller. I confessed the truth in surprise. Next, Soon-deok Jeong appeared as the wife of a room seller in extravagant clothes, which was the exact opposite of her simple appearance at home, and showed off her charisma by confidently saying, "Shall I... stand as a middle-ranking official?"
However, Jeong Sun-deok, Hanyang's greatest 'god of matchmaking', also caused a twist by appearing embarrassed at the matchmaking request from Cheongsang sire Shim Jeong-woo (Ro-woon). When Shim Jeong-woo resolutely said, "I'm here to request matchmaking!" Jeong Soon-deok asked back, "Do you have any children of your marriage?" To which Shim Jeong-woo replied, "No children!!!!! !" he said, making a blood vessel stand up in his neck and make him laugh.
Soon-deok Jeong, who returned home later, said, "I can see it with my eyes. After revealing his special ability, "It depends on whether we are compatible or not," he expressed his excitement by saying, "I guess I'm a double entender." Soon, Jeong Soon-deok, who was talking about the twin lotus master, saying, "He is a mountain god who recognizes relationships," was unable to take his eyes off Sim Jeong-woo while holding his arm. He stared at Jeong Soon-deok's painting over Jeong Sun-deok's voice saying, "As a widow, I will never be excited again." The image of Sim Jeong-woo looking at him was drawn, raising curiosity.
Meanwhile, Shim Jeong-woo and Jeong Soon-deok caused excitement with their meaningful conversation. Shim Jeong-woo, who couldn't continue saying, "Then I..." and Jeong Soon-deok, who was silent and said, "I can't even be excited," looked at each other affectionately across the lotus lanterns, creating a romantic atmosphere. Moreover, when Sim Jeong-woo asked Jeong Soon-deok, "What kind of woman would suit you?" Jung Soon-deok, who returned home, responded with a refreshing smile, raising expectations for the 'comic-melo historical drama' that the two will portray.
The production team said, "The '4th teaser' contains the eight-colored charm of Jo Yi-hyun, who is living a double life and perfectly portraying polar opposite images, and the excitement about the picturesque two-shot that Rowoon and Jo Yi-hyun will create." "Please wait for the first broadcast of 'Wedding Battle,' a project to find a warm relationship between a sire and a blue widow," he said.
Meanwhile, KBS' new Monday-Tuesday drama 'Wedding Battle' will premiere on the 30th (Monday) at 9:45 PM.
Ten Asia Reporter Kim Seo-yoon seogugu@tenasia.co.kr