ENTERTAINMENT
Comedian Kim Jun-ho → Yoo Se-yoon, enjoy the most luxurious trip ever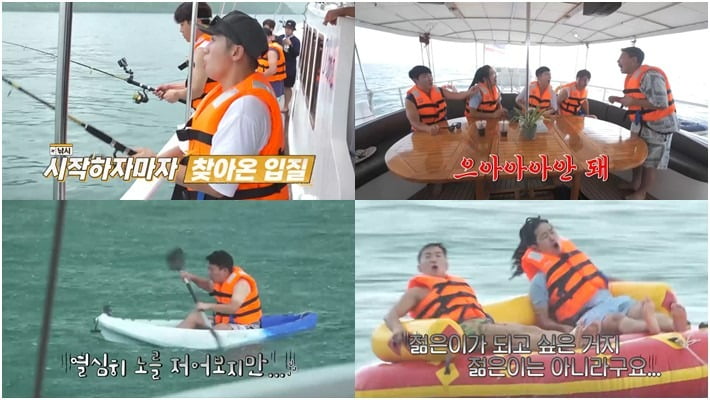 'Dogboxz' will hold a fishing competition in Thailand with the 'most dogboxer' at stake.
In the 9th episode of 'Nidonnaesan Dog Tour', which will be broadcast at 8:20 pm on the 7th, the last day of 'Comedian Jinchin' Kim Dae-hee, Kim Jun-ho, Jang Dong-min, Yoo Se-yoon, and Hong In-gyu enjoying a luxury trip in Pattaya, Thailand will be revealed.
On this day, the five people head to the yacht dock to enjoy various water leisure activities. Although raindrops fall on the way, Jang Dong-min turns to the positive circuit, saying, "This weather is actually more fun." After a while, 'Dogbox' entered the yacht, drank a welcome drink, enjoyed the luxurious atmosphere, and eventually climbed onto the deck of the yacht to re-enact a famous scene from the movie 'Titanic'.
However, the romance is short-lived, and the final game of poisonous beatings begins, in which the 'most single-beating person' in Thailand will be decided. At this time, Jang Dong-min suggests, "Let's exempt the person who catches the fish first from poisoned gourd." Currently, Kim Jun-ho is running '4 Dogs', and Hong In-gyu is following closely behind him, so the 'fishing battle between swords and swords' between the two is the highlight of the final game. In particular, the highest level of punishment awaits the 'most poisonous beater', so the two catch the fishing rod harder than anyone else, praying for good luck.
However, despite waiting for a long time, there is no news of a bite, and the eldest brother, Kim Dae-hee, prays, saying, "Please bite (bait) just once." Kim Jun-ho is also nervous, saying, "Now I know why I'm doing 'Urban Fisherman.'" Then, a shout of "It's a hit, a hit!" is heard, and attention is focused on who will catch the fish and succeed in being 'exempted from the poisonous fish'.
Meanwhile, the five people also enjoy water leisure activities that reflect their individual tastes. Daehee Kim chooses a jet ski and shows off her amazing driving skills, while Junho Kim tries kayaking. However, Hong In-gyu, who saw Kim Jun-ho's clumsy posture, said, "It looks like a baby riding a tube," and even Jang Dong-min joined in teasing Kim Jun-ho, saying, "That's going to make him fall over." After the enjoyable water leisure activities, 'live fish', made with fish caught from the yacht, appears, marking the pinnacle of luxury travel.
The scene of the last day of the five people who enjoyed a long-awaited luxurious travel course in Thailand, and the results of the 'Fishing Showdown' where 'the most poisonous people' are decided, will be broadcast on MBN, Channel S, and Lifetime's 'Nidonnaesan', which will be broadcast at 8:20 pm on the 7th. You can check it out in episode 9 of 'Dog Park Tour'.
Ten Asia Reporter Kim Seo-yoon seogugu@tenasia.co.kr