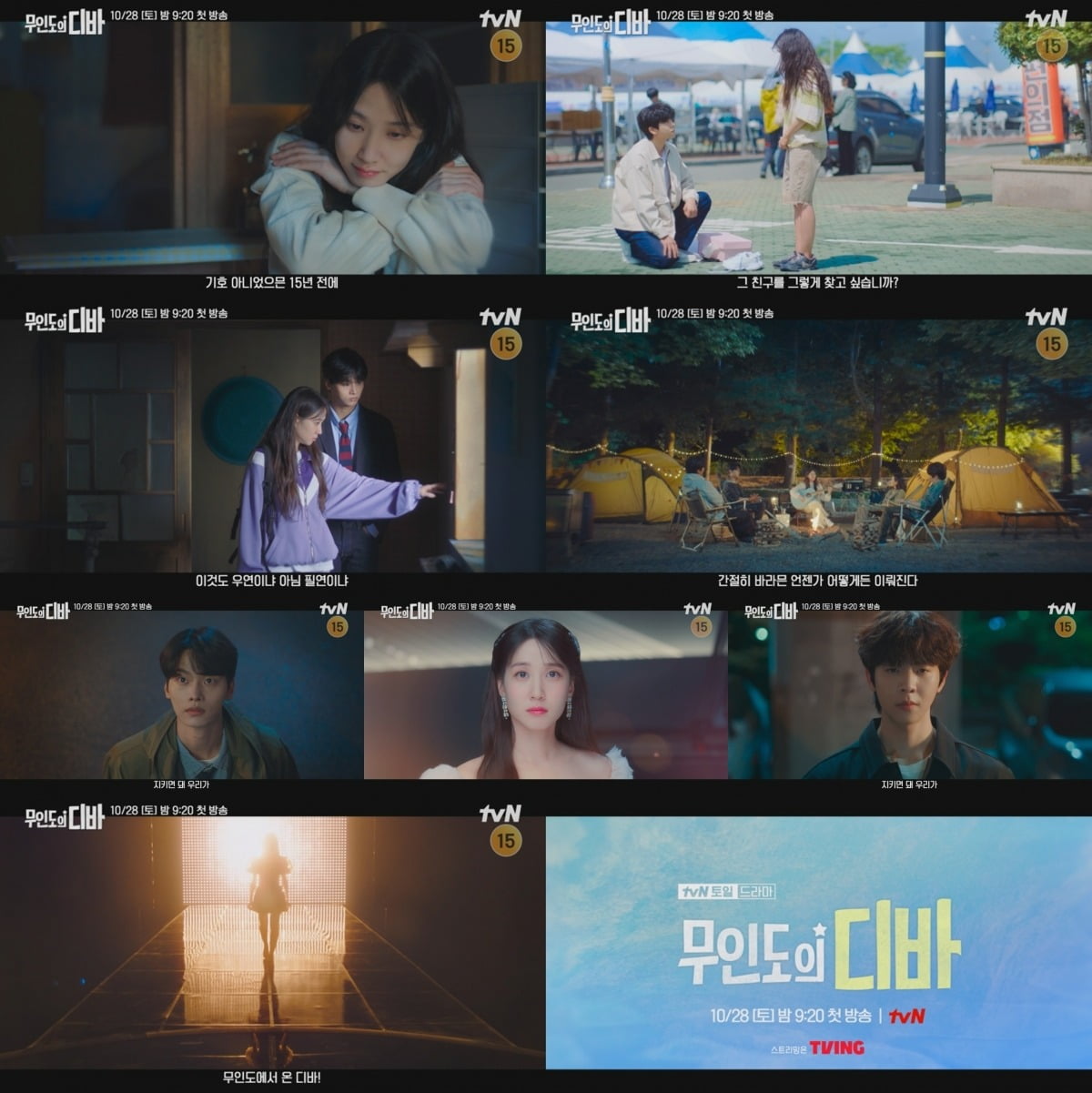 The poster and third teaser video for tvN's new Saturday-Sunday drama 'Diva on an Uninhabited Island' have been released.
tvN's new Saturday-Sunday drama 'Diva of the Deserted Island', which will be aired for the first time on the 28th, is a drama that depicts the diva challenge of Seo Mok-ha (played by Park Eun-bin), an aspiring singer who was rescued from a deserted island after 15 years.
Chae Jong-hyeop appears as Kang Bo-geol, a PD at the entertainment department, and Cha Hak-yeon appears as Kang Woo-hak, a reporter at the news department. The two are expected to show off their strong chemistry with Seo Mok-ha as brothers.
In the released 'Our Dream' poster, you can get a glimpse of Seo Mok-ha, Kang Bo-geol, and Kang Woo-hak's intimate moments enjoying fireworks against the backdrop of the blue sea. The burning flame brightens the darkness and doubles the romantic atmosphere.
In particular, the phrase 'My dreams will shine because of you' makes their relationship even more noteworthy. I am looking forward to seeing what kind of relationship Seo Mok-ha, Kang Bo-geol, and Kang Woo-hak have, and the story of these three people who will shine brightly when they are together.
Here, the third teaser video sheds light on the character in Seo Mok-ha's memories named Ki-ho. He searches for the sign that made his dream as a singer shine, but as time passes, it foreshadows a reunion that will not be easy.
Seo Mok-ha decides to move toward his goal according to the phrase in the note, "If you wish it earnestly, it will come true someday, somehow." Kang Bo-geol and Kang Woo-hak decide to protect Seo Mok-ha. Thanks to the support of the two people, attention is focused on whether Seo Mok-ha will be able to find her dreams and become a singer.
tvN's new Saturday-Sunday drama 'Diva of the Desert Island', which predicts the strong synergy between Park Eun-bin, an aspiring singer from an uninhabited island, and brothers Chae Jong-hyeop and Cha Hak-yeon, will premiere at 9:20 pm on the 28th.
Ten Asia Reporter Kim Seo-yoon seogugu@tenasia.co.kr