ENTERTAINMENT
Jo Bo-ah ♥ Rowoon, heartbreaking reunion "I love you in this life and in the past life"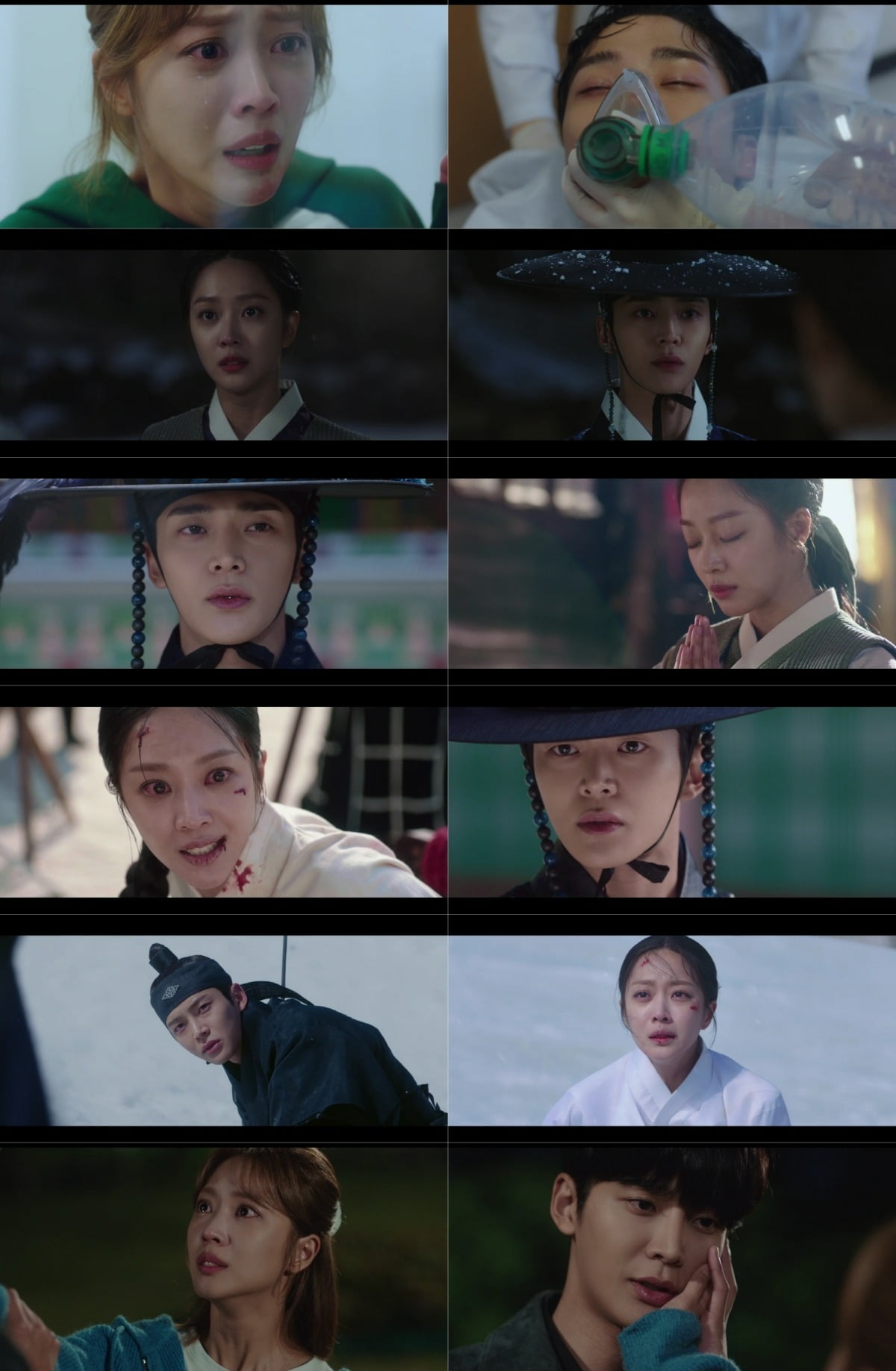 'This love is force majeure' Jo Bo-ah and Rowoon face the truth of their force majeure fate.
In the 14th episode of JTBC's Wednesday-Thursday drama 'This Love is Force Majeure', which aired on the 5th, the truth surrounding the death of 'Primrose' (played by Jo Bo-ah) was revealed. At the center of the incident was Primrose's 'Bang Yang-seo', and Mu-jin's (played by Ro-woon) tragic choice was heartbreaking. The sight of Primrose and Mujin, who reunited in this life due to an irresistible fate after a long time, left a deep impression. The viewership rating for the 14th episode was 3.4% in the metropolitan area and 3.1% nationwide (Nielsen Korea, based on paid households), breaking its own record and continuing to receive positive responses.
On this day, the hidden story behind Primrose's death was revealed. Mujin disobeyed his father's order to marry Bujehak Yeosik. In response to her father's anger that he would not leave Primrose alone, she planned to run away at night, but Primrose's answer was unexpected. The primrose, who was said to have seen the future, turned away coldly, saying, 'I don't love you that much.' However, the real reason why Primrose rejected Mujin was different. Because Mujin's father was terrorizing Primrose's only family member, Yonghalmae (played by Yongnyeo Lee), as a hostage, he had no choice but to hide his feelings for Mujin.
In this way, the two had a sad farewell. From that day on, Mujin passed the civil service exam and performed the duties of a deputy, and Primrose walked the path of a shaman. However, irresistible fate brought the two together again. Primrose entered the palace after receiving a call from concubine Jeong So-ui (played by Baek Seung-hee). Jeong So-ui coveted Primrose's 'Pangyangseo' and said that she should have a son. Primrose performed magic on Jeong So-ui and gave birth to his son safely as he had wished. And Primrose, who met Mujin at the palace, belatedly confessed her feelings.
A crisis came to the two people who were spending happy days and building a romantic relationship. Jeong So-ui's plan to cast a black spell on primrose to place his son on the throne spread as a rumor that there was a shaman who came into the palace and disrupted fortune. Mujin had a hunch that the main character of the rumor was Primrose. After learning that Primrose had not practiced black magic, Mujin told her to run away, but Primrose stayed in the palace to protect Mujin from Jeong So-ui. Primrose, who was caught in the case of slandering the crown prince, was severely tortured, and 'Bangyangseo' was burned. Primrose, who was caught up in a conspiracy and was on the verge of death, cursed, saying, "The one who stops my heart, my curse will be passed down from generation to generation and I will die young, and my family will be destroyed." Mujin had no choice but to watch this and it was painful.
Jeong So-ui's greed knew no bounds. He chased after Primrose again in order to get his hands on the last 'Private Book' written by Primrose himself. Mujin rescued the primrose that was trapped in a well, gave her a 'book of refuge' and asked her to run away together. But Primrose, unable to trust anyone, even rejected his offer. While Primrose was asleep, Mujin headed somewhere carrying a wooden box containing the 'Book of Bangyang' and was surrounded by soldiers. Hearing that Primrose would be captured and put to death, Mujin drew his sword. The soldier pulled the bowstring, aiming for the primrose, and then Mujin appeared. Instead of the soldiers who hesitated for fear of the primrose's curse, Mujin approached the primrose. And his dagger stuck straight into the primrose. Mujin hugged the falling primrose and said, "I will accept the curse. I can't bear to see you being put to death. "If there is a next life, let's be happy," he sobbed. Primrose's blood-stained hand, smiling faintly and stroking Mujin's cheek, was heartbreaking.
Meanwhile, Lee Hong-jo (played by Jo Bo-ah) decided to get away from Jang Shin-yu (played by Rowoon) as he kept putting her in danger because of him, and left. The threats from Na Jung-beom (played by Ahn Sang-woo) continued. Lee Hong-jo leaves the house immediately after receiving a message from Later Jung-beom that he will harm Jang Shin-yu if he does not meet him. At the place where he arrived, an unexpected person was waiting for Lee Hongjo. It was Jang Shin-yu accompanied by bodyguards. Jang Shin-yu told Lee Hong-jo, who was blaming himself, that there was no such thing as a curse anymore, and placed Lee Hong-jo's hand on his cheek. He no longer suffered from pain. Jang Shin-yu remembered all his past lives while in a coma. The sight of Jang Shin-yu conveying the deep love that has lasted for a long time, saying, "I love you in this life and in the past life," was heartbreaking.
JTBC's Wednesday-Thursday drama 'This Love Is Force Majeure' airs every Wednesday and Thursday at 10:30 p.m.
Ten Asia Reporter Kim Seo-yoon seogugu@tenasia.co.kr