ENTERTAINMENT
Broadcaster Jeong Jun-ha and actor Shim Hyeong-tak have a tearful reunion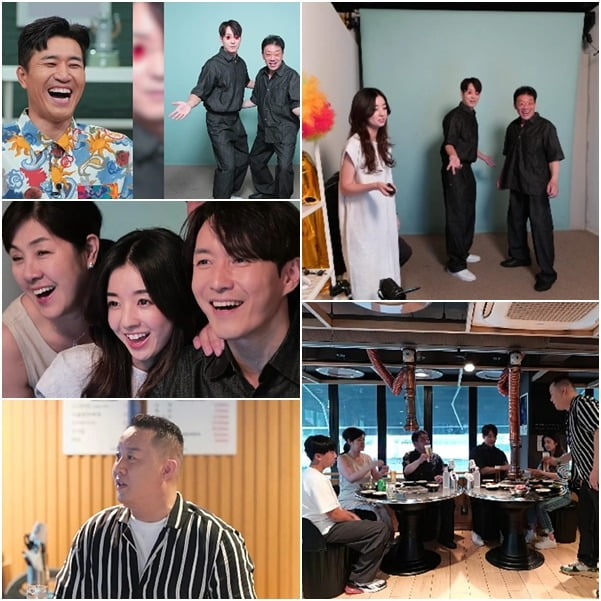 Shim Hyung-tak meets his 'benefactor in his heart' Jeong Jun-ha with his wife's family.
In the 83rd episode of Channel A's 'Man's Life These Days - Groom's Class (hereinafter referred to as 'Groom's Class')', which will be broadcast at 9:30 pm on the 27th, Shim Hyung-tak's 'Mr. Shim (nickname for Shim Hyung-tak)' with his wife's family the day after the 'Korean wedding'. The 'tour' scene unfolds.
On this day, Shim Hyung-tak conducts a 'Sim tour' with his Japanese wife's family, who visited Korea for the first time for a wedding. First, Shim Hyung-tak heads to the 'self-photo studio' and spends a happy time taking family photos together. In particular, Shim Hyeong-tak and his father-in-law take a 'couple photo' wearing matching outfits, and when his wife Saya and his mother-in-law see this, they say, "You look like comedians," causing laughter. Also, Kim Jong-min, who was watching this in the studio, expressed his 'respect' for Shim Hyeong-tak, saying, "It can be difficult with my father-in-law..."
Soon after finishing the photo shoot, Shim Hyung-tak and his wife's family head to a restaurant run by comedian Jeong Jun-ha. As soon as Jeong Jun-ha saw Shim Hyung-tak, he said, "I feel like crying." "How long has it been like this?" he cried, and Shim Hyung-tak also got teary-eyed. At the same time, Jeong Jun-ha expresses regret for not being able to attend Shim Hyeong-tak and his wife's wedding held the day before, and suddenly not only gives a congratulatory money envelope but also treats the whole family to a meal, showing their close loyalty and affection.
In a warm atmosphere, Shim Hyung-tak draws everyone's attention by revealing, "My sister-in-law (Jeong Jun-ha's wife) is also Japanese." In response, Jeong Jun-ha said, "I have been married for 11 years," and added, "After 4 years of opposition, I decided to get married. When you watch Korean dramas, you see a lot of in-laws and that's why you seem to be against it. "There are cultural differences," he said, making everyone burst into laughter. Furthermore, Jeong Jun-ha confesses the mistakes he made when he first met his wife's family, bringing laughter and empathy.
Ten Asia Reporter Kim Seo-yoon seogugu@tenasia.co.kr