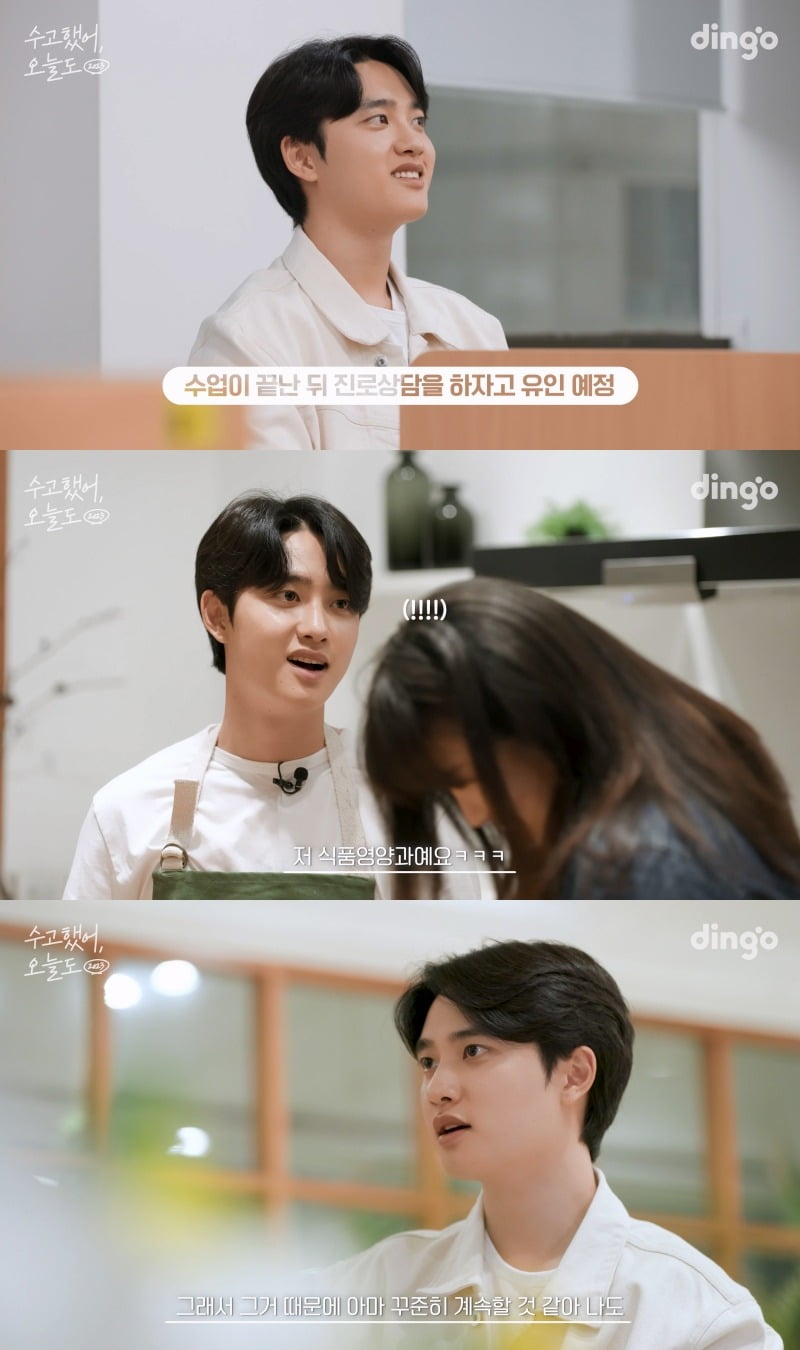 EXO's DO served hand-made dishes to his passionate fans.
Digital media channel Dingo released episode 21 of 'Good Job Today 2023' with D.O. through the official Dingo Story YouTube channel at 7 PM on the 21st.
'Good Job Today' is Dingo's killer content that has been produced since 2016. It is a reality program in which a star who has achieved his dream visits the daily lives of fans who are running toward their dream and conveys support and hope.
In this video, D.O. meets Ahyeon, a 26-year-old job seeker and his biggest fan who is struggling with job preparation. D.O., who made a surprise appearance as a counselor at the coding academy that Ah-hyun attends, handed the surprised girl a large bouquet of flowers and said brightly, "Hello."
Dio led Ahyeon by saying, "You worked so hard studying, let's go eat something delicious." When Ahyeon said, "I'm so nervous," D.O. said, "I was nervous at first, too, but I'm getting less nervous." Additionally, D.O. made him laugh by saying sweetly, "I'm not good at speaking comfortably, but I feel so comfortable now because you know me a lot."
Dio also played the song 'I Do' from his second mini album 'Expectation', which was about to be released at the time of filming. Ahyeon, who heard D.O.'s new song in advance, clapped and cheered, saying, "It's really good," and smiled in relief, saying, "I'm glad."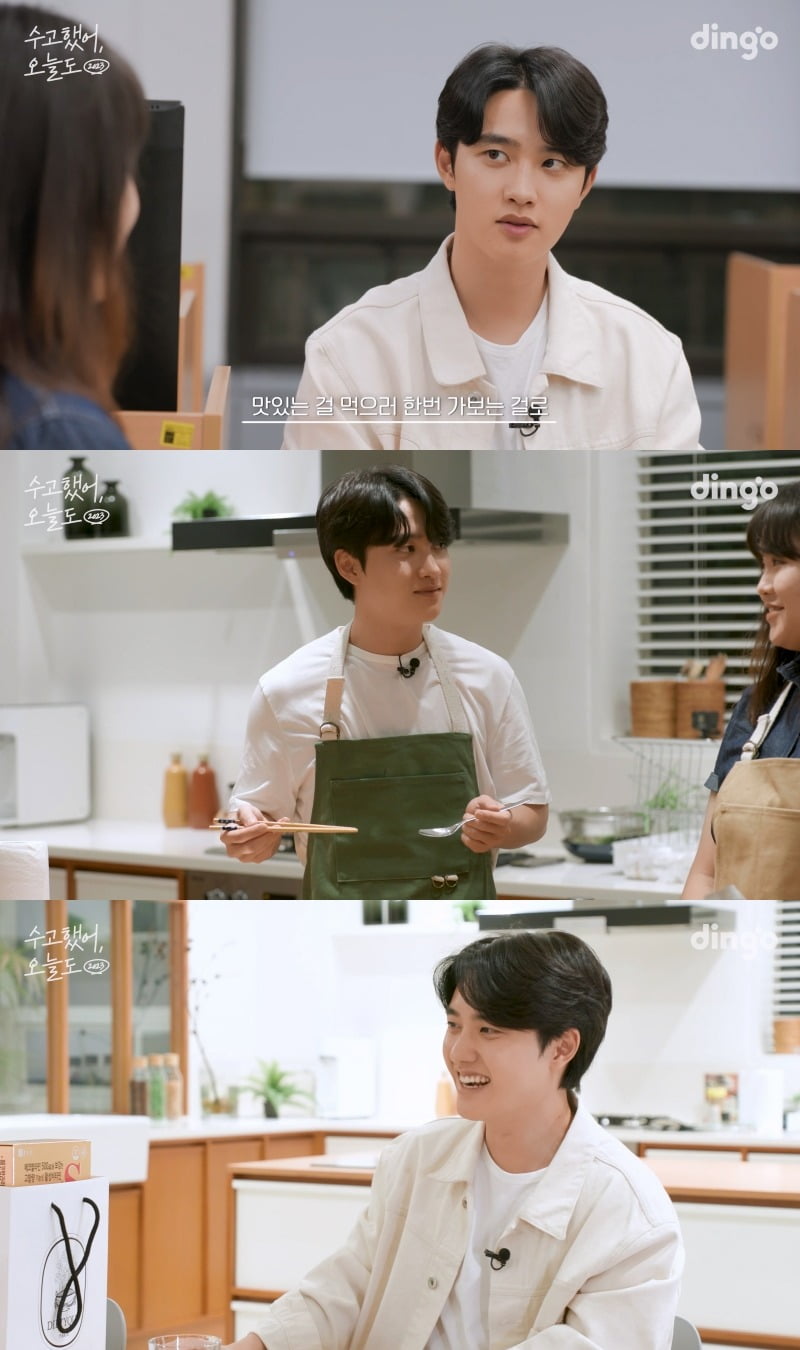 After running for a while, we arrived at a cooking studio, and the dinner prepared by D.O was perilla oil makguksu made with Ahyeon. D.O., who casually put on an apron saying, "Let's make it together," showed his caring side by personally putting an apron on Ahyeon, making the viewers' hearts flutter.
D.O., who started cooking in earnest, became even more determined when Ah-hyeon said, "I've never tried perilla oil makguksu before," and taught her step by step how to prepare the ingredients. However, Ah-hyeon quickly chopped garlic with a skillful knife and made a surprising confession, saying, "I graduated from the Department of Food and Nutrition." Dio said, "It wasn't me being fussy," and made everyone laugh as he suddenly became timid.
Ms. Ahyeon shared the hardships of being a job seeker, saying, "Since all my friends are making money, I feel like I need to make money quickly too." He also confessed his regret about his dream, saying, "I originally wanted to go to college for photography, but I started too late, so I gave up and went to the food and nutrition department."
In response, Dio carefully shared his dream, saying, "I don't think it's too late. I will continue to cook, step by step, just like you take pictures." He also said, "Making people who eat my food happy is the reason I cook. That's why I will continue to do it consistently," and sincerely supported Ah-hyeon's dream by saying, "Let's continue with photography."
Kim Ji-won, Ten Asia reporter bella@tenasia.co.kr