ENTERTAINMENT
Yoo Ah-in, tied to a rope, drowns with plastic bottles and bundles of money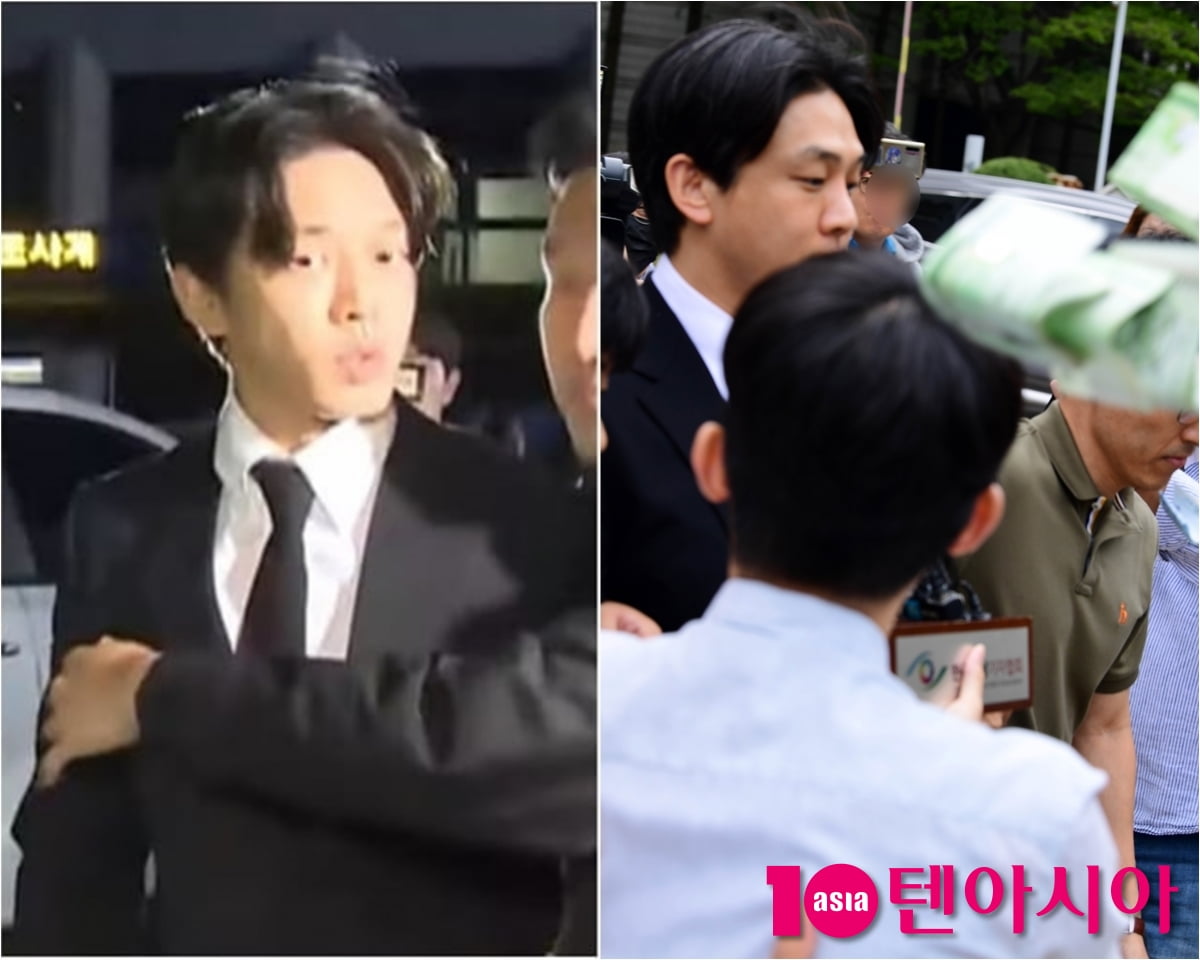 Actor Yoo Ah-in (37, real name Um Hong-sik) was hit with a bundle of money while leaving the courthouse after being examined for warrant. Yoo Ah-in, who had previously been hit by a plastic bottle thrown by a citizen, this time went through the ordeal of being hit by a bundle of money thrown by a citizen, saying, "Use the moratorium money."
Yoo Ah-in appeared at the Seoul Central District Court in Seocho-dong, Seocho-gu, Seoul at 10 am on the 21st (Presiding Judge Yoon Jae-nam) and underwent warrant substantive examination (interrogation of the suspect before arrest).
Yoo Ah-in, who appeared neatly dressed in a black suit that day, said, "I am truly sorry once again for causing great concern. I will answer faithfully in court and give my honest opinion as much as I can."
After being examined for about two hours, Yoo Ah-in said, "It is not true that the evidence was destroyed. I stated the facts well in court." As Yoo Ah-in was tied to a rope and heading to the detention center, a citizen attracted attention by throwing a bundle of money mixed with 10,000 won, 5,000 won, and 1,000 won bills, saying, "Use it as a detention money." In response to this, Yoo Ah-in boarded the vehicle with a detached expression.
Previously, Yoo Ah-in, who was sent home after the court dismissed the warrant after the substantive review of the warrant last May, was hit by a plastic bottle thrown by a citizen while traveling in a car. After hearing this, Yoo Ah-in's face hardened after being surprised, and the bodyguard marked him closely and guided him into the vehicle.
Yoo Ah-in, who experienced humiliation by being hit with a plastic bottle in the last warrant examination, suffered once again by being hit with a bundle of money this time.
Yoo Ah-in is accused of violating the Narcotics Control Act (hypotoxication), instigating destruction of evidence, and eluding a criminal. Art artist Mr. Choi (32), known as Yoo Ah-in's closest associate, also attended the screening that day.
According to the prosecution, Yoo Ah-in is suspected of habitually buying and administering medical narcotics, including propofol, worth a total of 500 million won, approximately 200 times since 2020 in the name of sedative anesthesia for cosmetic procedures. The prosecution also found that Yoo Ah-in was prescribed and administered about 1,000 sleeping pills under someone else's name, and that he and Choi were taking cocaine and marijuana in the United States.
Through a supplementary investigation, the prosecution requested an arrest warrant again, saying that it additionally discovered that Yoo Ah-in had forced his group accompanying him on a U.S. itinerary to smoke marijuana, had his accomplice, Mr. Choi, flee abroad, and coaxed and threatened Mr. Kim into retracting his statement. .
Previously, in May, the police applied for arrest warrants for Yoo Ah-in and Choi, but it was dismissed once. At the time, the court dismissed the warrant, saying, "It is difficult to conclude that the suspect is afraid of destroying evidence or running away beyond the scope of his right to defense," and "It is difficult to acknowledge the reason and necessity of detention at this stage."
A decision on whether Yoo Ah-in will be arrested is expected to be made as early as today.
Choi Ji-ye, Ten Asia Reporter wisdomart@tenasia.co.kr