ENTERTAINMENT
Broadcaster Lee Gyeong-gyu gets angry and fights with the production crew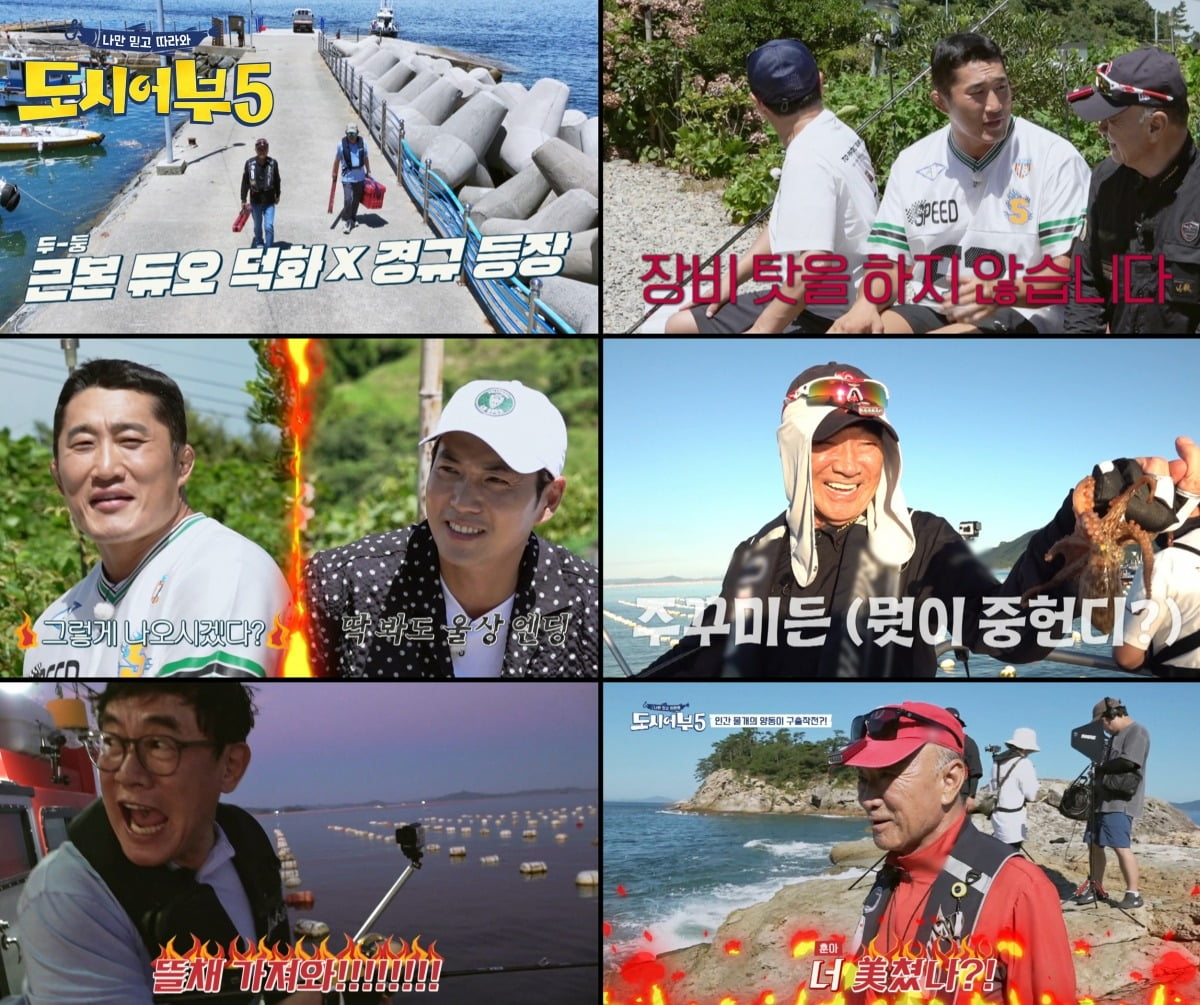 The members of 'Urban Fishermen' fight with the production crew.
Channel A's entertainment program 'Trust me and follow me, Urban Fisherman 5' (hereinafter referred to as Urban Fisherman), which will be broadcast for the first time on the 7th, returns with a new concept, 'You have to catch to survive!' A 'real fisherman's survival story' is expected to unfold.
As the first outing of season 5, the show will visit Chudo, an island in Tongyeong called a mecca for anglers, to fish for rock octopus and squid. Lee Deok-hwa, Season 4's 'Fishing King' Lee Gyeong-gyu, and Lee Soo-geun appear as regular members, and as guests, actors Joo Sang-wook and Seong-hoon, and martial arts athlete-turned-broadcaster Kim Dong-hyun appear, checking each other's fishing equipment, and making a 'fishing battle' for the fixing. Shows fierceness.
On this day's broadcast, due to the heat wave with a perceived temperature of 39 degrees and the influence of the typhoon, the fishing village head is faced with the worst sea conditions that make even the head of the fishing village shake his head. However, due to Joo Sang-wook's successive hits and the bending candlestick that seems to break, the group enters a state of excitement, anticipating a big prize. Expectations are growing as to whether ambitious angler Joo Sang-wook will be able to surpass the all-time rock octopus Big One. On the other hand, Lee Gyeong-gyu is said to be expressing unprecedented anger at the fatal accident that occurred with Heat.
In addition, the members, who can only eat by catching fish, showed signs of eating sunscreen (?) during a long period of hunger that they endured by drinking only water, and even got into physical fights with the production crew, and their abnormal symptoms became increasingly severe, and Seonghun was caught in the sea without any time to stop him. Lee Deok-hwa, who was watching his sudden behavior, was shocked and asked, "Are you crazy!?", arousing curiosity.
Meanwhile, according to the new concept, members can exchange the fish they catch for cash according to the market price. While curiosity is raised about what the current market price of rock octopus and squid is at the cash and fish trading site, it will be revealed through this broadcast whether the members who have lost their senses will be able to overcome the long hunger strike and succeed in fishing for cephalopods.
Ten Asia Reporter Kim Seo-yoon seogugu@tenasia.co.kr