ENTERTAINMENT
Actor Lee Joon-gi gives up returning home to film drama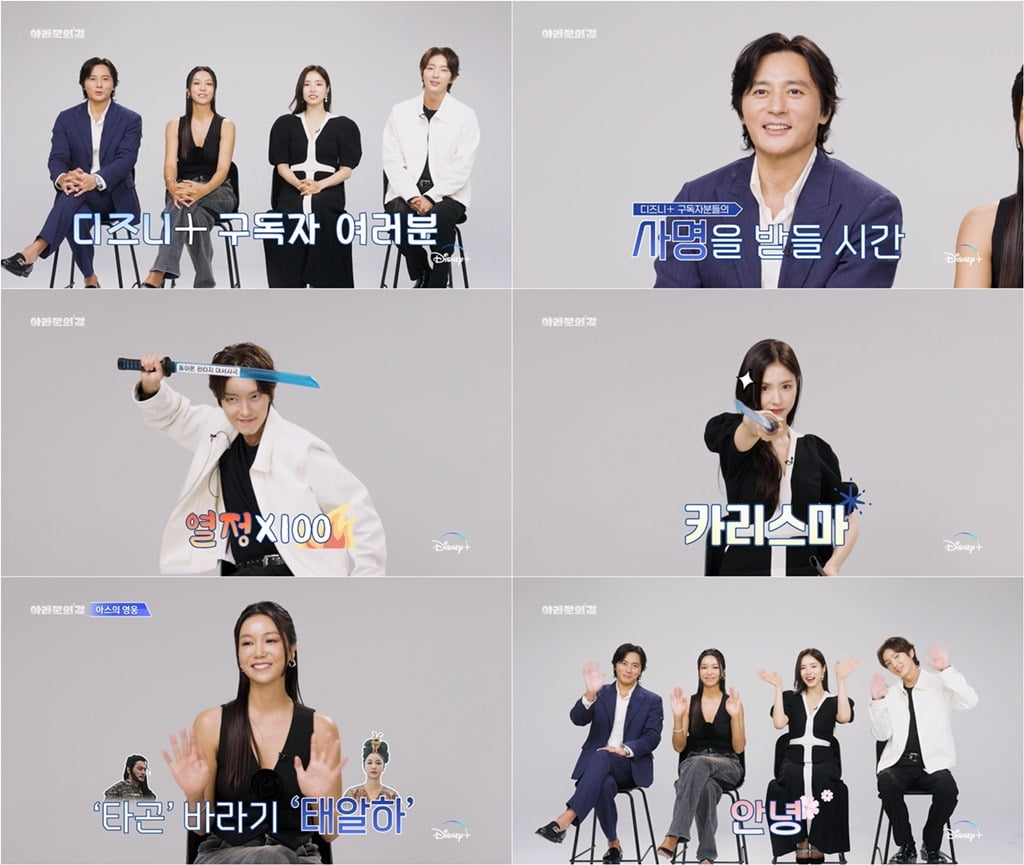 Actor Lee Joon-gi shared the behind-the-scenes moments of filming 'Sword of Aramun'.
Disney+'s 'Sword of Aramun' is the new name for Season 2 of 'Arthdal Chronicles', which is said to be a work that writes the history of Korean ancient fantasy. It is set in the world about 8 years after Tagon took the throne, and is set in the world of the sword. It depicts the myth of Arthdal, written by the owner, and the fateful story of Tagon, Eunseom, Tanya, and Taealha, who write different legends in the ancient land of Arth.
Ahead of the first release of 'Sword of Aramun' on the 9th, 'Sword of Aramun Keyword Interview' was released on Disney+'s official YouTube channel. In an interview in which Jang Dong-gun (as Tagon), Lee Joon-gi (as Eunseom and Saya), Shin Se-kyung (as Tanya), and Kim Ok-bin (as Taealha) give honest answers to questions related to keywords that appear when the sword is pulled out of its scabbard, As the opening fairy, she made people laugh by showing off her natural acting and charming charm. In addition, the sight of the four actors struggling hard to create a 'masterful scene' that surpasses the previous sequence also provided unique fun.
Meanwhile, Jang Dong-gun, Lee Jun-gi, Shin Se-kyung, who gave honest and witty remarks in line with four keywords, starting with 'The Return of the Fantasy Epic Drama', 'Arth, the ancient land', 'Hero of Arth', and 'War-like love'. Kim Ok-bin's appearance raised expectations for the main episode of 'Sword of Aramun'. In particular, Lee Joon-gi said, "It was especially difficult to use imagination because it was a virtual reality. In order not to break the immersion, I gave up the idea of going home and lived on set. He expressed his passion, saying, "Because the characters, place names, world view, etc. were difficult, I was afraid that I would forget it if I left the site, so I couldn't leave." Shin Se-kyung also said, "It was difficult to speak lines, but especially since my role was that of a high priest, once I opened my mouth, I spoke a lot. He added, "It was called 'today's speech,'" arousing interest.
Jang Dong-gun and Kim Ok-bin showed off their perfect chemistry in the interview, raising expectations for their chemistry as a couple to be shown in the main episode. Kim Ok-bin answered, "The hero of Ass is Tagon," and showed off the aspect of 'desiring Tagon' by choosing Tagon as a coveted character without hesitation. As Kim Ok-bin, Lee Jun-ki, and Shin Se-kyung all set their eyes on the 'Tagon' character, Jang Dong-gun He jokingly said, "Tagon is kind of cool," causing laughter. In addition, Shin Se-kyung chose the 'war-like love' of the characters in 'The Sword of Aramun' as an attractive point, saying, "The process of Tanya and Eunseom's love is also war, and Saya's unrequited love for Tanya is also war. Tagon and Taealha are 'war-like love' itself. This time we can see Tagon and Taealha as parents. "There were many cool scenes that touched me deeply and gave me goosebumps," he said, raising expectations even further.
Lastly, Jang Dong-gun, Lee Joon-gi, Shin Se-kyung, and Kim Ok-bin answered the key points to watch in 'Sword of Aramun' with keywords. Jang Dong-gun said 'exciting episode', Lee Jun-gi said 'comprehensive gift set', Shin Se-kyung said 'feast', and Kim Ok-bin said 'snow and snow'. "It is an action that satisfies the five senses," he said.
Ten Asia Reporter Kim Seo-yoon seogugu@tenasia.co.kr