ENTERTAINMENT
Kim So-hye wins by KO in her boxing comeback after 3 years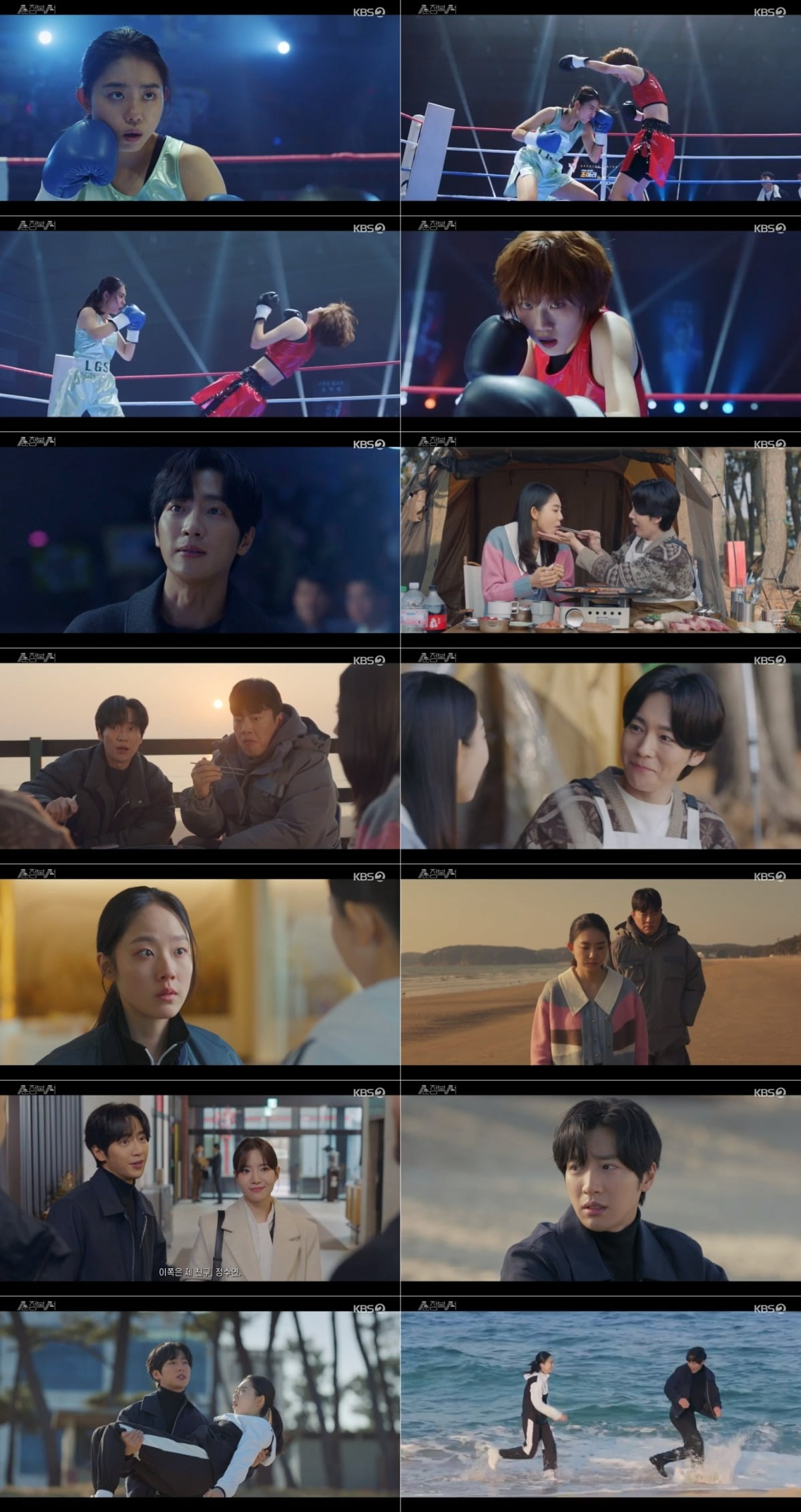 'Pure Boxer' Kim So-hye, who returned to the ring after three years, won her return match.
In the 5th episode of KBS 2TV's Monday-Tuesday drama 'Pure Boxer', which aired on the 4th, genius boxer Lee Kwon-sook (played by Kim So-hye) showed off her overwhelming skills and won in her return match against boxing world bad boy Jo A-ra (played by Do Eun-ha).
On this day's broadcast, Kwon Sook headed to the stadium with the support of her agent Taeyoung, telling her to come back today without getting hit even once. The first round finally began amidst the enthusiastic cheers of the fans, and Ara, with venom in her eyes, drove Kwon Sook into the corner with a series of attacks. Kwon Sook, who was very nervous, blocked Ara's fist with her guard and held out time by weaving away.
As soon as the second round started, Kwon Sook put pressure on Ara by delivering strong effective hits one by one. Kwon Sook, who quickly drove Ara to the opposite corner of the ring, dodged a punch flying at her chin and then delivered a river shot and a powerful uppercut, giving a thrilling thrill to the home theater. Ara, whose combat power was at max level, was unable to resist Kwon Sook's powerful punch and fell to the floor. The gymnasium was filled with enthusiastic cheers at the spectacular return of genius boxer Kwon Sook, who knocked out Ara in the blink of an eye.
Taeyoung could not hide his excitement at the victory of Kwon Sook, who displayed overwhelming skills in her return match. However, Kwon Sook looked at Ara with worried eyes as she left the stadium on a stretcher with an expressionless face without joy or joy.
When Tae-young asked why she became afraid of boxing, Kwon-sook told Tae-young that she had become a monster due to the harsh training of her boxing teacher, her father, Cheol-yong Lee (played by Hyeong-mook Kim). Kwon Sook went on to say, "I was so scared that my mother would get hurt if I stopped boxing," and confessed that she no longer had a reason to box after her mother passed away, arousing regret.
Kwon Sook, who took a vacation after finishing the game, went on a camping date with Jaemin. Kwon Sook, who was very excited about her long-awaited date with Jaemin, pitched a tent with Jaemin and started preparing for camping. At that moment, Taeyoung and Cheolyong, who followed the two, took a seat on the deck right next to them, arousing the interest of those watching.
Cheol-yong was snooping around Kwon-sook and Jae-min, who were grilling pork belly while sitting affectionately at the table, and sat down as if waiting for Jae-min's suggestion to eat together. Kwon Sook, who had been looking forward to a date just for the two of them, held back her anger at Taeyoung and Cheolyong's interference and continued the uncomfortable meal. Meanwhile, while Taeyoung and Jaemin went to wash the dishes, Cheol-yong asked Kwon-sook if Tae-young was someone he could trust, and Kwon-sook warned him not to interfere in my life again.
Su-yeon Jeong (played by Seung-ri Ha), who joined forces with Areum Han (played by Won-bin Chae), became suspicious of Tae-young upon hearing the news that Areum's defense opponent had canceled the match. As Soo-yeon expected, Tae-young selected Areum as Kwon-sook's second match opponent, matching Areum's challenger with another player and succeeded in breaking her defense. Taeyoung visits Director Song, who is in charge of Areum's training, and hands him a USB recording of Kwonsook's technical skills, urging him to beat Kwonsook.
Areum, who once again lost her defense due to Kwon Sook, went to Kwon Sook and slapped her in the face. Kwon Sook said, "I know how important the championship belt is to you. So, all you have to do is fight me and win," he said meaningfully. However, Areum refused the second round, saying that Kwon Sook did not deserve to be in the ring and that she would not fight even if she died, amplifying curiosity about future developments.
Taeyoung planned a beach training camp for Kwon Sook, who was depressed after meeting Areum. Kwon Sook said, "When I open my eyes, I hope it's the day after the game. Then you don't have to be criticized anymore. I looked at Taeyoung with a mixture of anxiety and anticipation, saying, "Is it all over after just one more game?"
However, instead of giving an answer with an expression on his face that did not reveal his true intentions, Taeyoung suddenly picked up Kwon Sook and threw her into the sea. The two ran around like children, throwing away all their worries and worries into the sea.
Ten Asia Reporter Kim Seo-yoon seogugu@tenasia.co.kr