ENTERTAINMENT
Comedian Hong Hyun-hee, 'lost 40 kg' and looks at the change in former manager's appearance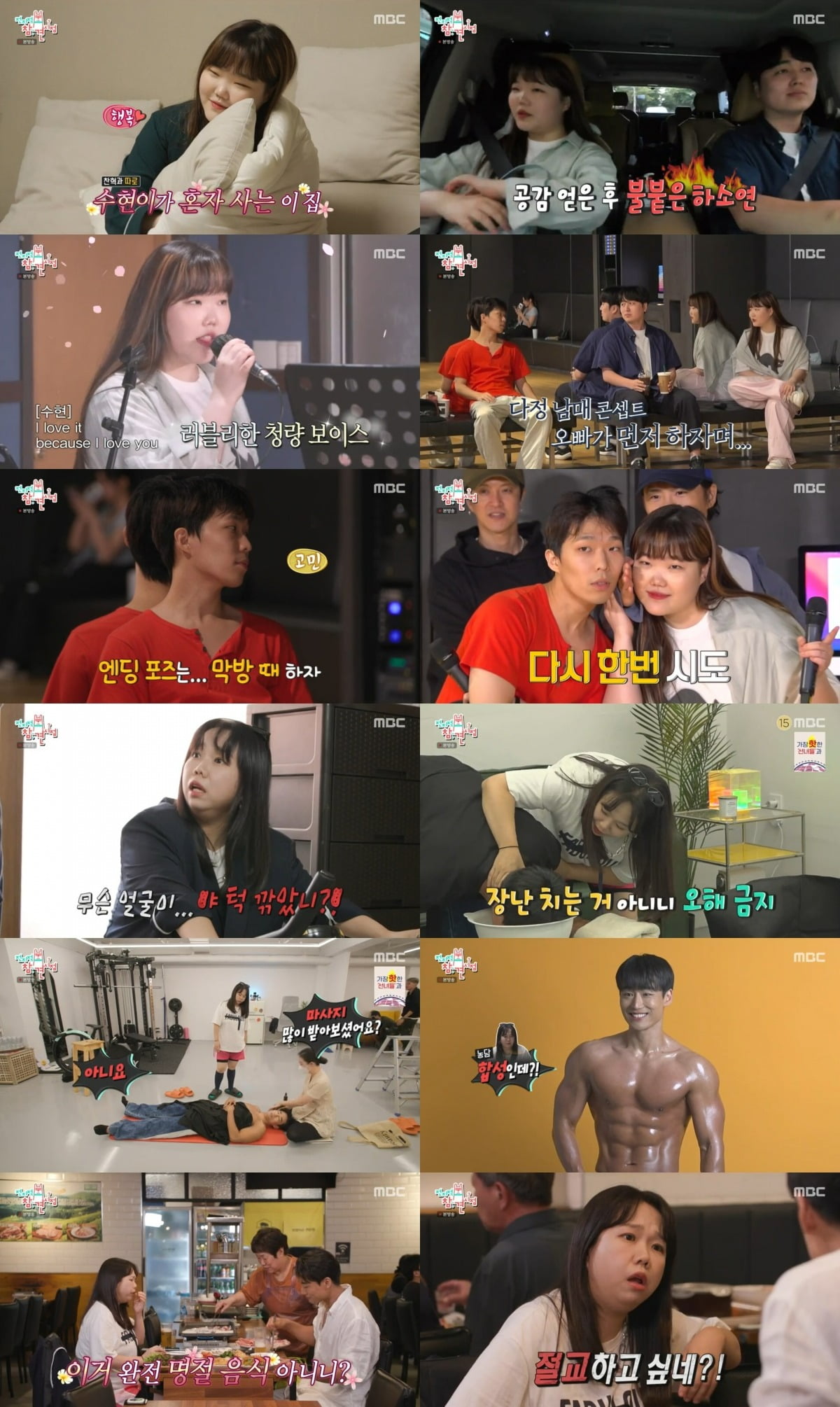 AKMU's Lee Soo-hyun's daily life full of cute tastes and Hong Hyun-hee's day when she took on the challenge of becoming the one-day manager of her former manager 'Mat Dung' were revealed.
In the 262nd episode of MBC's entertainment program 'Point of Omniscient Interfere' (hereinafter referred to as 'Point of Omniscient Interfere'), which aired on the 2nd, the scene of AKMU's choreography practice ahead of their comeback and the behind-the-scenes of the body profile shooting of Hong Hyun-hee's former manager 'Madung' were unfolded.
On this day's broadcast, Lee Soo-hyun revealed a house full of cute character goods and figures. As soon as she woke up, Lee Soo-hyun became one with the sofa and caught everyone's attention with her animation fan-like attitude, watching animations one after another and memorizing and singing along to the OST.
After finishing the meal, Lee Soo-hyun accessed the online game and became immersed in the game while communicating with her game mate and manager Hwang Hyun-sik through voice chat. During the game, Lee Soo-hyun made everyone laugh by lying on Lee Chan-hyuk's phone call and saying that she was reading a book, and dissing him as soon as he hung up the phone.
While heading to the practice room, Lee Soo-hyun quickly burst into laughter at the remark made by her manager, who was the only MBTI 'type F (emotional type)' around her, that targeted her tastes. In addition, the two people, whose hobbies are exactly alike, showed off their special chemistry by recommending each other's favorite animations. Lee Chan-hyuk, who was watching Lee Soo-hyun's daily life, couldn't help but be shocked by the good relationship between his younger brother and manager, and his face gradually turned red, making the studio burst into laughter.
Lee Soo-hyun, who began her first ensemble practice for the new song 'Love Lee', immediately caught the attention of those who were watching with her lovely and refreshing voice. However, when Lee Chan-hyuk tried to monopolize the camera by singing, Lee Soo-hyun showed K-Real brother and sister chemistry by shouting, "This is my 'full-time poetry.'"
Lee Soo-hyun and Lee Chan-hyuk, who arrived at the choreography practice room after finishing ensemble practice, showed 'choreography differences' with conflicting opinions while preparing ending poses for fans. After much deliberation, the two agreed on the choreography of touching cheeks, and with the help of a choreographer, they successfully completed the 'Love Lee' choreography, giving a warm glow to the living room.
Next, a day full of twists and turns unfolded for Hong Hyun-hee and her former manager Hwang Jeong-cheol. Jeongcheol, who recently succeeded in losing 40kg, surprised everyone by appearing with a 180-degree change. Hong Hyun-hee felt a sudden sense of distance from her former manager, who had lost her warm appearance and only her sharp jawline remained.
Meanwhile, Hong Hyun-hee stepped up as a daily manager for the former manager who was trying to shoot a body profile. She caught people's attention with special care, from the 'Jenny-style facial washing method' of submerging the face in ice water to ensuring the best condition for 'Madung', to hiring a therapist at her own expense. In particular, the therapist showed a strange way of massaging with the feet instead of the hands.
'Madung', who began filming in earnest, made the observers cheer with his chocolate abs and angry muscular body. After completing the impressive body profile shoot, the two people started an after-party under the pretense of eating at their favorite restaurant, which stimulated the mouths of those watching. In particular, Hong Hyun-hee impressed the former manager who wanted to drink draft beer by providing street service by airlifting it from a nearby store.
'Maedung', who had a cheat day for the first time in 4 months, started a 'real happiness' eating show with a full table of delicacies, but soon disappointed Hong Hyun-hee with a sharp decrease in appetite. She even tried babbling at his unfamiliar appearance, but when this failed, she finally declared a breakup and poured out her gradient anger. In addition, Hong Hyun-hee made a video call to Cheon-dung, a member of 'Cheon.jam.mae' and his wife-in-law, Cheon-dung, and Cheon-dung was surprised by 'Mae-dung''s slim face and six-pack.
Ten Asia Reporter Kim Seo-yoon seogugu@tenasia.co.kr