ENTERTAINMENT
Broadcaster Lee Cheon-soo deceived Hyun Jin-young and KCM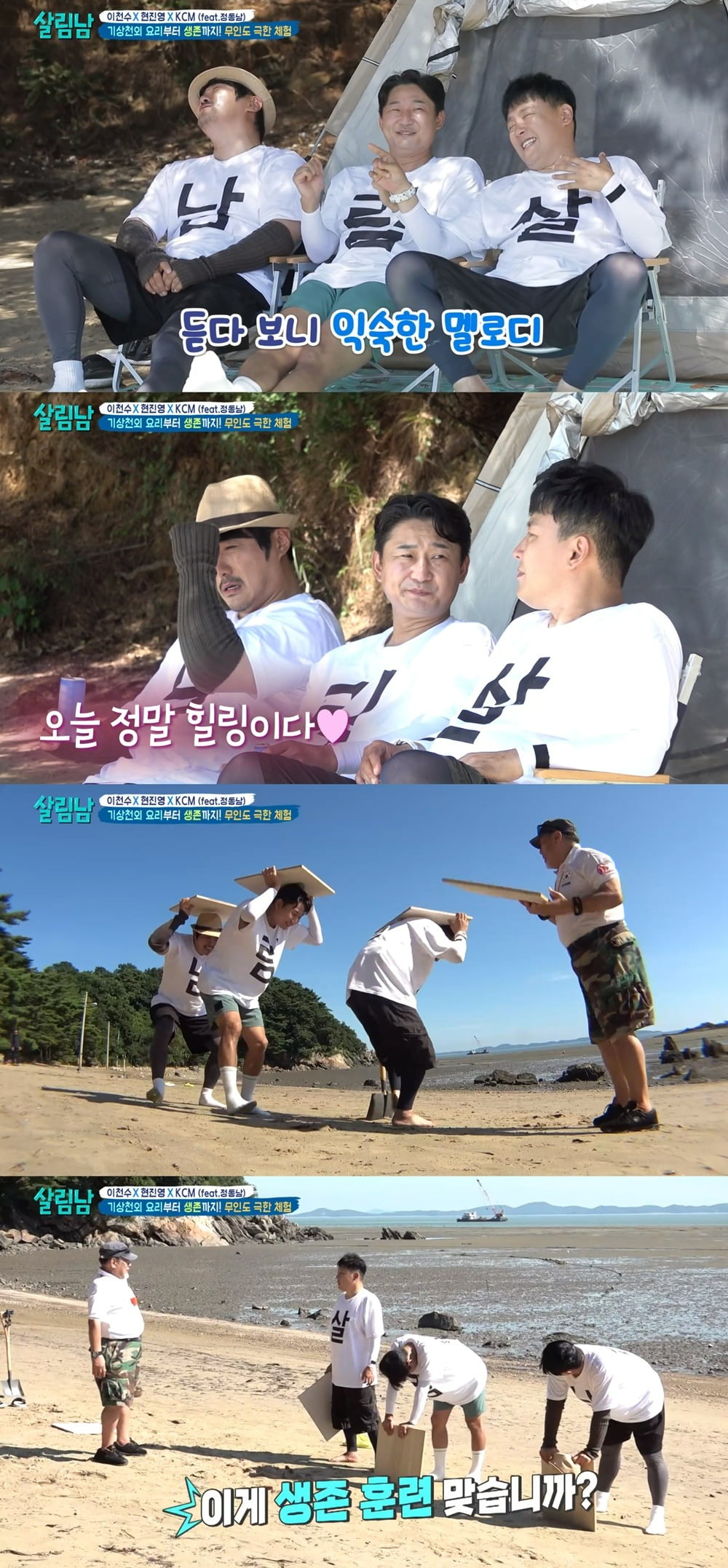 Lee Cheon-soo prepared a camping trip for Hyun Jin-young, who was working on a song.
According to Nielsen Korea, a viewership rating research company, on the 3rd, the viewer rating of 'Men Who Do Housework Season 2' (hereinafter referred to as 'Salimnam'), which aired the previous day, recorded 4.5% nationwide. In particular, the scene where Lee Cheon-soo, Hyun Jin-young, and KCM hum a song before meeting Jeong Dong-nam and the scene where they engage in earthquake evacuation training afterwards recorded the highest viewership rating of 5.4%.
On this day, Hyun Jin-young invited his close younger brother KCM, and the three showed their excitement for the trip by pitching a tent. KCM was satisfied and said, "Today is really healing," and Lee Cheon-soo asked Hyun Jin-young, "This is a place to remember my brother's bad thoughts. Do you feel it? But how do the bad thoughts come?" Hyun Jinyoung suddenly hummed, "Sea~" and explained, "It starts with this feeling." KCM, who listened to this, continued singing, saying, "Would I be a lonely water bird lying in the sea?" The three people all fell into healing by singing 'Lying in the Sea' together.
However, this trip planned by Lee Cheon-soo was not camping but an extreme experience on a deserted island. When actor and lifesaver Jeong Dong-nam appeared, the three people became very nervous. Lee Cheon-soo said, "I became familiar with water thanks to learning survival swimming from teacher Jeong Dong-nam the other day. I secretly invited him to spread this learning."
The three people, who began survival training under Jeong Dong-nam's instructions, showed their full potential as soon as they started PT gymnastics, which builds strong physical and mental strength. In earthquake evacuation training, they learned how to move around with plywood on their heads, and Jeong Dong-nam corrected their sloppy posture and taught them discipline.
Jeong Dong-nam immediately ordered a first-come-first-served race. Hyun Jin-young and KCM interfered by keeping Lee Cheon-soo in check, and in the end, Lee Cheon-soo, who came in last place, had a hard time saying, "I have good physical strength, but even Son Heung-min and Lee Kang-in can't do this."
Additionally, the three people blew a plastic bottle with their noses, made dots on their foreheads, and received Jeong Dong-nam's energy. As his skills improved, he became more and more immersed in extreme experiences. Afterwards, the three people who worked on building a bit that could cover their bodies had a hard time with endless shoveling and raised both hands and laughed, saying, "Just tell the enemies to come in."
Ten Asia Reporter Kim Seo-yoon seogugu@tenasia.co.kr