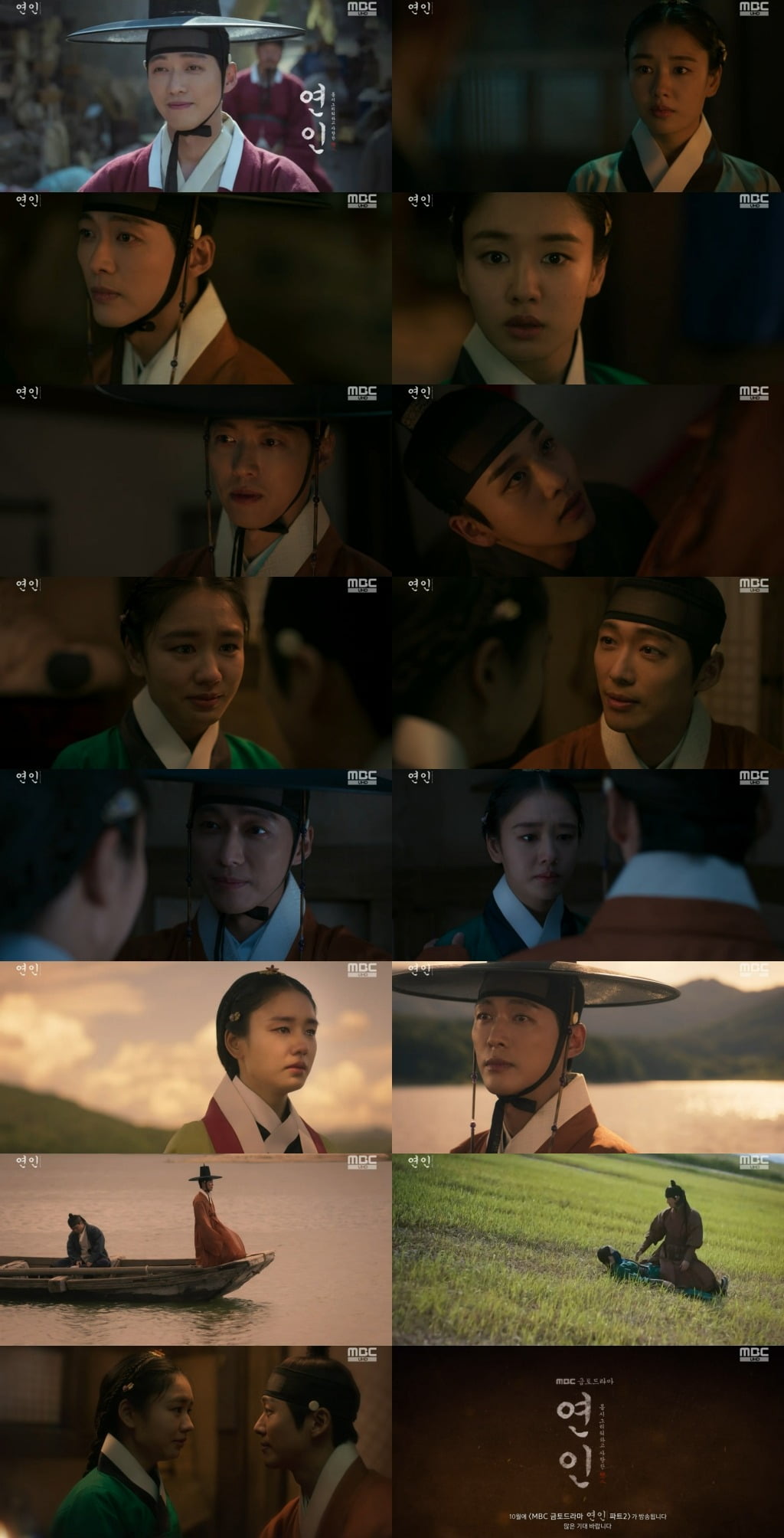 Part 1 of 'Lovers' has been completed.
According to Nielsen Korea, a viewership rating research company, on the 3rd, the 10th episode of MBC's Friday-Saturday drama 'Lovers', which aired on September 2, broke its own record with a national viewer rating of 12.2% and a metropolitan area viewership rating of 11.5%. This figure corresponds to the first place among all channels in the same time zone and the first place among all Friday-Saturday dramas. At the moment, the highest viewer rating soared to a whopping 14.4%. The 2049 male and female viewership rate, a key indicator of advertising and channel competitiveness, also broke its own record at 3.6%.
In the 10th episode of 'Lovers', the heartbreaking love story of Lee Jang-hyun (played by Namgoong Min) and Yoo Gil-chae (played by Ahn Eun-jin) unfolded for 90 minutes. The two people, who faced each other after overcoming a terrible war and several near-death situations, found it difficult to confirm their feelings for each other. However, a harsh fate separated the two once again, turning the home theater into a sea of tears.
Several years have passed since Lee Jang-hyeon left for Shenyang in the Qing Dynasty. Lee Jang-hyeon, who was finally able to set foot on Joseon soil, returned to Hanyang loaded with flower shoes to give to Yu Gil-chae. However, Yoo Gil-chae, who thought Lee Jang-hyeon was dead, was about to marry Gu Won-moo (played by Ji Seung-hyun), the man who saved her life in the past. In fact, it was Lee Jang-hyeon who saved Yoo Gil-chae at the time, but Lee Jang-hyeon couldn't bear to tell the truth out of feeling sorry for Yoo Gil-chae.
Lee Jang-hyeon felt deep anger and sadness that Yoo Gil-chae was trying to marry a man other than Nam Yeon-jun (played by Lee Hak-ju). Yoo Gil-chae rushed over, happy and surprised that Lee Jang-hyeon was alive. However, Lee Jang-hyun poured out harsh words to Yoo Gil-chae. Yoo Gil-chae also turned away coldly, upset and heartbroken that he desperately missed Lee Jang-hyun, who had left him behind several times.
However, there was a reason why Yu Gil-chae decided to marry Gu Won-mu. Gu Won-moo protected Yoo Gil-chae's father. Also, seeing Gu Won-mu say the same thing Lee Jang-hyeon said when he left for Shenyang, Yoo Gil-chae came to understand his feelings. And the person who had the greatest influence on Yoo Gil-chae's decision was Yang Eum (played by Kim Yun-woo). Liang Eum lied to Yu Gil-chae that Lee Jang-hyeon was dead and that he had met another woman before his death.
Lee Jang-hyeon became enraged when he found out late that Yu Gil-chae had misunderstood because of Liang-eum. And then he went to Yu Gil-chae again and begged. Yoo Gil-chae also poured out the feelings of sadness, love, and resentment toward Lee Jang-hyeon that he had in his heart. In response, Lee Jang-hyeon said, "I will receive the punishment that the woman gives me and die by the woman's hands," and added, "Let's come out." At that moment, the two people were overcome with passion. And then they held hands and started running.
So Jang-hyeon Lee and Gil-chae Yoo ran away together. Lee Jang-hyeon made the world's most heartbreaking marriage proposal to Yoo Gil-chae, saying, "I will become your servant." However, the fate the two faced was too harsh to think only about love. Before leaving with Lee Jang-hyeon, Yoo Gil-chae came to briefly say hello to his father and ran into Gu Won-moo. As Yoo Gil-chae was running away, he thought of his father and younger brother, who only looked at him, and his friend Gyeong Eun-ae (played by Da-in Lee) and his family, who shared life and death and ups and downs with him. And then he realized that he couldn't leave them behind.
Eventually, Yu Gil-chae returned home. Lee Jang-hyeon watched Yoo Gil-chae from afar and turned around in tears. Yoo Gil-chae delivered a letter to Lee Jang-hyeon, written in a cold and deliberately cold manner. The fates of the two intersected once again. Just like that, Lee Jang-hyun left, and Yoo Gil-chae watched Lee Jang-hyeon leave from afar, feeling heart-broken sadness. Two years later, Lee Jang-hyeon rescued Joseon prisoners of war in Shenyang. In the process, episode 10 of 'Lovers' ended with the encounter with Paran Mask (played by Lee Cheong-ah), a Qing Dynasty captive hunter.
'Lovers' concluded Part 1 with episode 10 on September 2nd. 'Lovers' Part 1 showed powerful storytelling by depicting the heartbreaking love of lovers and the strong vitality of the people during the terrible war called the Manchu War with tight and solid plot and elegant and gem-like dialogue.
Ten Asia Reporter Kim Seo-yoon seogugu@tenasia.co.kr