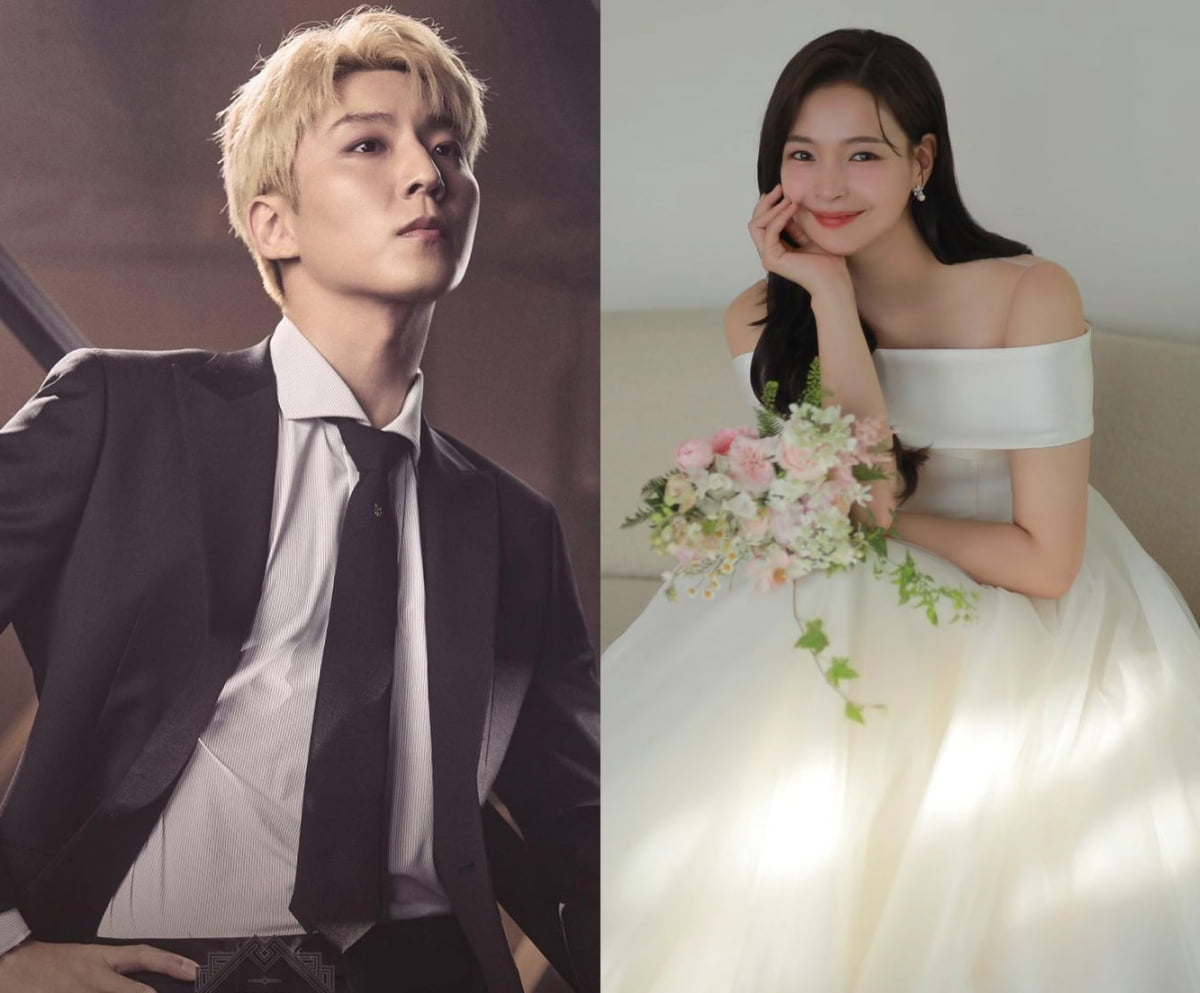 Musical actor Yun Eun-oh and Musical actress Na Hana are getting married.
On the 28th, the two announced their marriage by posting handwritten letters on their online accounts. Yoon Eun-oh began writing, "I am writing to share the happiest news in my life with those who always send me words of support and love." "The person I met as a 'friend' for 2 years and 6 months, and a 'lover' for 2 years and 6 months, and I are now each other's 'companion', and we are going to go through the second act of life together," he said, announcing his marriage to Nahana. He also said, "My partner is a friend who always makes me happy and fun when I'm with him, and I have a lot to learn from him. He is also a 'good person' who respects and cherishes me more than anyone else."
Yoon Eun-oh asked for support, saying, "I hope you will pray for our future with the warm gaze you have sent." He also added, "I will always do my best on stage as actor Yoon Eun-oh, and I will sincerely repay the love you give me."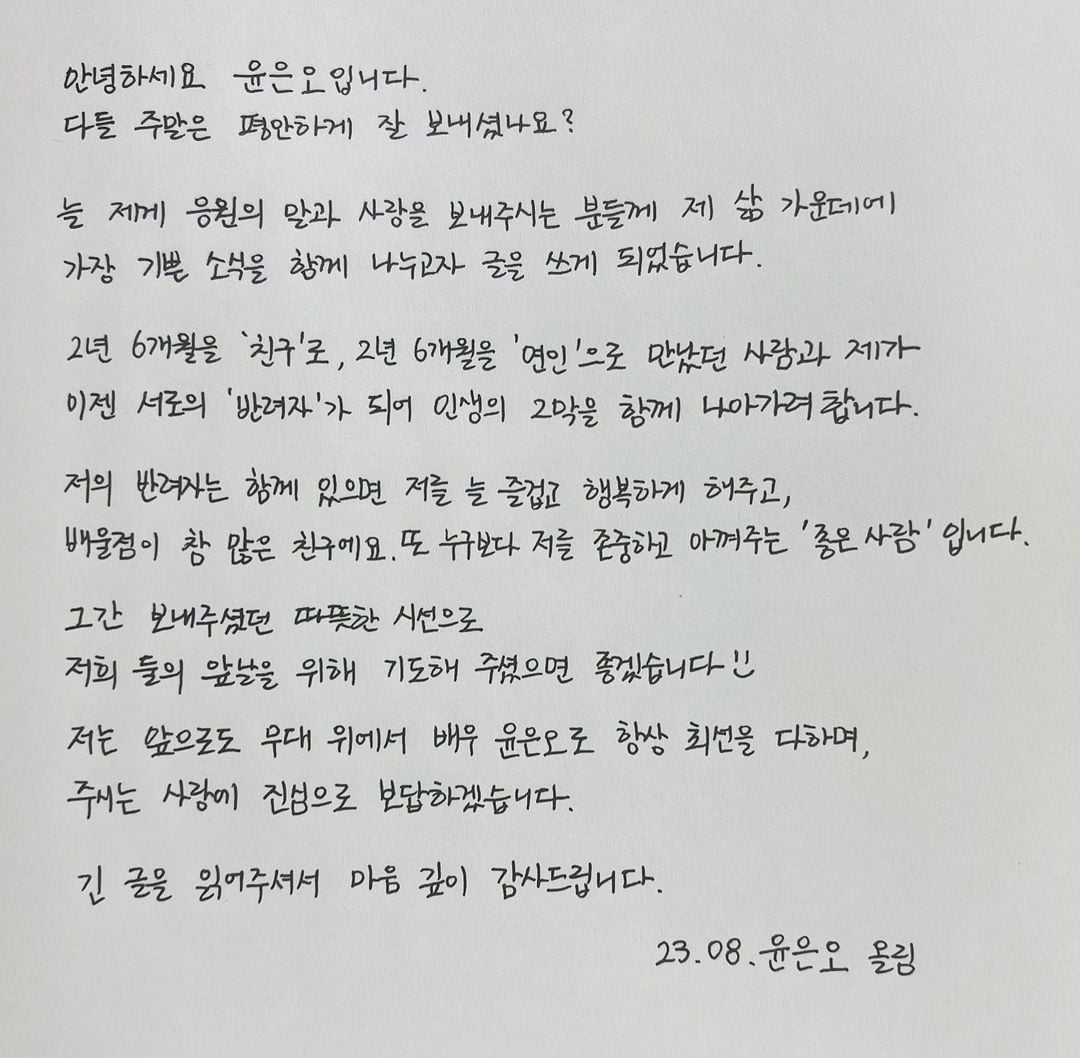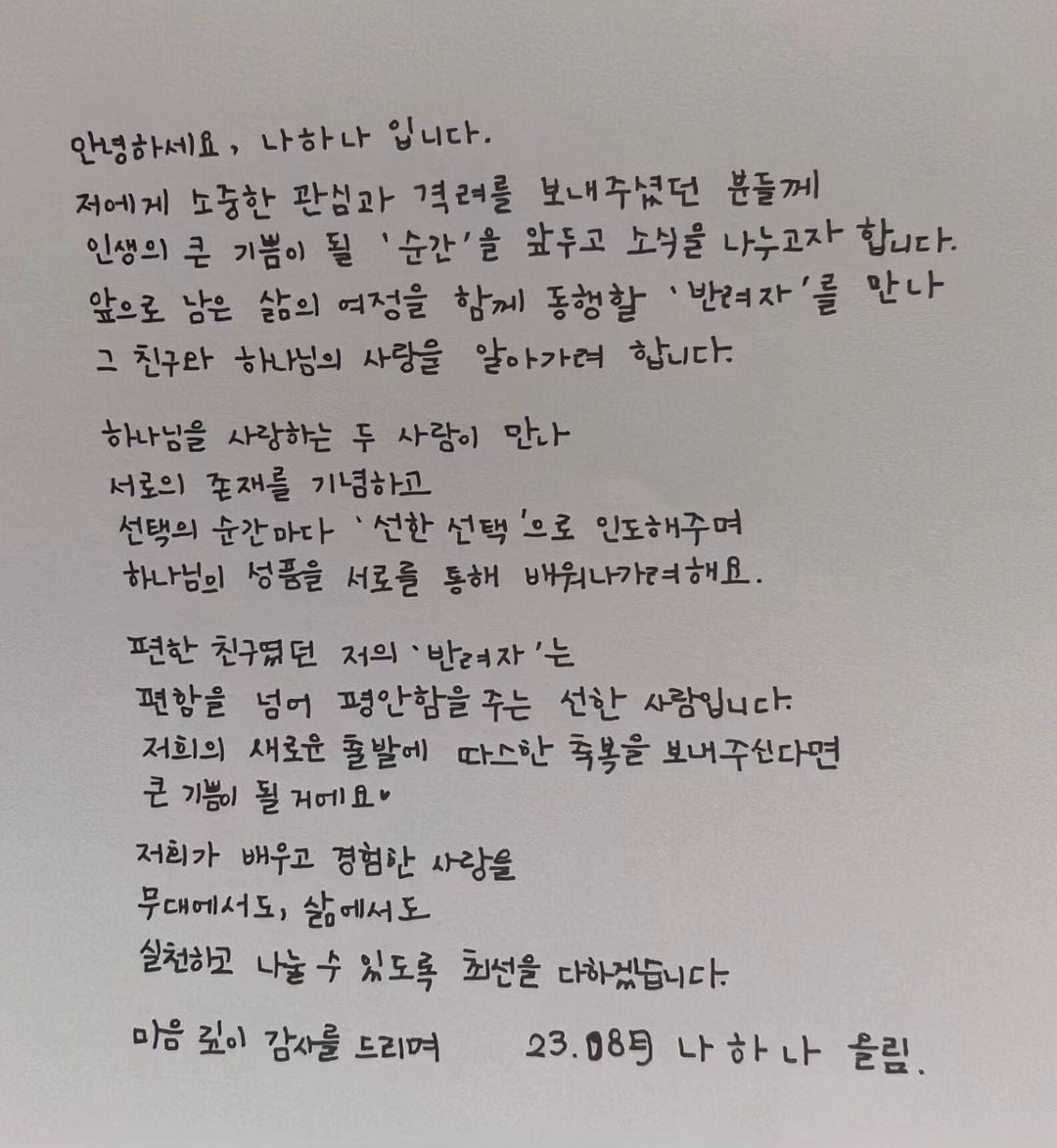 Hana Na also said, "I would like to share the news ahead of the 'moment' that will be a great joy in life to those who have given me valuable attention and encouragement." I want to get to know the person of ". He continued, "Two people who love God meet to celebrate each other's existence, guide them to 'good choices' at every moment of choice, and try to learn God's character through each other."
Nahana said, "My 'companion', who was a comfortable friend, is a good person who gives me peace beyond comfort. It would be a great pleasure if you send warm blessings to our new start." He added, "We will do our best to practice and share the people we have learned and experienced on stage and in life."
Yoon Eun-oh debuted as a member of the group Bromance in 2016. He appeared on the stage of musicals such as 'Gwanghwamun Sonata', 'Navillera', 'Thrill Me', 'Vincent Van Gogh', 'Crash Landing on You', and 'Sweeney Todd'. He also played the male lead in the music video for the title track of Mamamoo's 1st full-length album, his senior at the agency. He also participated in the JTBC idol audition 'Mix Nine'. In May 2021, from his real name Lee Chan-dong, he changed his stage name Yun Eun-oh.
Nahana debuted in 2016 with the musical 'Dorian Gray'. Since then, he appeared in 'In the Heights', 'Laundry', 'Gwanghwamun Sonata', 'Cyrano', 'Wicked', 'Kinky Boots', 'Hourglass', and 'Crash Landing on You'.
The two were born in 1992 and are the same age.
Reporter Kim Ji-won, Ten Asia bella@tenasia.co.kr