ENTERTAINMENT
"Don't forget me" Namgoong-min and Ahn Eun-jin finally kiss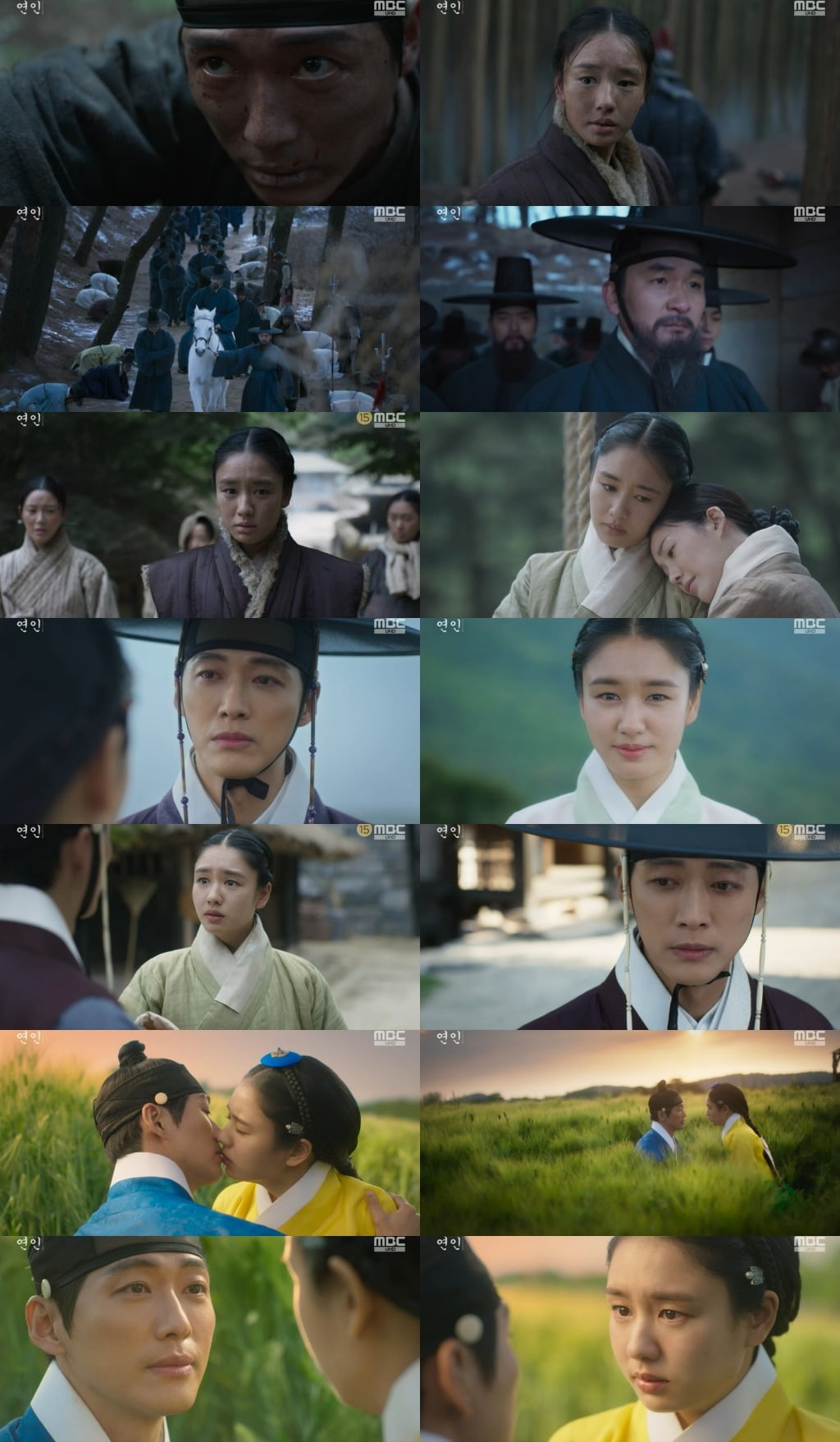 'Lovers' Namgoong-min and Ahn Eun-jin finally kissed each other.
According to Nielsen Korea, a ratings research company on the 27th, the 7th episode of MBC's Fri-Sat drama 'Lovers', which aired the previous day, recorded a nationwide viewer rating of 10.6%, taking first place among all channels and dramas in the same time slot. It rose by a whopping 1.3% compared to the previous episode, breaking its own record again. At the moment, the highest viewership rating soared to 12.2%.
In the 7th episode of 'Lovers', the Byeongjahoran ended with the birth of Injo (played by Kim Jong-tae). Some whispered that it was humiliating, but as the war ended, the people returned to their seats one by one. And the hearts of the lovers were once again filled with love. The hearts of Lee Jang-hyeon (Nam Goong-min) and Yu Gil-chae (Ahn Eun-jin) were also stained with affection.
On this day, Lee Jang-hyeon fought alone against dozens of barbarians to help Gil-chae Yoo escape on an island near Ganghwa Island. Then he lost consciousness and fell down the cliff. Yu Gil-chae recalled the face of Lee Jang-hyeon, whom he had seen at a glance while running away, and ran back again. But Lee Jang-hyun was not there. Lee Jang-hyun watched Yoo Gil-chae, who saved his life, from under the cliff and said, "I said. I will definitely come to see you," he was relieved.
The war ended like that, and Yu Gil-chae and his party returned to Neunggun-ri, which they had been dreaming of. But after the war, Neunggun-ri was devastating. Kyung Eun-ae (played by Da-in Lee)'s father had already lost his life to a barbarian, and in shock, Gil-chae Yu's father lost his mind. Even in the midst of sadness, Gilchae Yu shuddered and stood up to survive. And after a while, Nam Yeon-joon called Kyung Eun-ae to Hanyang. Gil-chae Yu decided to break up with Eun-ae Kyung, but Eun-ae Gyeong, who lost her father, held on to Gil-chae Yu.
Meanwhile, Lee Jang-hyun, who managed to save his life, suffered from Mama (smallpox). It was Yu Gil-chae who raised him up. While wandering between death and death, Lee Jang-hyeon thought of Yu Gil-chae. Gil-chae Yu was the salvation itself to Jang-hyeon Lee. After hearing the news that Gil-chae Yu had come to Hanyang, Lee Jang-hyeon, who woke up, went to Nam Yeon-joon's house where she was staying.
After coming to Hanyang, Yu Gil-chae was also confused by the thought of Lee Jang-hyeon. I was worried and curious if Lee Jang-hyun was still alive. Eventually, he went directly to Hanyang's Right Heart, which Lee Jang-hyun had talked about in the past. The two people, who had crossed paths like that, eventually met. The pleasure was short-lived, but the two couldn't easily reveal their feelings as always. When Yoo Gil-chae asked if he had saved him on the island, Lee Jang-hyeon lied and said no.
After a while, Nam Yeon-joon told Yoo Gil-chae that he would soon propose to Kyung Eun-ae. In response, Gil-chae Yu tried to leave, saying that she would never have a conversation with Nam Yeon-joon alone. At that time, Nam Yeon-jun grabbed Yoo Gil-chae. He shook Yu Gil-chae's heart by bringing out the words of Gong Sun-yak (played by Park Jong-wook), who died on the battlefield. Gil-chae Yu shed tears. Lee Jang-hyun, who watched the two from afar, was overcome with anger. In the end, Lee Jang-hyun gave Nam Yeon-jun a harsh warning and turned around.
Prior to this, Pyo Eon-gyeom (played by Yang Hyeon-min), an insider, visited Lee Jang-hyeon. While Crown Prince Sohyeon (played by Kim Moo-jun) became a hostage and went to Shenyang in the Qing Dynasty, Pyo Eon-gyeom, who had his eyes on Lee Jang-hyeon during the Byeongja Horan, asked Lee Jang-hyeon to go to Shenyang together. In the end, Lee Jang-hyeon decided to go to Shenyang. And he told this to Yu Gil-chae. My heart sank when Lee Jang-hyeon said that Yu Gil-chae was leaving again.
The next day, Gil-chae Yu visited Lee Jang-hyeon again. And even if he went to Qing Dynasty, he threatened that he would not meet Lee Jang-hyeon. However, this was not Yu Gil-chae's sincerity. As if trying to hide the pain of parting, Lee Jang-hyeon pulled out the daenggi that Yu Gil-chae secretly gave him during the war and played a prank on Yu Gil-chae. Then, the two of them fell together in a field of green barley.
Lee Jang-hyun, who joked skillfully as if approaching Yu Gil-chae, eventually kissed Yu Gil-chae. "Even if you don't fall in love with me, don't forget me. You must never forget today, this moment with me," he said. Episode 7 of 'Lovers' ended with Lee Jang-hyun's sad and heartbreaking confession and Yoo Gil-chae looking at Lee Jang-hyun.
Kim Seo-yoon, staff reporter seogugu@tenasia.co.kr