ENTERTAINMENT
Singer Lee Chan-hyuk reveals his changed daily life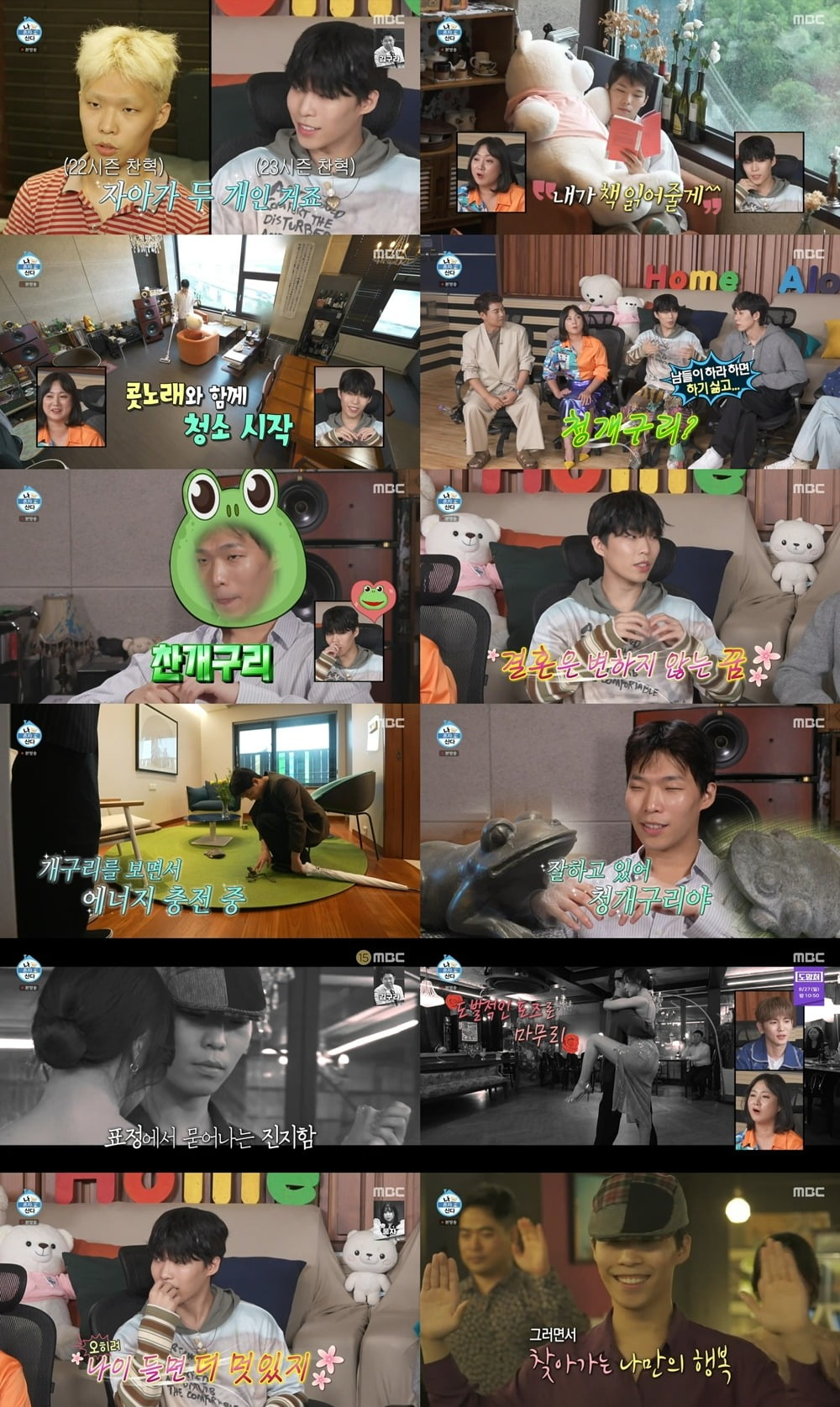 Lee Chan-hyeok is back with 'Chang Frog' dancing the tango.
On MBC's 'I Live Alone', which aired on the 25th, the daily life of Kim Dae-ho, who went to Ulleungdo, and Lee Chan-hyuk, who returned with a different look, were revealed.
According to Nielsen Korea, a ratings research company on the 26th, the viewership rating of 'I Live Alone', which aired the previous day, was 8.7% (based on the metropolitan area), ranking first in the same time slot as well as among entertainment programs on Friday. The 2049 audience rating, which is a key indicator for advertising officials and a key indicator of channel competitiveness, also recorded 3.8% (based on the metropolitan area), taking first place in the same time zone and overall, including entertainment and dramas broadcast on Fridays.
Kim Dae-ho achieved the bucket list of re-entering Ulleungdo after 11 years, which he was fascinated by when he was a new announcer. Kim Dae-ho's child-like appearance, showing his excitement on a cruise to Ulleungdo, like a hotel, caused a smile. Kim Dae-ho enjoyed the cool sea and enjoyed the cruise trip by performing a live performance of 'Hon. In response, the rainbow members expressed their envy by asking them to go to Ulleungdo together as a rainbow group.
Ulleungdo, which I met after 11 years, aroused admiration with overwhelming scenery that reminded me of 'Jurassic Park'. Kim Dae-ho expressed his excitement, saying that the feeling of stepping off the cruise and taking the first step on Ulleungdo was similar to when humans landed on the moon. The reason Kim Dae-ho visited Ulleungdo was because of the 'Ulleungdo Forestry'. Kim Dae-ho said that the loan is coming to an end, and that he wanted to realistically study in advance for the romance of living in Ulleungdo after retirement, revealing the purpose of re-entering Ulleungdo this time.
Dae-ho Kim went to see the property as if on a tour of Ulleungdo with a real estate agent on Ulleungdo. Kim Dae-ho failed (?) with a poker face on the Ulleungdo listings that snipe people's tastes every time they see them, from the No. 1 listing with a beautiful mural, to the No. 2 listing with a great sea view, and the No. 3 listing with a low sea view and low cost burden. gave The more I looked at the sale, the more realistic concerns increased. With the announcement of the sale of No. 4, which will mark the end of the Ulleungdo farm next week, expectations are focused on what kind of place will be the number one in his heart.
On the other hand, Lee Chan-hyuk's daily life, which was different from the previous rainbow live, was revealed and attracted attention. From the changed house structure to the direct cleaning, laundry, and cooking, as well as the eyes toward Wilson, the members of the rainbow were surprised by his daily life, where he felt warm and friendly. He explained the reason for the change, saying, "I lived too fiercely and because the tempo of life is fast, I wanted to leave because the static feeling of home didn't suit me, but after going through that process, I think I've come to think that I want to rest at home now."
Lee Chan-hyuk drew attention by revealing his extraordinary love for frogs. Thinking of himself as a 'tree frog' while going his own way, he revealed the recent situation of becoming a 'frog collector' after falling in love with the cuteness of frogs. Lee Chan-hyeok's love for frogs continued outside the house. Lee Chan-hyeok, who visited the 'Roll-House' that helped him discover his frog identity, recharged his energy by looking at the frog objects. He returned home with a lot of energy from frogs and headed somewhere on a 'romantic bicycle' marked by Lee Chan-hyeok decorated with flowers and a wine basket.
Lee Chan-hyeok headed to a regular book cafe he had visited before, and enjoyed a cup of tea in his designated seat. In addition, he attended a tango meeting held at a book cafe and drew attention. He expressed his affection for tango gatherings, saying, "It feels so good when a familiar place feels new again." Lee Chan-hyuk learned tango with the members and showed off his tango skills on the spot to the music. He showed his sincerity to tango by revealing that he would also like to participate in a contest for newcomers.
He said, "If there is something that attracts me, I try not to miss it. Now is the time to establish that standard. I hope that a day like today will pile up and become a better life," and viewers cheered for his happiness to find in the future.
Kim Seo-yoon, staff reporter seogugu@tenasia.co.kr