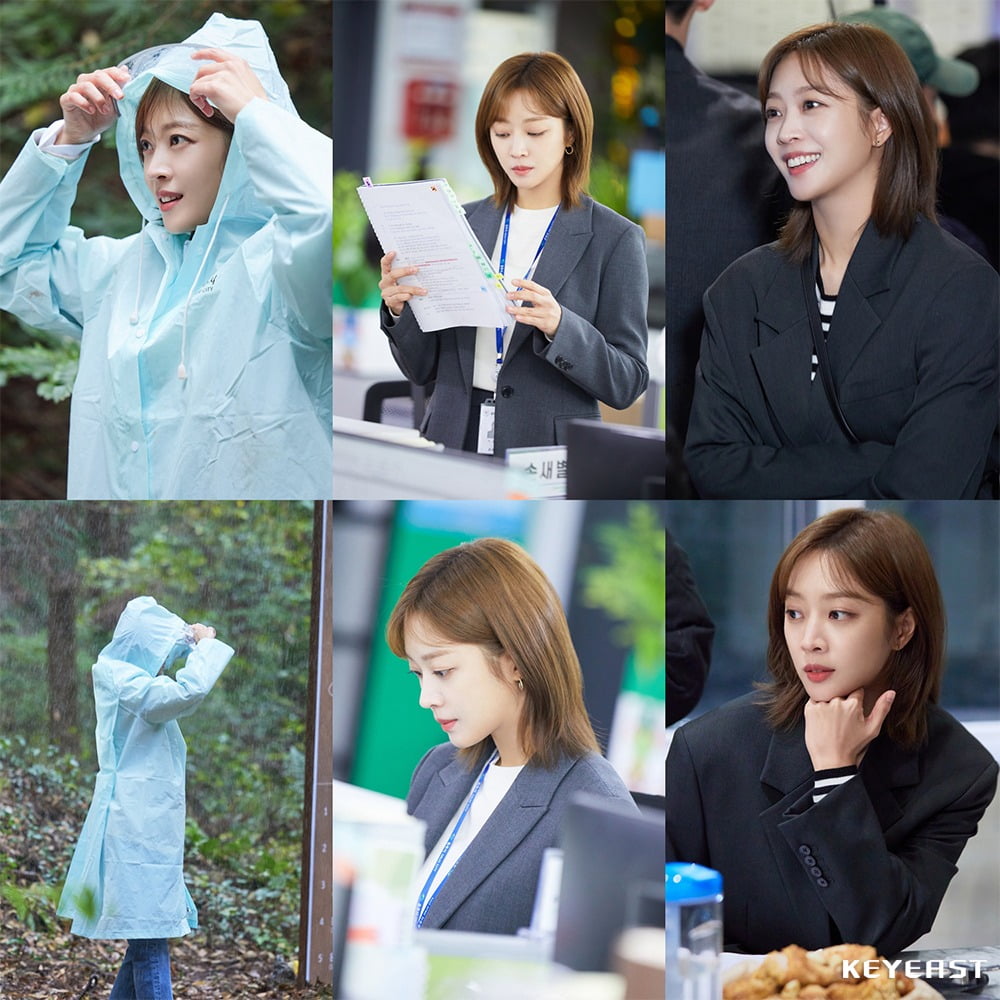 Actress Jo Bo-ah showed off her 'irresistible' charm.
On the 25th, KeyEast, the agency, released a behind-the-scenes still cut of Jo Bo-ah's filming for JTBC's new Wednesday-Thursday drama 'This Love Is Irresistible'. Jo Bo-ah takes on the role of Lee Hong-jo, a civil servant at the Onju City Hall and always doing her best.
Jo Bo-ah, wearing a raincoat in the public photo, attracted attention with a rain-soaked appearance. He was completely immersed in the role of Lee Hong-jo, a passionate civil servant who went through the forest to solve civil complaints through heavy rain, and drew attention by showing off a visual that could not be covered by a raincoat and hat.
In the office, he conveyed his anti-war charm with more serious eyes. Jo Bo-ah wore an employee ID card around her neck in a neat jacket and showed off her office worker force. At a dinner party, which is indispensable for corporate life, the smile that shines brightly to the surroundings was impressive. Interest in the drama also increased due to the behind-the-scenes filming of Jo Bo-ah, which was not seen on the air.
In this week's first broadcast of 'This Love Is Irresistible', Jo Bo-ah captured the viewers' attention by doubling Lee Hong-jo's loveliness as well as her passionate acting. In addition to this, the trance-like cute dance, the honesty that cannot be hated, and the irresistible charm that stimulates the curiosity of the male lead Jang Shin-yu (played by Rowoon) in the play have raised the fun of watching.
Subsequently, as Hong-jo turned out to be the owner of the wood box that lifted Shin-yu's curse, the relationship was reversed. Curiosity is focused on fantasy romance.
On the other hand, 'This Romance is Irresistible', a drama about Jo Bo-ah's lovely charm, is an irresistible romance between Lee Hong-jo, a low-level civil servant who gets a forbidden book that was thoroughly sealed 300 years ago, and Jang Shin-yu, a lawyer who falls victim to the forbidden book. It can be seen every Wednesday and Thursday at 10:30 on JTBC.
Kim Seo-yoon, staff reporter seogugu@tenasia.co.kr