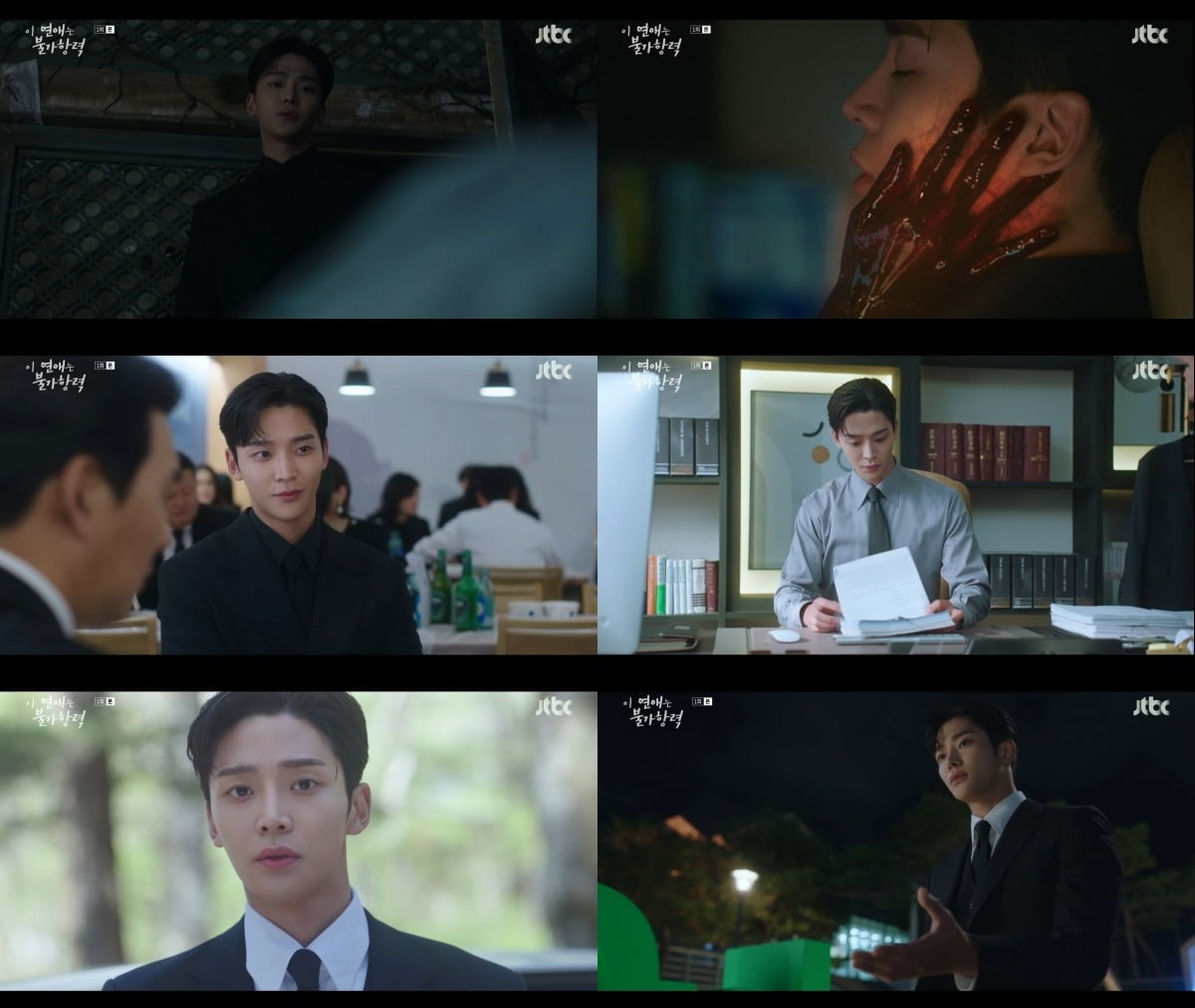 Actor Rowoon gave off an unusual aura from the first appearance of 'This Love Is Irresistible'.
Rowoon took on the role of ace lawyer Jang Shin-yu in the new JTBC drama 'This Love Is Irresistible'. Shinyu, who has a straight image, is a person who is in the spotlight wherever she is. In terms of work, he boasts excellent abilities and is called an ace.
In the first episode of 'This Love Is Force Majeure', which aired on the 23rd, a mysterious curse appeared on Shinyu, a lawyer at a well-known law firm, arousing curiosity. Momentarily, the blood-soaked woman's hand wrapped around Shinyu's cheek. In addition, while getting entangled with Hong-jo (Jo Bo-ah) over the demolition of the ruined Onjusan shrine, he learned that Hong-jo was the 'owner of the wooden box', the key to unlocking the curse of Shinyu, and made him curious about the future development.
Rowoon, who plays this, left a strong impression with his cold and cool eyes in an all-black suit from his first appearance. In particular, he digested the character with accurate diction, breathing, and excellent dialogue delivery despite the large amount of dialogue to suit the character's professionalism.
In addition, in this work, Rowoon has newly created everything from the way he speaks to the way he walks. He convincingly portrayed the character of Shin-yu, who treats Hong-jo with an expressionless expression and harsh tone, and refuses to keep people around him because of the curse that comes down to his family. It is a response that Rowoon succeeded in transforming his image 180 degrees different from the previous characters through his efforts.
'This Love Is Force Majeure' is broadcast every Wednesday and Thursday at 10:30 pm.
Kim Seo-yoon, staff reporter seogugu@tenasia.co.kr