ENTERTAINMENT
Singer Kim Ho-joong advised Ahn Seong-hoon, who expressed his burden, to "blow away the sad mind"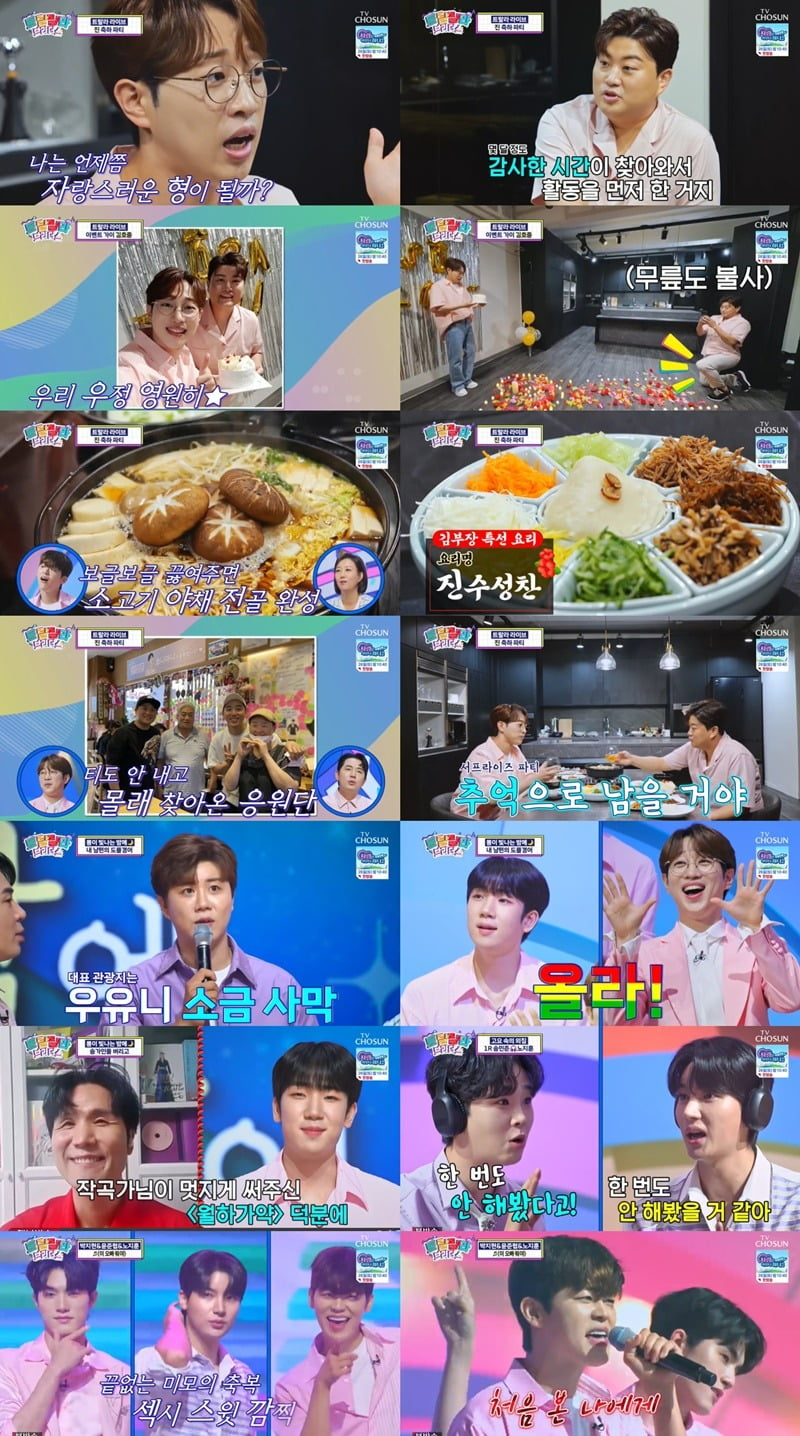 'Tralala Brothers' Ahn Seong-hoon enjoyed a friendship date with his former housemate Kim Ho-joong.
According to Nielsen Korea on the 24th, TV CHOSUN's 'Tralala Brothers', which aired the previous day, recorded a nationwide viewer rating of 4.6%. This corresponds to the first place in all channels in the same time zone, including terrestrial, comprehensive, and cable channels. The highest viewer rating per minute rose to 5.6%.
On this day's broadcast, the friendship between Jin (Jin) Ahn Seong-hoon and Tvarotti Kim Ho-joong gave viewers laughter and emotion at the same time. The two, who had lived together since season 1 of 'Mr. Trot', showed off their chemistry as 'brothers in the trot world' by sharing their thoughts and behind-the-scenes stories.
Kim Ho-joong prepared a surprise event for Ahn Seong-hoon. The heart-shaped flower path decorated with candles and petals reminded me of a proposal. The appearance of Kim Ho-jung making a flower path with the props he prepared himself made me guess his deep affection for Ahn Seong-hoon. Ahn Seong-hoon was embarrassed by Kim Ho-joong's love-filled surprise event, but couldn't hide his smile.
Next, Kim Ho-joong prepared Gujeolpan and hot pot dishes for Ahn Seong-hoon. Kim Ho-joong, who said, "Your brother doesn't do anything," asked Ahn Seong-hoon to trim the ingredients and laughed. The verse board full of sincerity meant the 9 stages that Ahn Seong-hoon passed until he became Jin of 'Mr. Trot 2'. Along with this, the so-called 'meat all-in' hot pot with a huge amount of meat stimulated the salivary glands of viewers.
Ahn Seong-hoon and Kim Ho-joong, who said they got along well without quarreling even though they lived together. The honest conversation between the two that could not be heard anywhere also captivated the hearts of viewers. Ahn Seong-hoon confessed, "I am happy and grateful for the title, but I feel a lot of pressure because I am afraid I will make a mistake." In response, Ho-joong Kim gave deep advice, saying, "I think the moment has come when you can throw away your sad heart and regretful heart and live."
In the corner of 'On the night when the mulberry shines', the story of the past gave a surprise. First, the story of a fan with a Bolivian husband who resembles Jin Hae-seong drew attention. In fact, Jin Hae-seong's doppelganger husband, who was revealed on this day, surprised the Trot Brothers with a similar appearance to Jin Hae-seong as well as Na Hoon-ah.
The story of composer Kwon Noh-haeman, who said that the copyright fee jumped nearly 100 times after composing Jang Yoon-jung's 'Your Side', was also interesting. Kwon Noh-haeman, who said that Choi Soo-ho was the one pick for 'Mr. Trot 2' early on, said that he was so happy that Choi Su-ho sang 'Moonhagayak', which he composed. He revealed that there was also a song written with Choi Soo-ho in mind.
Kim Seo-yoon, staff reporter seogugu@tenasia.co.kr