ENTERTAINMENT
Actress Han Ji-min and actor Lee Min-ki start joint investigation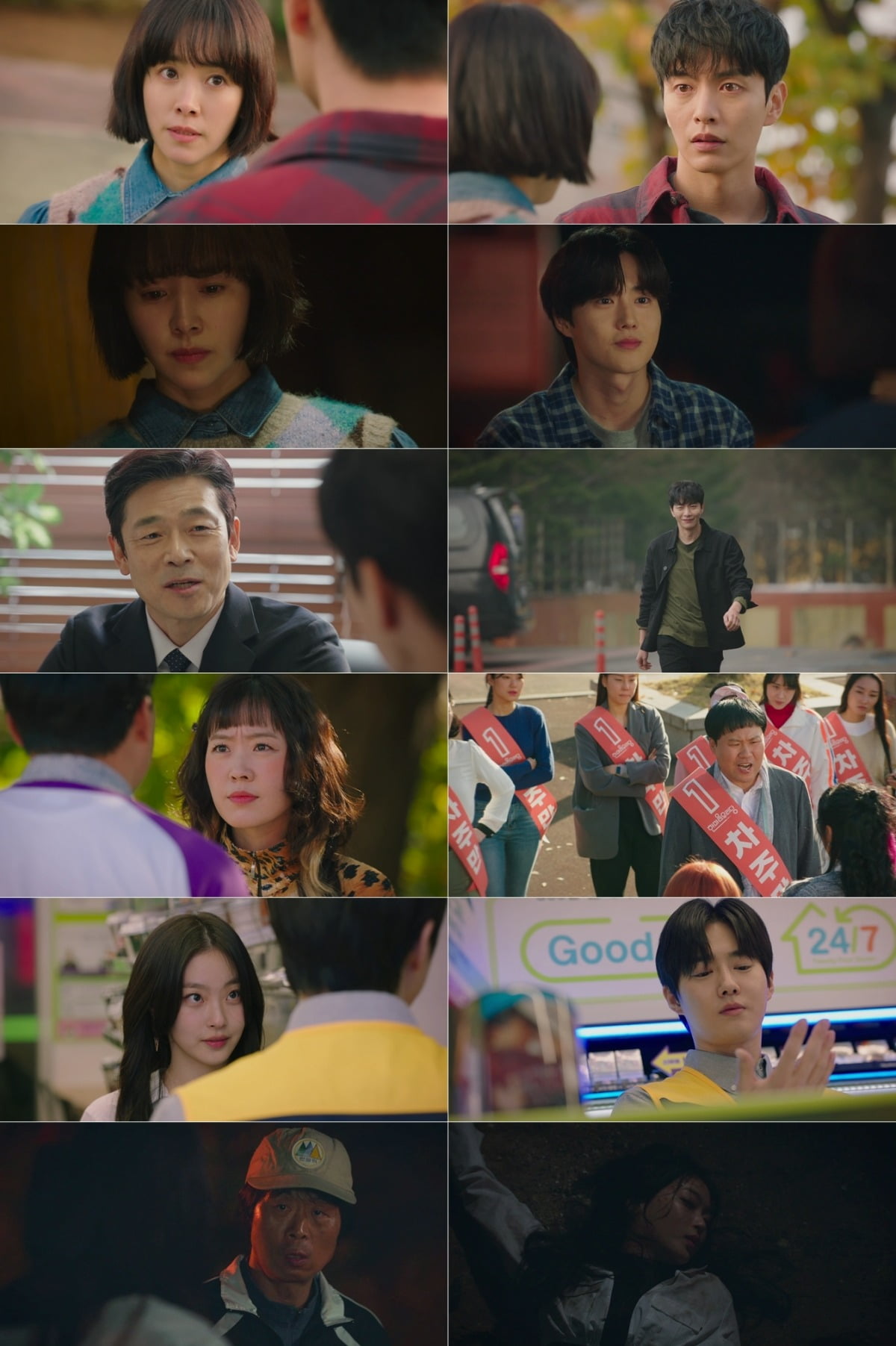 Han Ji-min of 'Hero' started to help Lee Min-ki with supernatural powers.
In the 4th episode of JTBC's Saturday drama 'Hip-hop', which aired on the 20th, Bong Ye-bun (Han Ji-min) faced an unbelievable truth and was thrown into confusion.
The reaction of the viewers was also hot. The 4th episode broke its own record of 7% nationwide and 7.3% in the metropolitan area (Nielsen Korea, based on paid households), ranking first in the same time zone drama. The national 2049 target audience rating was 2.3%.
On this day, Bong Ye-bun learned more about his psychic powers through experiments. I learned that the point of view changes depending on the range of touch, and there is a limit to not being able to see the scene if the other person closes their eyes. Moon Mun-yeol's (Lee Min-ki) 'Bong Ye-bun psychic irregularity' is over, but the bickering is not over. He used Bong Ye-bun's psychic powers to earn money. Bong Ye-bun endured hair loss under the pressure of Moon Mun-yeol, who was blinded by his return to Gwangsu University, and even gave special training for 'Cheolsajang' to train his hands.
Then, an incident occurred that gave wings to Moon Moon-yeol's big feature. Someone stole the list of sponsors that could be a weakness for Cha Joo-man (Lee Seung-jun), a member of the National Assembly. Moon Mun-yeol dreamed of a pink future in which he would solve the case quickly and win favor and return to Gwangsu University. The hot-blooded detective Moon Mun-yeol was fierce. It was speculated that the culprit was someone inside the Chajuman camp. While Bong Ye-bun needed a trick to psychometry the camp people, Bae Ok-hee (played by Joo Min-kyung), the 'sister unit', took the mound once again.
Bae Ok-hee's family instigated a fight at the campaign site, making them entangled with each other and laying a psychometry board. One day, the identity of Kim Yong-myung (played by Kim Yong-myung), who suddenly appeared on Bae Ok-hee's network in place of his younger brother who was giving birth, was also revealed. Once in a twisted identity as a teacher, he completely lost people's minds by pouring out the words of today's children who can not understand at all, polished in life with 'newly coined native speakers'. I definitely didn't hear a word of swearing, but Bong Ye-bun, who was in a strangely bad mood, was able to see the scene on the day of the incident. The truth is surprising. Bong Ye-boon finds out that his grandfather Chung Eui-hwan stole the list of sponsors, but is unable to tell Moon Moon-yeol and is in shock. The mysterious reversal of Jung Eui-hwan, who was usually a passionate supporter of Cha Joo-man and considered him like a son, raised tension.
Chung Eui-hwan's questionable appearance was just the beginning. The actions of the suspicious Mujin people were unusual. A shocking incident occurred when BJ Xiayang (played by Heejin Choi) was dragged away by an unknown person and her life was endangered. In particular, before Xia Yang was attacked, she made a surprised expression as if she knew someone, raising questions about who the culprit was. Miss Xia caused an accident where she almost collided with Jeon Kwang-sik's (Park No-sik) car due to her negligence in looking ahead, and instead got angry with him. Prior to this, Jeong Hyeon-ok (Park Seong-yeon) had a quarrel with Jung Hyeon-ok (Park Seong-yeon) by acting rudely to Jung Eui-hwan, whom he encountered at the hospital. Even Nam Mi-ran (Jeong Rang-bun), who complained about her husband's falling for Xia-yang, raised questions about the unusual relationship with the villagers he met.
Meanwhile, Bong Ye-bun and Kim Seon-woo (Suho) are one step closer. Bong Ye-bun went to the convenience store as an excuse to injure his hand. Kim Seon-woo applied medicine to Bong Ye-bun's hand and suggested that they eat together. Bong Ye-bun told Kim Seon-wu, who said that next time he would buy something more delicious than convenience store food, that everything tastes better when eaten with good people. Two people who found out in common that they both had no mothers. Kim Seon-woo confessed that he came to Mujin because of that memory, saying that his mother said that his hometown, Mujin, was a good place to live. Then, looking at Bong Ye-bun, he added meaningful words, "The air is good and the people are nice," and asked to be friends, adding to the curiosity about what the relationship between the two would be like in the future. Bong Ye-bun was excited when he heard that Kim Seon-woo did not have a girlfriend, but he did have someone he was interested in, and Kim Seon-woo smiled incomprehensibly.
'5551 Couple' Won Jong-mook (Kim Hee-won) and Jung Hyeon-ok's romance were once again mixed. Even though his body was in disrepair, Won Jong-muk, who was even given a special treatment due to the arrest of Ted Chang, was enjoying the joy of being alone. However, Jeong Hyeon-ok, who appeared just in time, unintentionally put him in trouble. Won Jong-muk resented the past when he was scolded by the school security guard because of Jeong Hyeon-ok, but Jeong Hyeon-ok said, "Each step is difficult, difficult," and once again, with a parody line from 'My Liberation Journal', he expressed his heart for Won Jong-muk and laughed. hugged
Kim Seo-yoon, staff reporter seogugu@tenasia.co.kr