ENTERTAINMENT
Broadcaster Narae Park, the beauty that Italian locals fell in love with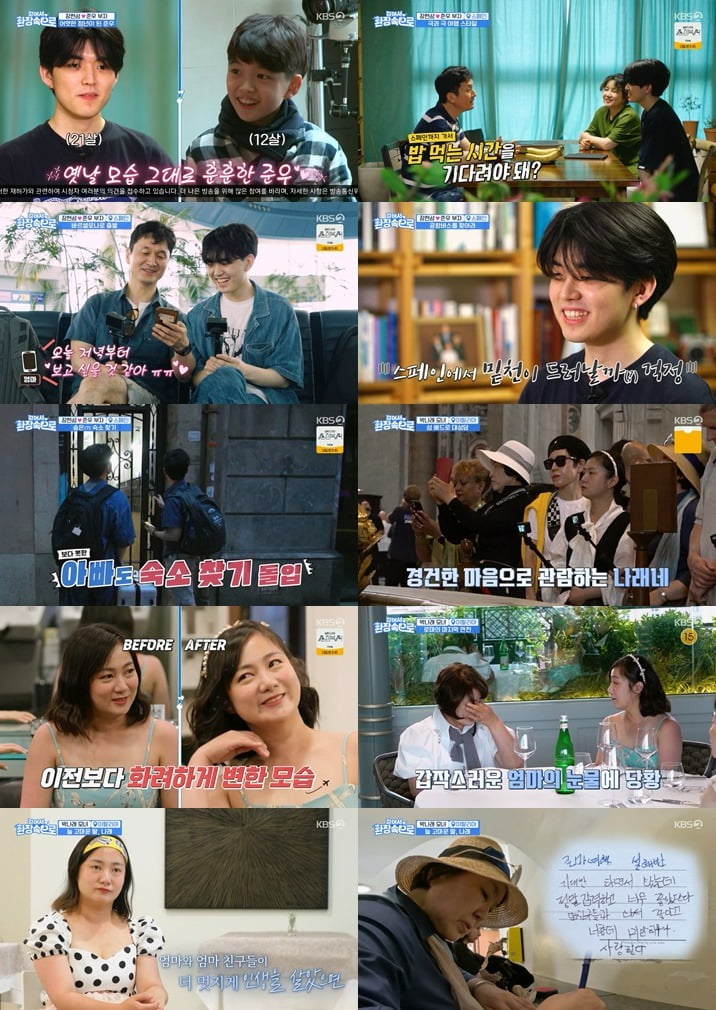 Narae Park successfully finished her mother's holiday in Mokpo Mamiz and Rome, Italy. Along with this, newly joined Jang Hyun-seong and Jang Jun-woo brought laughter with the travel style of pole F and pole T.
The 28th episode of KBS 2TV's 'Walking into the Wonderland' (hereafter referred to as 'Geollwanjang'), which aired on the 20th, depicts the last trip to Italy of Na-rae Park, Myeong-suk Koh, the mother of 'Mokpo Moms', Seon-ja Lee and Jung-hee Koo of 'Mother's Friend'. Park Na-rae visited the Sant Eustachio Cafe for the Mokpo Mamizu who shouted, "We are dying (ice even if we freeze to death)". Top 3 cafes in Italy where iced coffee is prepared for travelers. Narae Park enjoyed breakfast by ordering iced sakerato and Italian cream bread Maritozzo.
Afterwards, Narae Park, who changed into a neat outfit, visited Mokpo Mamizu and St. Peter's Basilica. St. Peter's Basilica is the world's largest cathedral located in Vatican City, the world's smallest country, and a symbol of Catholicism around the world. In particular, Park Na-rae's mother burned with enthusiasm, saying, "I have to go even if it takes 10 hours" despite the endless waiting line. In particular, Mokpo Mamizu said, "I was happy just to see" and "It couldn't be that magnificent" at the wonders that he has never felt before, such as Michelangelo's Pietà, the master of the Renaissance, and the statue of Peter, who is said to have a wish come true if he touched his feet. admired
Along with this, Na-rae Park said, "I'll make you like a queen," and led Mokpo Mamizu to a place with a hairdresser with 43 years of experience to transform it into an Italian style. It was Park Na-rae's gift to spend the last night in Rome in a special way. In response, Narae Park's mother asked, "Save the volume here and kill it here," and Narae Park responded to her mother's unconventional transformation, saying, "Oh my God, it's like Kim Hye-soo. Anyone who sees it will know it's my older sister," he praised stormily. Narae Park also commented on her visual as an Italian princess, "The driver called me 'beautiful' as soon as he saw me. I was very satisfied."
Na-rae Park, dressed up in an Italian style, went to a luxurious restaurant in a 4-star hotel. Narae Park's mother, Myeong-sook Koh, eventually shed tears at the consideration of her daughter, who took care of Mamizu without complaint during the trip, and Narae Park felt her mother's sincerity, saying, "Even without expression, you always feel this way." Narae Park and Mokpo Mamiz visited the jazz bar for the last time, and Narae Park said, "As I grew older with my mother, I realized that my mother was not my mother, but the same woman. I wish my mother and her friends could live a better life," and Narae Park's mother said, "I came to Rome with half excitement and half anticipation, and I was really thrilled and very happy."
The 31st year of debut, actor Jang Hyun-seong, and his first son, Jang Jun-woo, were drawn on a rich backpacking trip. This is the first time Jang Hyeon-seong and Jang Jun-woo went on a trip together, and the place they chose was Barcelona, Spain. It is the largest port city in Spain where every step is romantic and Gaudí's breath is alive. In particular, as Jang Jun-woo's current age was the age when Jang Hyun-seong first started traveling, he expected that it would be a meaningful trip.
However, contrary to Jang Hyun-sung's wishes, the two brought laughter with a travel style in which pole F and pole T were sharply divided. Unlike Jang Hyun-seong, who is a tourist, Jun-woo Jang was a foodie. Jang Hyeon-seong said to his son, who wanted to eat something delicious because it was a trip, "You don't go sightseeing and wait for a restaurant? There is nothing in my life" and "Do I have to wait for lunch?", but I compromised by waiting 15 minutes. Here is not the end. Jang Jun-woo boasted of his major in Spanish, but as soon as he arrived in Spain, he continued to make mistakes, such as asking a foreign guide who could not speak Spanish or getting lost on his way to the airport bus stop. In response, Jang Jun-woo said, "(In Korea), I think I can do well even if I do a little, but I feel like my bottom line has been revealed when I go to Spain."
Nevertheless, Jang Hyeon-seong, his son, Jang Jun-woo, booked accommodation and found his way for the first time on a backpacking trip, so whenever his son ran into difficulties, rather than scolding him, he gave hints so he could solve them or waited silently by the side so that he could do it himself. Since it was his first trip, Jang Hyun-seong, a father who wanted his son to enjoy it instead of worrying, showed off his true self as a strong Superman dad even after all these years.
Kim Seo-yoon, staff reporter seogugu@tenasia.co.kr