ENTERTAINMENT
TWICE's Jihyo, from eating alone to enjoying a daytime drink revealed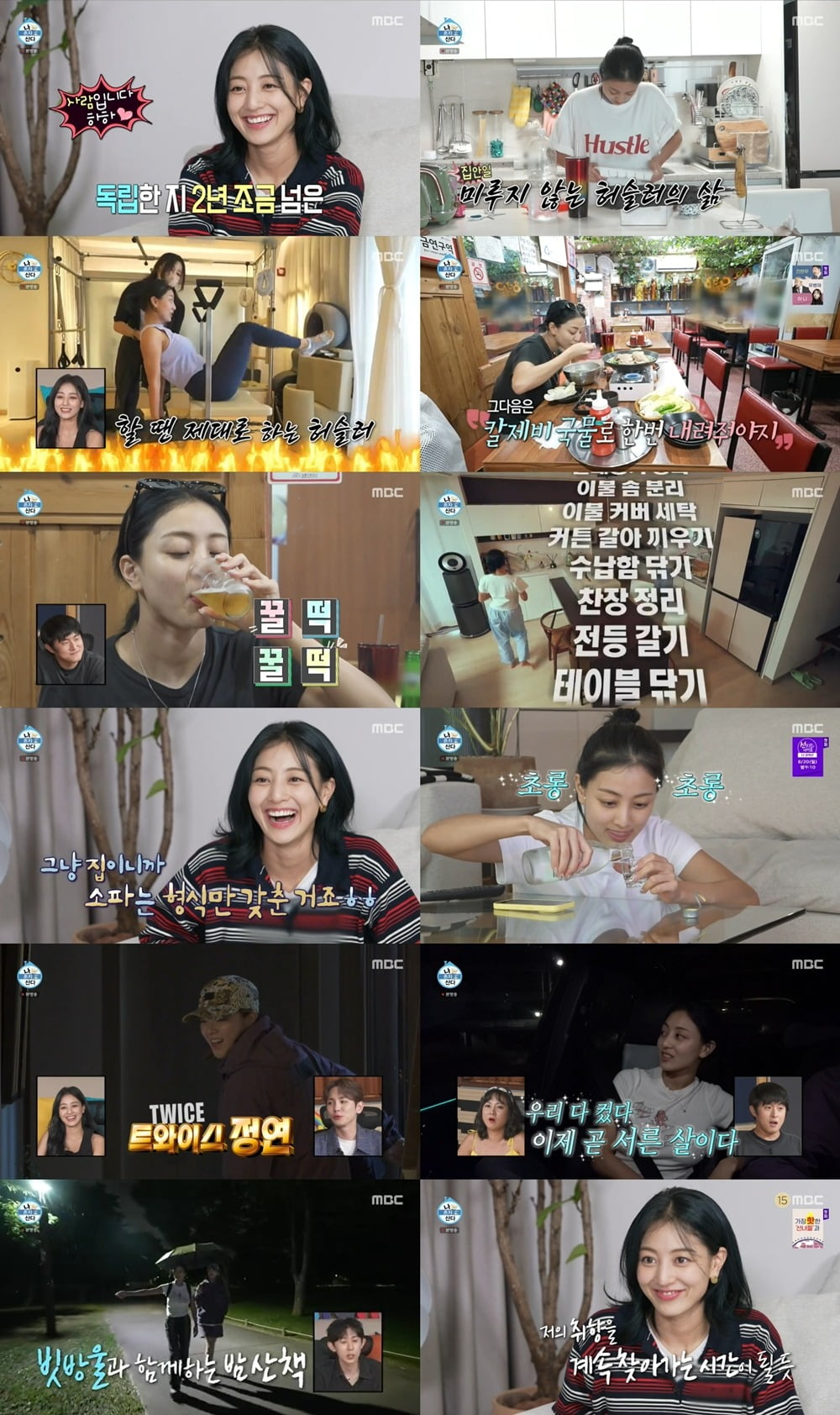 MBC's 'I Live Alone' TWICE's Jihyo revealed a picture of herself enjoying a meal alone and a daytime drink.
On MBC's 'I Live Alone', which aired on the 18th, TWICE's Jihyo's diligent 'Salim AlphaGo' daily life for the second year and Park Na-rae's vacation in Yangyang with her best friend Hwang Bo-ra were revealed.
According to Nielsen Korea, a ratings research company, on the 19th, the viewership rating of 'I Live Alone', which aired the previous day, was 8.5% (based on the metropolitan area), ranking first in the same time slot as well as among entertainment programs on Friday. The 2049 audience rating, which is a key indicator for advertising officials and a key indicator of channel competitiveness, also recorded 4.7% (based on the metropolitan area), taking first place in the same time zone and overall, including entertainment and dramas broadcast on Fridays.
The best minute was the scene where Jihyo separates the duvet and cotton to wash the duvet cover, and the viewer rating per minute soared to 9.8% thanks to Jihyo's tough 'Salim Alpha Go' charm.
Twice's Jihyo's house, which is said to have been independent for a little over two years, drew attention with its clean and comfortable atmosphere with a green potted plant in a combination of white and brown. As soon as Jihyo wakes up, she finds things to do without a break, such as taking care of plants, running the washing machine, arranging flowers, and tidying up her wardrobe. Jihyo's endless housekeeping spectrum, which skillfully handles toolboxes, aroused admiration.
Jihyo's healthy self-management also stood out. When walking, he drew attention by power walking, not using the elevator, and focusing on Spartan Pilates exercise on an empty stomach. Afterwards, he headed to the local market and enjoyed a hearty 'honbap' with bossam and kaljebi at his regular restaurant. In addition, he ordered an additional beer and provoked the resentment of the studio with his anti-war charm of enjoying a daytime drink.
Returning home, Jihyo did not rest even for a moment in 'Salim Machine' mode again. They replaced the curtains and installed the difficult lights. Jihyo's proud expression every time she finished her work gave a warm feeling. Jihyo drew attention by revealing that when she takes a break, "It feels like I'm wasting a day, and I can't find any fun in anything."
When the task was over, Jihyo took out the soju from the kimchi refrigerator and enjoyed 'Kangsoju' without snacks. When she got drunk, Jihyo, who was finally taking a break, had a healing time with Twice member Jeongyeon, who was like her family and best friend of the same age. The two, who are about to turn 30, shared the meaning of turning 30 in the car and shared their worries while taking a walk at night with the sound of rain.
Jihyo revealed the meaning of independence, saying, "I feel like I was born again." (Since becoming independent) I have come to know that I am a person who likes what I like, does what I fit in with, and can do these things. I think my 20s will be a time to keep looking for my taste," he said, making him look forward to his future growth and activities.
On the other hand, Na-rae Park realized the romance of Nice, France in Yangyang, Gangwon-do with Hwang Bo-ra, a '6-year-old best friend'. Dressed in a nice 'female look' from head to toe, she prepared everything from props to create a nice atmosphere in Yangyang, drawing attention. However, Park Na-rae, who soon became sweaty after pitching a tent in the 37-degree heat wave, realized the difference between ideal and reality.
He took off his robe and showed off his body in a red bikini, catching attention. Park Na-rae's confident confidence rushing into the sea, saying, "Bikini is momentum," aroused admiration. Park Na-rae and Hwang Bo-ra headed to the sea wearing a tube and flippers. Rather than a 'hot girl' vacation, the two of them enjoyed playing in the water as if they were on a summer vacation among the family vacationers.
Park Na-rae's passion for hot girls did not stop. On social media, they challenged abs tanning and heart-shaped sand selfies, which are considered fashionable, but laughed at the results that were different from what was expected. The two let go of the romance of Nice and decorated the finale of 'K-Vacance' with pork belly and draft beer.
Hwang Bo-ra expressed her affection for her family to Na-rae Park. In response, Park Na-rae was envious and asked a surprise question, "Didn't my story come out among the male actors?" Hwang Bo-ra responded, "You are popular with female actors," causing laughter. Park Na-rae said, "I started in Nice, France, but I felt like I went back to my childhood because I was with my close sister."
Kim Seo-yoon, staff reporter seogugu@tenasia.co.kr