ENTERTAINMENT
Actor Namgoong-min, vowed affectionately to Ahn Eun-jin, "I will definitely go to meet you"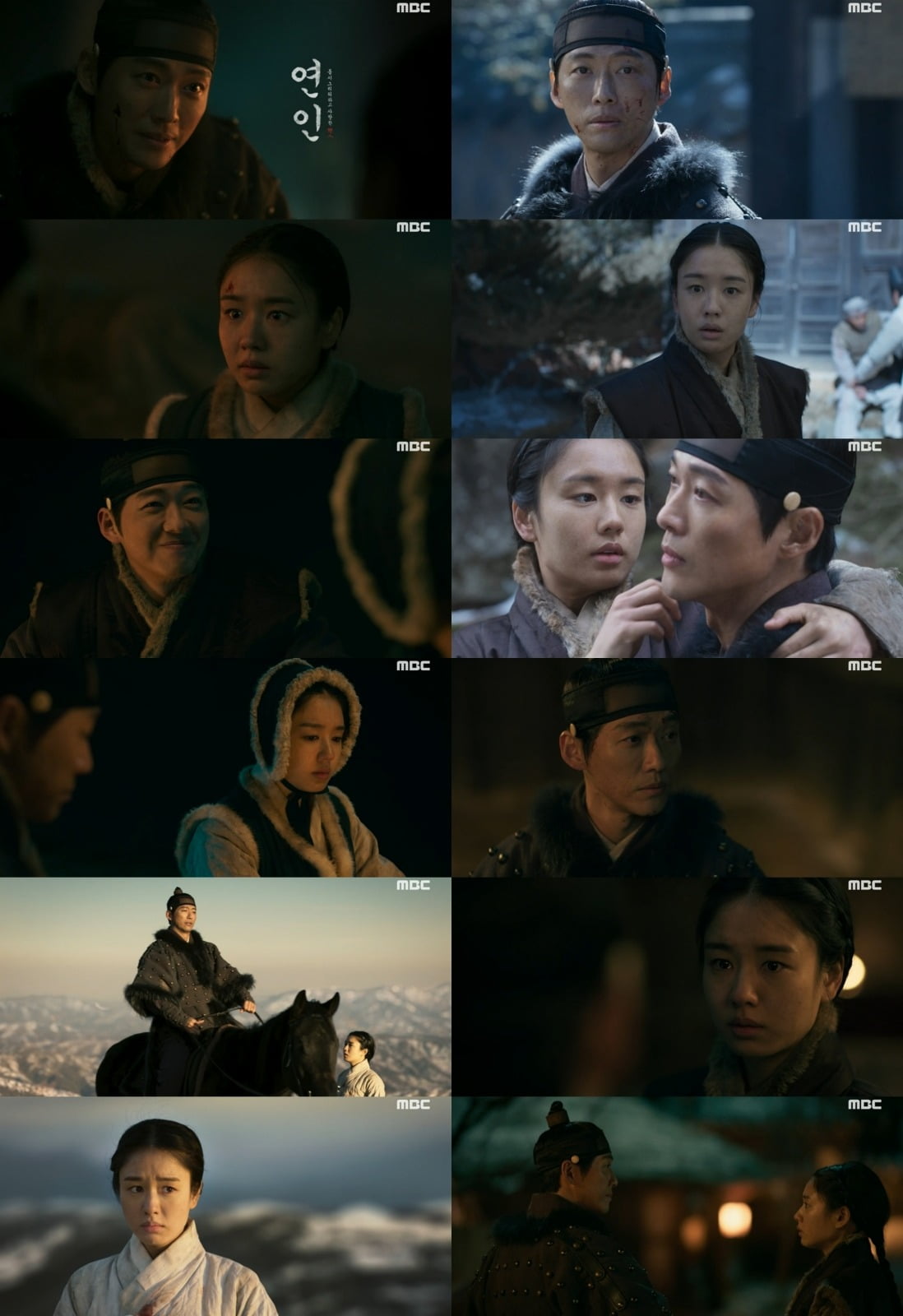 Namgoong-min and Ahn Eun-jin started having a 'something'.
On the 19th, according to Nielsen Korea, a ratings research company, the 5th episode of MBC's Fri-Sat drama 'Lovers', which aired the previous day, recorded 8.4% nationwide viewer ratings, a whopping 3.2%p increase compared to the previous episode. This is the number one for all channels in the same time zone, including terrestrial, general, and cable, and the highest viewership rating soared to 9.4%. In addition, the 2049 male and female viewership, which is a key indicator of advertising and channel competitiveness, also rose by 2.1% compared to the previous time. 'Lovers' rose to the throne as the No. 1 drama on Friday and Saturday at once.
In the 5th episode of 'Lovers', the story of Lee Jang-hyeon (Nam Goong-min) and Yu Gil-chae (Ahn Eun-jin), who were reunited in a desperate situation, was drawn. Although the two met after a long journey, they did not realize that their hearts were towards each other and that their hearts were very big. Nevertheless, the appearance of the two people gradually getting closer, and the fate of the two people who had to repeat reunion and separation due to the terrible war, were colored with sadness in the home theater.
Lee Jang-hyeon saved Gil-chae Yoo from barbarians. The moment Lee Jang-hyeon was surprised to find Yu Gil-chae, the fallen barbarians rushed at Lee Jang-hyeon. Upon discovering this, Yu Gil-chae unknowingly shouted, "Please avoid the West." After hearing that, Lee Jang-hyeon, who killed the barbarian, asked Gil-chae Yoo, "Did you just call me Seo-bang?" and smiled.
That night, Lee Jang-hyeon teased Yoo Gil-chae several times for calling him "Seobang-nim." Gil-chae Yu tried hard to pretend not to know, but that night, with Lee Jang-hyeon protecting her, she let go of all her worries and fell asleep. However, the day is bright, and Yu Gil-chae is again disappointed. Lee Jang-hyun prepared to leave, saying he would chase the barbarians. Towards Gilchae Yoo, who was pouting with regret, Janghyun Lee said, "I am proud of the woman."
So the two parted. Lee Jang-hyun met Nam Yeon-joon (played by Lee Hak-joo), who became a defeated soldier. Nam Yeon-jun still shouted that he would protect King In-jo (played by Kim Jong-tae), and Lee Jang-hyeon, remembering that Gil-chae Yu and Eun-ae Gyeong (played by Da-in Lee) were worried about Nam Yeon-joon, was also heartbroken and eventually decided to accompany Nam Yeon-joon. They joined the Joseon Army with difficulty, but the momentum of the barbarians was strong. With Lee Jang-hyeon's base, he won a victory over the barbarian once, but Lee Jang-hyeon and Nam Yeon-jun were later injured.
Meanwhile, Yu Gil-chae and his party are accompanied by refugees who are going to Jeonjin to treat the injured. Yu Gil-chae and Kyung Eun-ae devoted all their energy to treating the injured. However, injured Lee Jang-hyeon and Nam Yeon-joon appeared where they were. Yoo Gil-chae, who found Lee Jang-hyeon, was thrilled with joy, but was embarrassed to see Nam Yeon-joon, who was seriously injured. Looking at Yu Gil-chae, Lee Jang-hyeon's heart was bitter. Nam Yeon-jun and Kyung Eun-ae had a heartbreaking reunion.
From this time, the island of Lee Jang-hyun and Yu Gil-chae (to hesitate 𡟨) began. As always, Lee Jang-hyeon strides toward Yu Gil-chae with great sagacity. Gil-chae Yu made an excuse for Nam Yeon-joon and turned around. However, he blushed as he saw Lee Jang-hyeon holding him in his arms and crossing the stream. The moment the distance between the two finally got closer, the breakup came again. Lee Jang-hyeon and Nam Yeon-jun headed to Namhansanseong Fortress, where Injo lived.
Recalling the saying that if you have a woman's belongings, you can live even during the war, Gil-chae Yu secretly left her daenggi to Jang-hyeon Lee. Lee Jang-hyeon, who survived several crises, entered Namhansanseong Fortress with Nam Yeon-jun and met Injo and Crown Prince Sohyeon (Kim Moo-jun). In the meantime, rumors circulated that the Khan (Emperor) of the Qing Dynasty had entered Joseon. At the words of Pyo Eon-gyeom (played by Yang Hyeon-min), an insider asking if he could confirm this, Lee Jang-hyeon suddenly thought of Yu Gil-chae. And he said that he would infiltrate the Qing army and find out, and use that information to end the war quickly.
Then, the screen showed Lee Jang-hyeon and Yoo Gil-chae facing each other at the treatment center for the injured before the breakup. When Yu Gil-chae asked why he was leaving, Lee Jang-hyeon replied that it was because he did not want to see Yu Gil-chae cry. And he told Yu Gil-chae to go to Ganghwa-do. Feeling sad at Lee Jang-hyeon's words, Yu Gil-chae coldly turned away. Lee Jang-hyun grabbed Yu Gil-chae and said, "I swear by this moonlight. This time, wherever you are, I will definitely go to meet you." It was a heart-stopping ending that turned the home theater upside down.
The romance between Lee Jang-hyun and Yoo Gil-chae deepened. Lee Jang-hyun expressed his feelings toward Yu Gil-chae sometimes skillfully and sometimes heartbreakingly. Yu Gil-chae also acted as if he was pushing away Lee Jang-hyeon at first glance, but before he knew it, he felt his heart pounding at Lee Jang-hyeon. And worried about Lee Jang-hyeon, and as Lee Jang-hyeon said, he went to Ganghwa Island despite suffering.
Kim Seo-yoon, staff reporter seogugu@tenasia.co.kr