ENTERTAINMENT
Singer Jin Hae-seong releases judo skills from a player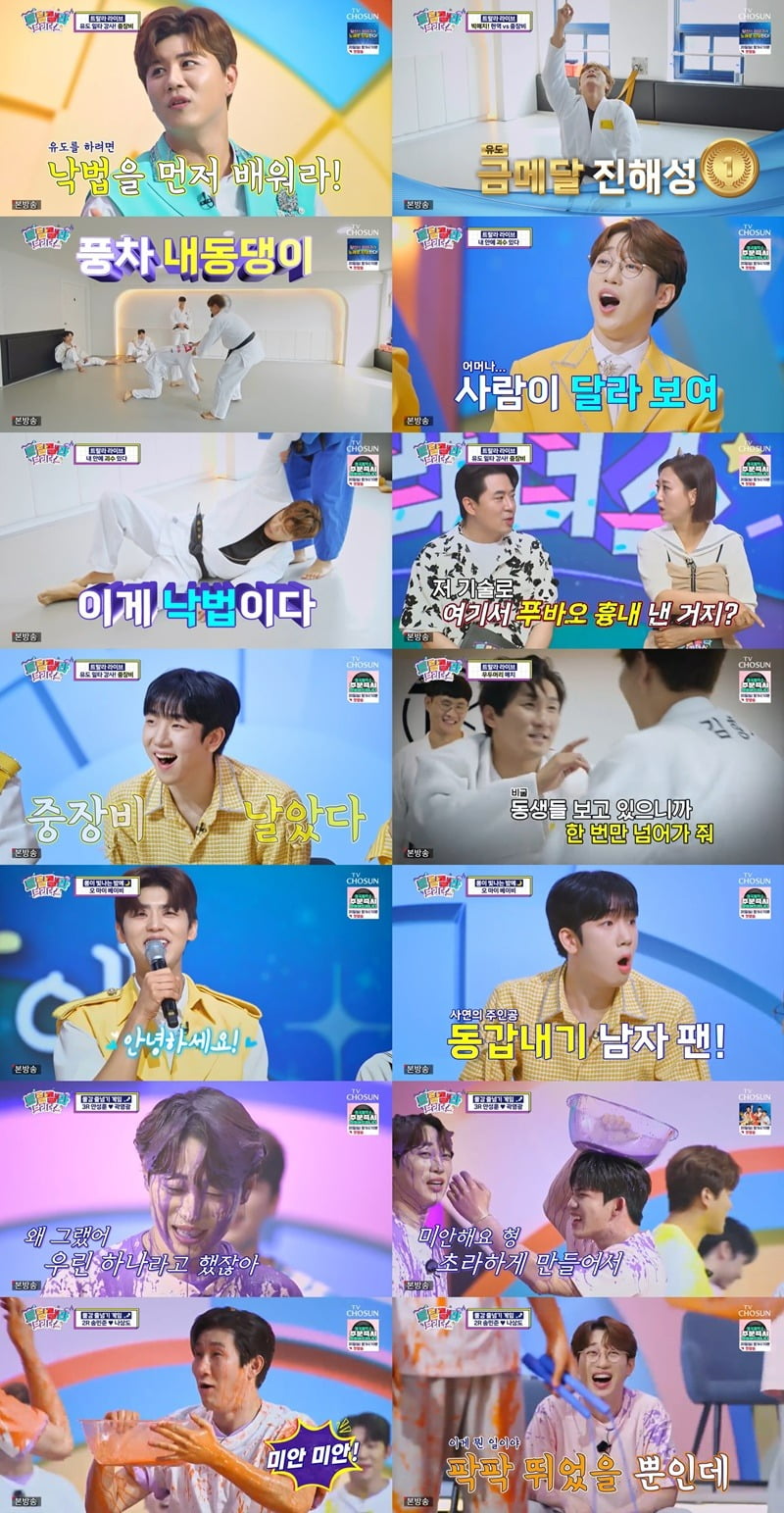 'Tralala Brothers' Jin Hae-seong revealed his hidden judo skills.
On TV CHOSUN's 'Tralala Brothers', which aired on the 16th, the daily lives of Jin Hae-seong, Na Sang-do, Jin-wook, and Song Min-joon, who visited the judo field, were depicted. Jin Hae-seong, a former judo player, revealed his hidden judo skills without regret, giving viewers a refreshing laugh and fun. The broadcast on this day recorded a 4% viewer rating nationwide based on Nielsen Korea, and took first place in all channels in the same time slot. The highest audience rating per minute was 5.1%.
Jin Hae-seong headed to the judo field, saying, "To increase physical strength in a short period of time." Next, Jin Hae-seong said, "I wanted to show you something cool." Jin Hae-seong, who was active as a judo player in his youth, unveiled the certificate and medal that day.
Na Sang-do, Jin-wook, and Song Min-jun had doubts about Jin Hae-seong's judo skills. However, Jin Hae-seong surprised everyone by showing menacing judo techniques such as waist-slapping and shoveling. In particular, Jin Hae-seong drew attention with his 0.1 ton heavy yet nimble jump technique. The cast members who were watching this with a VCR cheered, saying, "It's different to use your body."
In addition, Jin Hae-seong caused tension by participating in a heavyweight match with an active player. The rough confrontation between the two beasts shook the judo field, and the result was Jin Hae-seong's victory. Jin Hae-seong defeated an active player with a thigh match. In response, Jin Hae-seong enjoyed the joy with an Olympic gold medal-level ceremony, causing laughter. Jin Hae-seong's judo skills, which are comparable to active duty, captivated viewers with a new charm that could not be met on stage.
On the other hand, the strong old man Na Sang-do gave Jin Hae-seong a burst of laughter as he was washed away like laundry. The image of Na Sang-do fluttering like paper while being dragged helplessly by Jin Hae-seong made people laugh. Na Sang-do said, "I'm watching my younger brothers, so please go over it just once."
In the corner of 'The Night When the Mulberry Shines', a male fan of the same age appeared for the first time on the air, surprising everyone. This fan fell in love with Park Ji-hyun and forgot to water the companion plants that filled the house. Park Ji-hyun was surprised by the appearance of the first male fan of the same age as 'Tralala Brothers', but soon showed a friendly side and created a sense of warmth.
In the game 'Thank you, I poured a lot, Aiga', there were truly great scenes of all time. A game in which two people jump rope with a bucket of paint above their heads. Every time they jumped over the rope, colorful water poured onto the same team members, giving them unbearable laughter. In particular, Ahn Seong-hoon was furious when his partner Yeong-gwang accidentally hit the paint.
Kim Seo-yoon, staff reporter seogugu@tenasia.co.kr