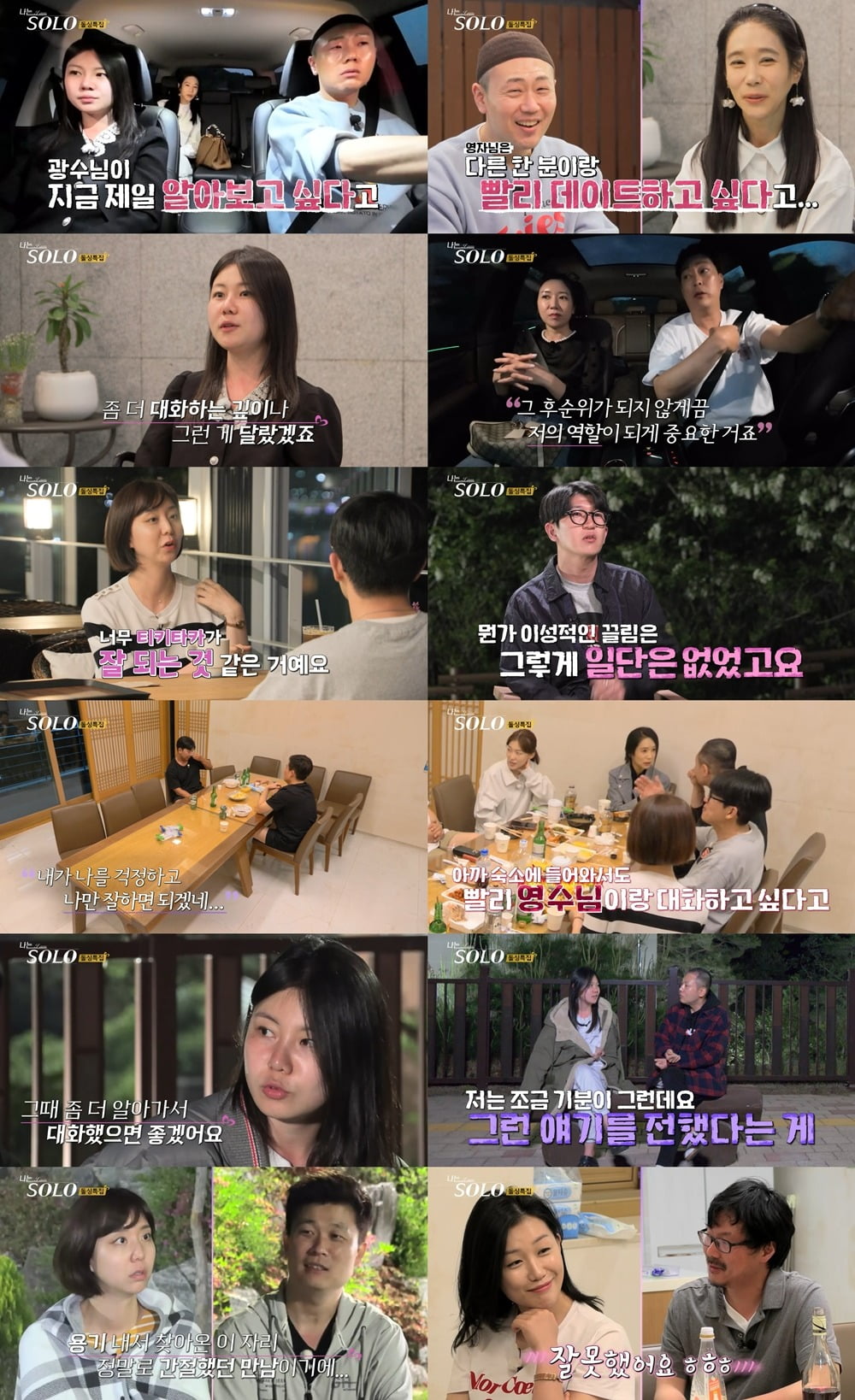 'I'm SOLO (I'm solo)' The love line of the 16th generation fluctuated.
In ENA and SBS PLUS's 'I'm SOLO', which aired on the 16th, the appearances of the performers going on a first date were drawn. In addition, the on-the-spot nervous warfare between Oksoon and Youngja over Gwangsoo drew attention.
On this day, in the '2:1 date' of Kwang-soo, Ok-soon, and Young-ja, sparks flew from the beginning. Oksoon shouted 'Only Gwangsoo' in front of Yeongja, saying, "I said that I want to know Kwangsoo the most, and that regardless of the self-introduction, I will not change." After arriving at the restaurant, the three faced an awkward situation in which Young-ja emptied her glass alone because of Ok-soon, who couldn't drink, and Kwang-soo, who couldn't drink due to a hair transplant surgery. Also, when food splashed on Ok-soon's clothes, Gwang-soo rushed to the kitchen to get detergent and took good care of Ok-soon. Ok-soon also wrapped wraps for Gwang-soo and expressed her liking, saying, "Enjoy yourselves today." Seeing the friendly atmosphere between the two, Young-ja gave Gwang-soo a wrap while feeling embarrassed, saying, "I don't even wrap wraps for my daughter...".
After the '2-on-1' date, Kwang-soo had a one-on-one conversation with Ok-soon and Yeong-ja in turn. At this time, while on a date with Ok-soon, Kwang-soo activated the 'Sorem Hand' to remove the hair from Ok-soon's face. At the same time, Kwang-soo hinted at Young-ja's active dash, saying, "Young-ja said he wanted a '1:1 date' with me." In response, Oksoon said, "Why did you speak differently to me? Earlier, when Kwang-soo was away, he said he wanted to go on a quick date with someone else." Furthermore, Oksoon actively appealed to Kwangsoo, saying, "When I meet someone, I only see that person" and "There is no change."
Young-cheol and Jeong-suk increased their pink likability with a date that fits right from the start. Young-cheol gave stormy compliments to Jeong-suk, such as her appearance and conversation code, and Jeong-sook mentioned the remark that "You shouldn't say that your child doesn't like it" that bothered her in 'Self-Introduction Time'. Then, Yeong-chul made Jung-suk smile by giving a 'model answer-level answer', saying, "My role is important so that I do not become a subordinate." In the end, Jung-suk declared, "I'm going straight," and "There is no one I want to know more about except Yeong-cheol." Youngchul also said, "I have the qualities of a girlfriend that I want. It's been a long time since I've been excited," he replied, raising the possibility of a couple between the two.
Young-ho went on a '2:1 date' with Hyeon-suk and Soon-ja and appealed for his meticulousness. In '1:1 Conversation Time', Young-ho and Hyun-sook shared their feelings about Tiki-Taka going well, and Hyun-sook appealed, "It's a waste of time to find someone other than Young-ho and Young-sik." Young-ho asked Sun-ja, who chose him, "Is your young age reflected?", and Sun-ja answered honestly, "There is a little reason for that." After the date, Young-ho expressed his liking in front of the production team, saying, "Sun-ja feels like a close younger brother," and "Hyeon-sook has children, but I tried to talk without thinking about that part.
After the date, the single man and woman returned to 'Solo Nara 16' and started a burning night with a group drinking party. Gwang-soo was busy taking care of Ok-soon, who wanted to eat bossam, and Young-soo had endless conversations with Ok-soon. Young-ja, who wanted to have a conversation with Yeong-soo, put on a sad expression, and when the opportunity arose, she quickly proposed to Yeong-soo for a walk. Seeing this, Ok-soon told Gwang-soo, "I just wanted to talk to Yeong-soo as soon as possible," and told him that Young-ja had shown interest in Young-soo, not Gwang-soo.
Young-ja, who summoned Young-soo, said, "Even during the pre-interview, I kept choosing Young-soo, and (even on the 2:1 date with Gwang-soo) I kept telling Ok-soon-nim that we should go for a walk (to Young-soo)." It would have been nice, but if there is another date opportunity, it would be nice to talk about it." At the same time, Kwang-soo and Ok-soon went to the women's dorm to find painkillers and had a '1:1 conversation'. Here, Kwang-soo created a fuzzy atmosphere by activating the 'second fluttering hand' that once again passed Ok-soon's hair.
Afterwards, Gwang-soo went to Young-ja again and asked for a one-on-one conversation. During the walk, Yeong-ja said, "Everyone can see that (Ok-soon-nim) likes them so much that it seems appropriate for the two of them to go to each other." In response, Kwang-soo said, "Young-ja said to Ok-soon that he wanted to go to the dorm and get to know Yeong-su." Then, Young-ja said, "I feel a little bit like telling you that," and honestly said, "I felt like I was caught in the middle, but I don't want to stick with Ok-soon anyway." Then Kwang-soo said, "Do you think that because of your appearance? (That) is the dignity of the name Oksunim..." Youngja said, saying, "It is comprehensive," but did not hide his discomfort. Later, in an interview with the production team, Young-ja made it clear that she had changed her route to Yeong-soo, saying, "I hope (Ok-soon-nim) didn't follow Young-soo."
Young-sik suggested a one-on-one conversation with Hyeon-suk, and Hyeon-suk expressed his feelings by giving each type of throat candy he bought for Young-sik. Next, Hyeon-sook asked why she chose Young-ho over Young-sik on the previous date, "Young-sik says he likes you, so there are three other people to look for besides me? Then I felt like I had to find out (others), so it was like that," he explained. However, in an interview with the production team, Hyeon-suk revealed her thoughts on the twist, saying, "I like Young-shik because he's a serious person, but I'm attracted to Young-ho now."
Youngsook, who had grown chilly after dating Sangcheol, had a one-on-one conversation with Sangcheol once again. At the same time, he pointed out the behavior of Sang-cheol, who fell asleep in the car after the date. Regarding this, Sang-cheol explained, "It is because of the time difference (since I am from the United States)." At Sang-cheol's words, Young-sook said, "I thought Sang-cheol had something he didn't like, so I just drove without asking." "Can I sleep next to the driver or not? Did I do it right or did I do it wrong?" Sang-cheol actively appealed to Young-sook, saying, "(When I entered Solo Nara), I liked the first person who came up, and I went on a first date with him." Even Sang-cheol, whose hobby is 'game modding', declared, "Then I won't play games" when he was told, "I hate men who play games."
In addition, Sang-cheol followed Young-sook's words like a robot to "catch the bug" and promised, "I will only talk to Young-sook here, and if there is a date option, I will only use it for Young-sook." Youngsook said, "I'm not burdened with that feeling," but "My heart is the way I want..." and showed a puzzling inside. At the end, the appearance of the 16th class wearing hanbok and going on a random date was revealed as a trailer, raising curiosity about the next episode.
Kim Seo-yoon, staff reporter seogugu@tenasia.co.kr