ENTERTAINMENT
Hair shaved RM, go to the army... indirect mention of enlistment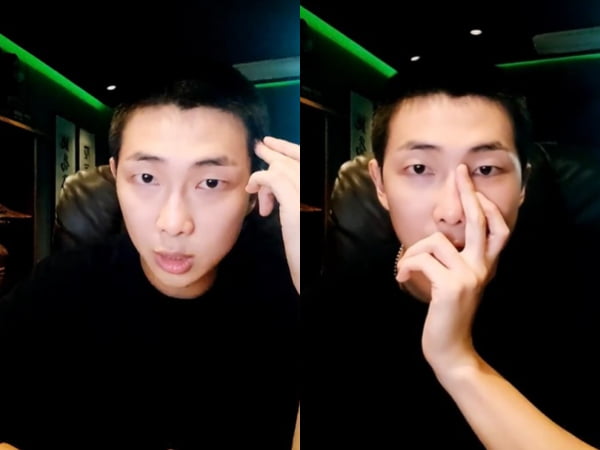 RM of the group BTS made a remark that seemed to imply indirectly 'enlisting in the military' by mentioning his changed hairstyle.
On the 12th, RM conducted a live broadcast titled 'Pakppak' through Weverse, a global fandom live platform.
Regarding the new hairstyle, RM said, "The tight (hair) is more difficult to manage. If you don't push it, it becomes very vague. So I haven't pushed for a week now, and I've grown a lot."
"I'm sorry for being so tight. But I couldn't help it. I really wanted to try a tight fit. The last time I pushed this far (shortly) was when I was in my first year of high school. When I was in high school, in the summer, I often shaved my hair close to now (to the length of my hair)."
Also, RM said, "I've never pushed like this since debut. I pushed it after almost 12 years," he said. "I heard a lot of compliments on how pretty my head was. Friends you meet touch. I've wanted to shave and bleach my hair for a long time, but I feared that it would splatter more than other friends (I didn't)." RM, who has stopped group activities and is currently focusing on individual work such as a solo album, also shared stories about his increased drinking with fans.
Then, he said, "I'm trying to detox while drinking," and "I'm not an alcoholic." He said, "It's okay to drink because the time will come when I won't be able to drink anyway."
For BTS, Jin enlisted in active duty in December of last year and is currently serving as an assistant instructor at the 5th Infantry Division Recruit Training Center in Yeoncheon, Gyeonggi-do.
Suga recently canceled his enlistment postponement and started the military enlistment process. RM is also planning to enlist in the military within the year.
Reporter Kim Se-ah, Ten Asia haesmik@tenasia.co.kr