ENTERTAINMENT
Actor Lee Kyu-han goes mad towards his best friend Kwon Yul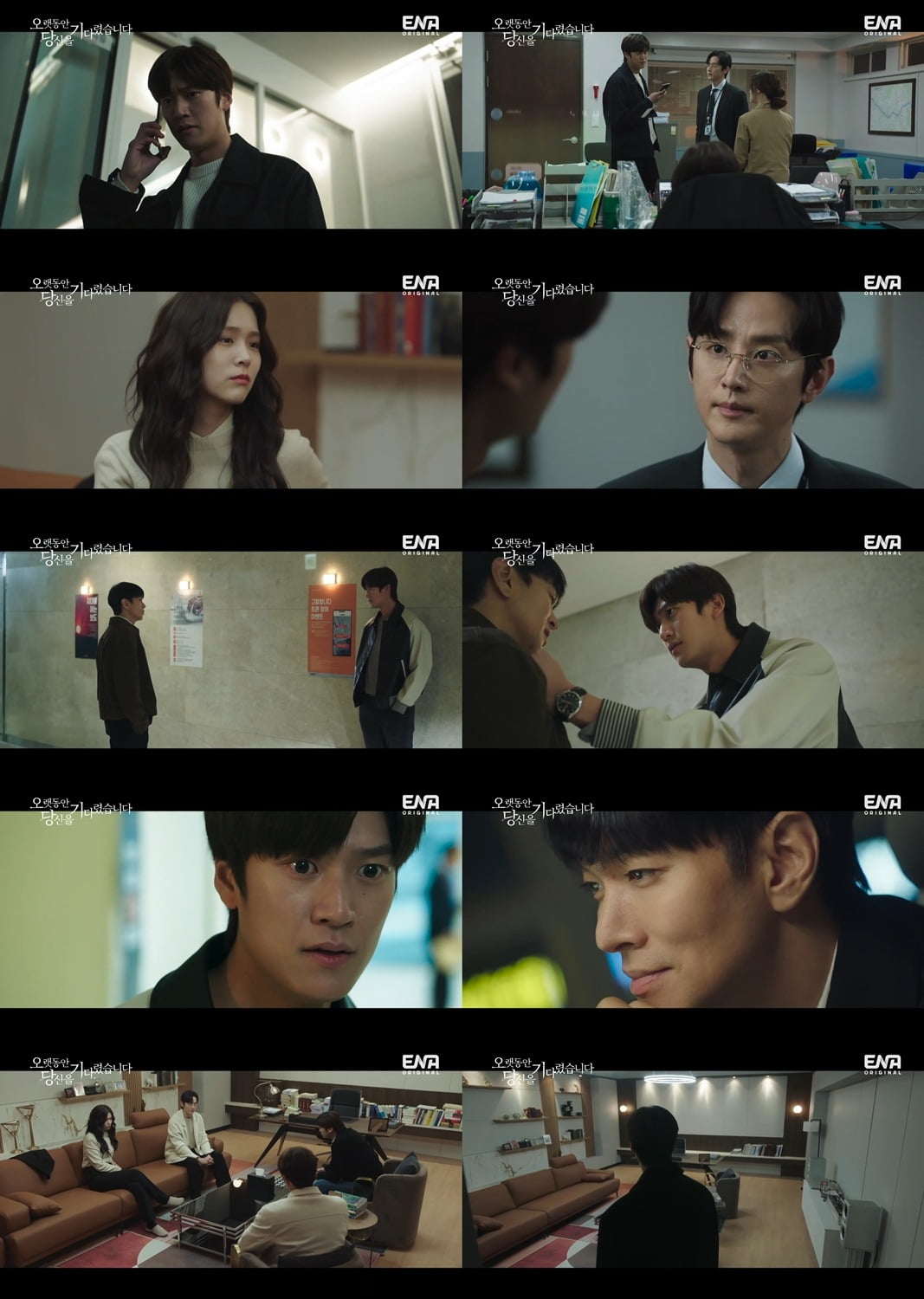 Lee Kyu-han's mad obsession with Kwon Yul has been revealed. Lee Gyu-han's room, which seemed to be a copy of Kwon Yul's room, was discovered. The eerie reality of Lee Kyu-han, who was wrapped in a veil, was revealed and shocked.
In the 6th episode of ENA's Wednesday & Thursday drama, 'I've been waiting for you for a long time' (hereinafter referred to as 'Oh Dang-gi'), which aired on the 10th, after the special investigation team for the 'Achilles tendon cutting serial murder case' was disbanded, Oh Jin-seong (Na In-woo) started investigating the case unofficially. ), Ko Young-joo (played by Kim Ji-eun), and Cha Young-woon (played by Kwon Yul) increased their immersion.
On this day, Oh Jin-seong received a call from Bae Min-gyu's (Jeong Sang-hoon) phone number, but Park Ki-young (Lee Kyu-han), who called, noticed something strange and immediately discarded the phone. The serial murder case special investigation team confirmed that Bae Min-gyu was using a cannon phone to receive information from an unidentified person, and set out to find out how the information was leaked. In the meantime, Yang Hee-joo (Jung Ga-hee) found out through a deal with Park Ki-young that the victims of the Achilles tendon cutting serial murder case had one thing in common: that they all received treatment at Jinjin Medical.
Meanwhile, Park Ki-young put the special investigation team into trouble once again. The fact that Oh Jin-seong assaulted Bae Min-gyu was reported in the article, causing controversy over human rights violations. Due to this, Go Young-joo was disciplined and Oh Jin-seong was in danger of being sued by Bae Min-gyu's father, Rep. Bae Tae-wook (played by Kim Jong-gu). In response, Cha Young-woon accepted the order to disband the special investigation team on the condition that Jin-seong Oh drop the complaint, and Jin-seong Oh and Jeong-tae Yuk were assigned to the Transportation Division. However, all of this was Cha Young-woon's plan. Cha Young-woon invited Oh Jin-seong, Go Young-joo, and Yuk Jeong-tae (played by Na In-gyu) to his house and suggested an informal investigation.
Oh Jin-seong went to visit Park Ki-young, who continued to interfere with the investigation. At this time, Park Ki-young caused goosebumps by openly provoking Oh Jin-seong. Park Ki-young said, "Detective Oh, why did your younger brother Jin-Woo Oh (played by Ren) die? Don't burn calories in anger. I have to spend calories on rationality," he left a meaningful statement as if he knew everything about Jin-woo Oh's death, and Jin-seong Oh's suspicions about him reached the climax.
Oh Jin-seong revealed that Park Ki-young was in Woojin on the day of Oh Jin-woo's accident, and it was revealed that Park Ki-young had some connection with the Oh Jin-woo murder case. Oh Jin-seong, who continued to pursue Park Ki-young, found that no one had visited his house for over 10 years, and that he also often visited the PC room visited by the ID 'Lemon Tree', who sold a raw knife to his younger brother Jin-woo Oh and lured him to the scene of the murder. Based on the fact that he had come, he decided to search Park Ki-young's house.
At the end of the broadcast, a creepy fact was revealed. Oh Jin-seong, who infiltrated Park Ki-young's house, opened up a space that coincided with Cha Young-wun's room like a decalcomani. From the arrangement of furniture to the props, the flawless interior shocked the viewers. Moreover, Park Ki-young heightened tension by noticing that Oh Jin-seong had invaded his house through the CCTV installed in the house.
The 6th episode of 'Odanggi' recorded an average of 2.7% nationwide and an average of 2.8% in the metropolitan area based on paid platform households that integrated cable, IPTV and satellite, and the highest rating in Bundang in the metropolitan area rose to 3.6%, again replacing its own highest rating. . Since its first broadcast, it has set a record of rising ratings for six episodes in a row, showing off its mighty power. (Based on paid platforms nationwide/provided by Nielsen Korea)
Kim Seo-yoon, staff reporter seogugu@tenasia.co.kr