ENTERTAINMENT
Secret Number, New Jeans, and Aespa, the protagonists of 'Artist Top Ten K-Pop Girl Brand' in July
TENASIA ARTIST TOP TEN
July K-Pop Girl Brand Category Voting Results

1st secret number
2nd place New Jeans
3rd Espa
4th Oh My Girl
5th IU
6th place (G)I-DLE
7th Ive
8th Le Seraphim
9th Kim Sejeong
10th Black Pink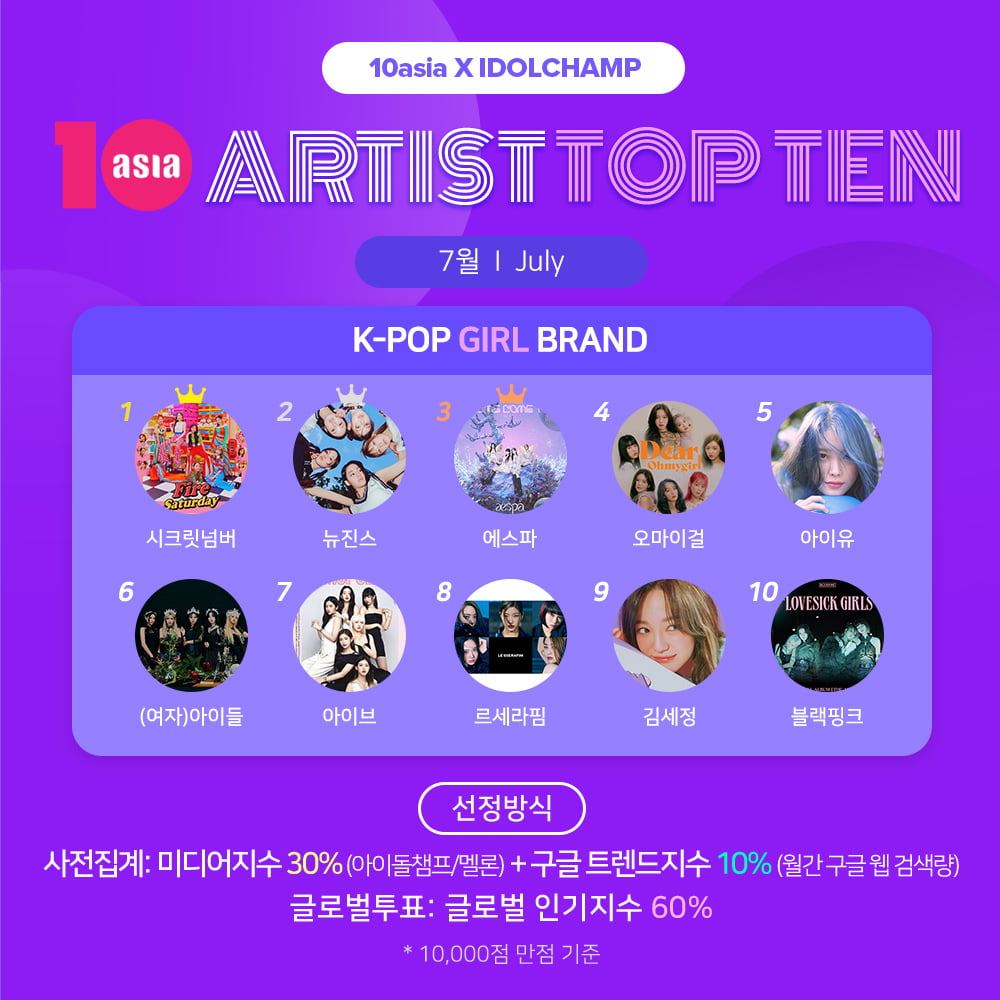 Secret Number, New Jeans, Aespa, Oh My Girl, IU, (G)I-DLE, Ive, Le Seraphim, Kim Se-jeong, and Blackpink are the main characters of TENASIA ARTIST TOP TEN July 'Artist Top Ten K-Pop Girl Brand' was selected as
Last July, through the Ten Asia voting service, global voting was divided into Artist Top Ten K-POP BOY BRAND, K-POP GIRL BRAND, and HOT GENRE BRAND categories. has been carried out
As a result of the voting, Secret Number (Jinhee, Leah, Sudam, Dita, Minji, Joo) took first place in the K-pop girl brand category. Secret Number will participate in the '2023 K Global Heart Dream Awards' to wish for the '2030 Busan World Expo (Busan Expo)' on August 10th. Secret Number, which debuted in 2020, is a multinational girl group consisting of members from Korea, Japan, and Indonesia. 'Who Dis?' with a bold charm, 'Got That Boom' armed with splendid performances, 'Fire Saturday' with a retro concept, 'Doom Cheetah' full of charisma (DOOMCHITA), 'Tap' (TAP) with colorful colors, and 'Viper' (DOXA), which showed a fatal transformation, showed a differentiated concept every time. 'Doom Cheetah' and 'Tap' also topped domestic music charts. Recently, they released their first Japanese single, 'Like It Like It'.
The New Jeans (Minji, Hani, Daniel, Haerin, Hyein) ranked second. 'Super Shy', one of the triple title songs of New Jeans' 2nd mini album 'Get Up', was ranked No. ranked 11th. After entering the chart at number 37 on the first day of release (7th), the song recorded a steep rise. In Korea, it topped major music charts such as Melon, Genie, Bugs, and Flo. Also, the 2nd mini album of New Jeans, which contains 'Super Shy', was released on the 21st of last month.
Espa (Carina, Winter, Giselle, Ningning) took 3rd place. Espa was the first K-pop group to attend 'The Governor's Ball Music Festival 2023' held at Corona Park, Flushing Meadows, New York, USA on June 10 (local time) and performed on the main stage. In addition, on June 24 (local time), 'aespa LIVE TOUR 2023 'SYNK: HYPER LINE' in JAKARTA' was held at the Indonesia Convention and Exhibition Center in Jakarta, Indonesia, and all seats were sold out. recorded
Secret Number, New Jeans, Aespa, Oh My Girl, IU, (G)I-DLE, Ive, Le Seraphim, Kim Se-jeong, and Blackpink rank 30% in the media index using the online music site Melon Index, 10% in the Google Trend Index, and Ten Asia Through the voting service, 60% of the global popularity vote, which was made by fans' votes, was applied.
Candidate criteria are K-pop boy brands, K-pop girl brands are top 30 male and female idol groups and solos on the current month's Melon chart, hot genre brands are domestic groups with a history of entering the current month's Melon chart and Idol Champ monthly chart and the top 30 of the month among solo artists.
The benefits given to the monthly TENASIA ARTIST TOP TEN are promoted as a special artist exclusive article and monthly Artist Top Ten in the main TENASIA.
Reporter Yoon Jun-ho, Ten Asia delo410@tenasia.co.kr