ENTERTAINMENT
'I'm Solo' The 15th wedding couple is Kwang-soo and Ok-soon... "I'm sure we'll get married after 15 days of dating"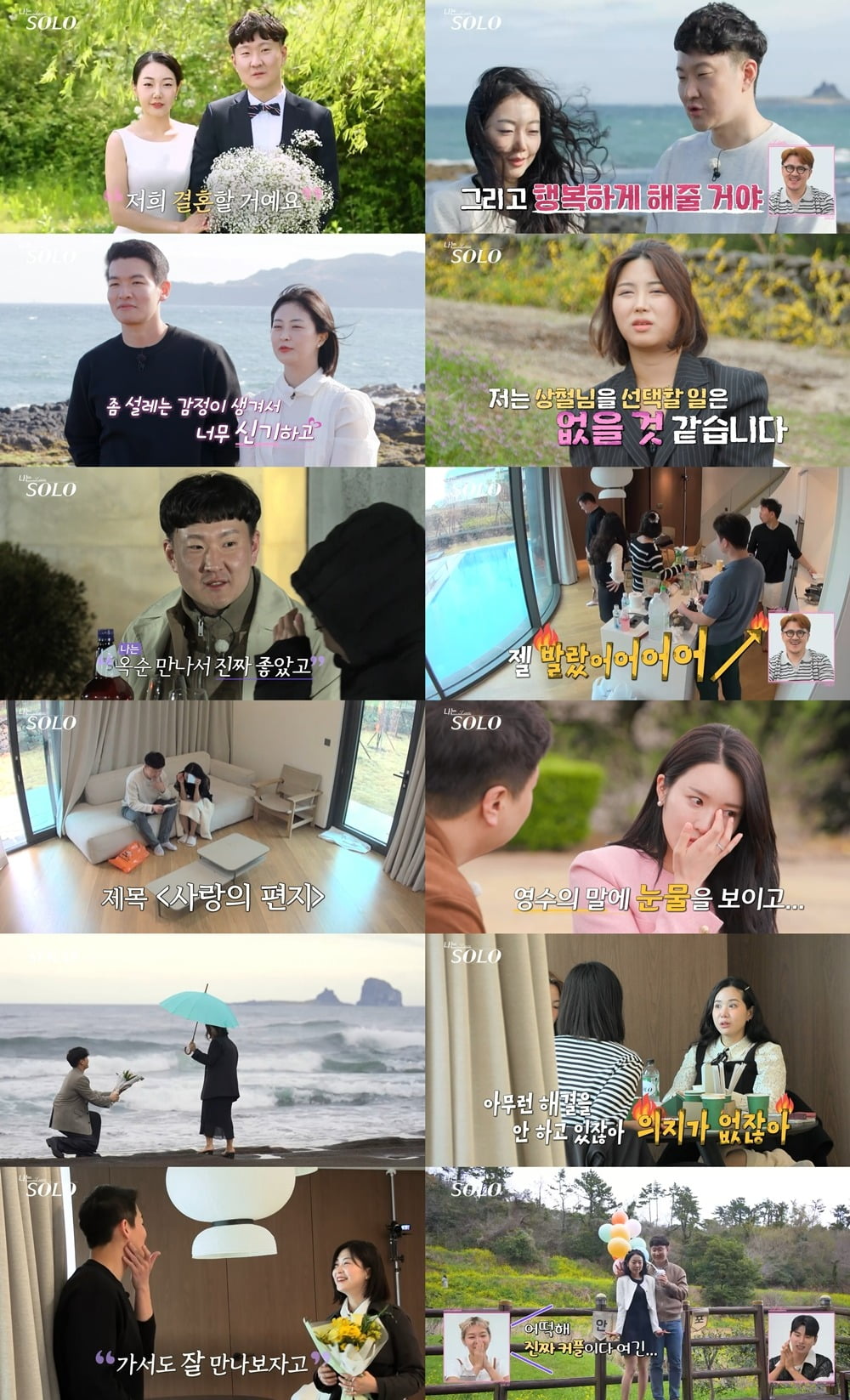 'I'm SOLO' The 15th marriage couple was Oksoon and Kwangsoo.
On SBS PLUS and ENA's 'I'm SOLO', which aired on the 19th, Yeongcheol-Youngsook and Oksoon-Kwangsoo became a couple in the final selection. Also, the high-speed wedding couple born in 'Solo Nara 15 Street' turned out to be Oksoon and Kwangsoo. The two made a surprise announcement of their wedding photo shoot, promising a happy future by saying, "Let's live well!"
On the fourth day of 'Solo Nara 15 Street in Jeju', a day before the final selection, Kwang-soo said, "I've deepened my feelings for Ok-soon. I want to hang out with Oksoon on the last night," and went straight ahead and applied for a '1:1 date'. Gwang-soo, who went out into the open air, said, "Yesterday and today, I really only thought of Ok-soon. I am also curious," he confessed. In response to Kwang-soo's confession like a 'runaway locomotive', Ok-soon said, "It's embarrassing, but it's good" and asked, "Are you ready for marriage?" Kwang-soo said, "I have to prepare for marriage," but "I think I will succeed. (My) environment was not good from the beginning, but I want to buy only good things for my wife, and I want to make sure she is not envious." In response, Oksoon said, "I'm a little excited," and smiled with a "clown explosion."
Finally, on the final day, the single man and woman had the last time to express their sincerity. Gwang-soo wrote a long sincere letter to Ok-soon, and Yeong-cheol decided to prepare a bouquet of rolled eggs. Youngsoo transformed into a handsome man by applying sunscreen, hair wax, and even lip balm. After a while, after completing the handwritten letter, Gwang-soo went to Ok-soon and said, "Thank you for making me a happy memory. The princess of Solo country, Oksoon-ah! Let's get along well in the future," he confessed. Touched by this, Oksoon shed tears in front of the production team and thanked her, saying, "I was impressed that you overcame something embarrassing and expressed it."
Afterwards, Sang-cheol and Young-chul went to the flower shop together and prepared a pretty bouquet. After that, Yeong-cheol gave Young-sook a bouquet of egg rolls that he completed with the help of solo men. In response to Young-cheol's proposal, "Let's meet again when we go," Young-sook said, "I really like (Young-cheol's) personality." It seems to work," he said with an angry laugh.
Sang-cheol took Young-ja to the 'problematic beach' that gave Young-ja the pain of betrayal, and presented a bouquet of flowers while kneeling down to his knees. Young-ja said, "Why are you like this?" but couldn't hide a smile. Sang-cheol said, "I think it will remain (as a scar) for the rest of my life, but I have to keep doing well, right? Right now, I feel like I am 100%," revealing his confidence toward Youngja. However, in an interview with the production team, Young-ja said, "I don't know," and revealed the lingering resentment.
Young-soo and Soon-ja went to the arboretum for their last date. At this time, Sun-ja hesitated in front of a puddle, but Yeong-soo put his foot out right away and said, "Step on it!", showing off his stormy manners. Also, Yeong-soo gave Soon-ja a handwritten letter as a surprise gift and said, "I think I'm crazy. Emotions fluctuate in a short period of time," he honestly confessed. Soon-ja shed tears at Young-soo's hooked sincerity and said, "I was really moved. Thank you," he replied. In an interview with the production team after the date, Soon-ja explained the reason for the tears shed earlier, saying, "I was suddenly overcome by someone trying to change for me."
After returning from a date at the arboretum, Young-soo told the other single men, "I cried while reading (Sunja's) letter. Isn't it over?", showing strong confidence. However, most of them responded with "I can't believe it", and Young-soo fell into chaos, saying, "Did you cry because you're sorry?" At the same time, Soon-ja said to other single women, "To deal with a man who hasn't met (a woman) for several decades..." and said, "He (Young-soo) is almost foolish."
After all the last dates were over, the long-awaited final selection was made. First of all, Young-soo chose Soon-ja without any change. However, Sun-ja gave up the final choice after saying, "I was able to look back on myself." Subsequently, in an interview with the production team, Soon-ja revealed the reason for not choosing Young-soo, saying, "He is a really nice person, but I don't feel much of a rational attraction."
Next, Sang-cheol confessed, "I'm sorry and thank you," and chose Young-ja, but Young-ja gave up the final choice, saying, "I didn't have enough time to get to know (the other person)." Afterwards, Young-ja told the production team, "I feel relieved, that's all," and revealed her true intentions, saying, "I don't think I'll ever choose Sang-cheol."
On the other hand, Young-cheol went straight to Young-sook with great force, and Young-sook responded by saying, "Thank you for giving me a new excitement when I was living like a robot without emotion." Kwang-soo also expressed his feelings to Ok-soon, saying, "Thank you for making such a precious memory." However, Young-ho, Jeong-suk, Young-sik, and Hyeon-suk all gave up their final choice and remained 'solo'.
The main characters of the last released wedding photo shoot were Kwang-soo and Ok-soon. 3MC was amazed at the appearance of the two and shouted, "It's a jackpot!" In the video, Oksoon shyly said, "My brother (Kwangsoo) confessed a few days after I made the final choice." Kwangsoo said, "On the outside, he seems arrogant, but he's very kind. The inside is prettier," he boasted of Oksoon's "steamy charm." Then, Oksoon promised, "I will always be by my brother's side, both in joy and sorrow, and I will protect him when he is having a hard time." Gwangsoo smiled with joy, saying, "Let's live well." In particular, the two announced that they were certain of marriage after 15 days of dating, and that they were preparing for the wedding in about two months.
Kim Seo-yoon, staff reporter seogugu@tenasia.co.kr