ENTERTAINMENT
Broadcaster Narae Park, Embarrassed by Mother's Sudden Action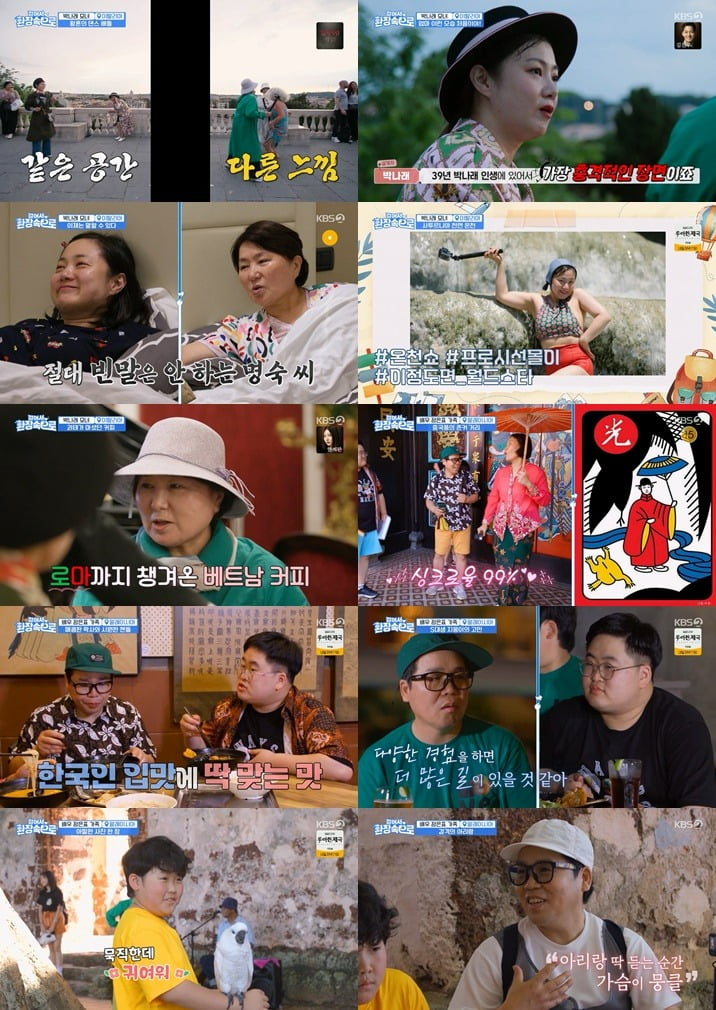 Park Na-rae was surprised to see her mother's true appearance for the first time while traveling, saying, "I thought it was a hidden camera."
On the 26th episode of KBS 2TV's 'Walking into the Wonderland' (hereafter referred to as 'Geollwanjang'), which aired on the 6th, the second day of the filial piety trip to Rome, Italy of MC Na-rae Park, mother Myung-sook Koh, 'Mom's Friend' Seon-ja Lee, and Jung-hee Koo was drawn. Park Na-rae found a sunset night view restaurant, Pincho Hill, where you can enjoy the sunset and city night view at the same time in Rome. Although embarrassed by the unexpected vehicle congestion, Park Na-rae and Mokpo Mamizu were able to see the red sunset sky as they sprinted as soon as they got out of the car.
The moment they became enchanted by the sunset-tinged streets of Rome, the sound of music resonating on the hill caught the ears of the four of them. Busking started on one side of the plaza. Excited, Park Na-rae's mother started dancing, and Park Na-rae was embarrassed by her mother's unexpected behavior, including a busking dancer and a couple dance. Na-rae Park said, "What's going on with my mother? Oh my, what should I do?" While she was surprised, even her mother's friends joined in and a mad dance party took place in the middle of the street. Eventually, the busking dancer gestured to Na-rae Park to dance together, and Na-rae Park, who suddenly joined, showed off the stage with a turbulent hat dance.
In the process, Na-rae Park was surprised by Mokpo Mamizu's report, "If moms have a drink, turn on YouTube music and dance" and the mother's talent she didn't know. Along with this, "It was the most shocking scene in my 39 years of life. I thought it was a hidden camera. The mother I know is calm, hates dancing and singing, hates being in front, and hates attention..." and said, "It's an unforgettable moment in my life." mentioned the experience. Park Na-rae's mother also responded to the day like a movie hero gift from her daughter, Na-rae Park, saying, "It's so fun and nice to have my daughter with me."
Afterwards, Park Na-rae and Mokpo Mamizu visited Saturnia Hot Springs for complete relaxation and healing. Saturnia Hot Springs is a hidden gem in Tuscany, Italy with a 3,000-year history dating back to the Roman era. Mokpo Mamizu admired the magnificent and beautiful open-air hot spring created by nature, saying, "It relieves fatigue" at the waterfall massage with extraordinary water pressure. In addition, they expressed 100% satisfaction with the new experience that was difficult to try in Korea, saying, "When will I come to this place?" and "It is the first time I have ever worn a rash guard." After enjoying the hot springs, Na-rae Park and Mamiz of Mokpo visited the three major cafes in Rome with a tradition of 263 years to feel the flavor of mainland Italy. The four ordered 4 cups of espresso in the red room where Andersen actually drank coffee. Here too, Narae Park's mother was disappointed with the amount of a sip, saying, "Is Italy really this small?" with the order of "mild", and asked Narae Park about the coffee taste, "It tastes like herbal medicine. I'm sorry I came all the way to Italy, but I brought my favorite coffee from Korea."
After Na-rae Park, Eun-pyo Jung's family went on a family trip to Malacca, Malaysia, and tasted Laksa and Chendol, the best restaurants in Malacca and representative menus of Baba Nyonya culture. Laksa is a Malaysian noodle dish made by adding rice noodles to a spicy broth of fish or chicken, and Chandol is a Malaysian national snack like red bean shaved ice. The Jeong Eun-pyo family immediately fell in love with the red soup laksa taste, saying, "It's like kimchi stew, but it's really delicious."
The destination of the four is Harmony Street, where various religious cultures from all over the world coexist. Visiting Hunsawon, the oldest Chinese-style temple, the Jeong Eun-pyo family each prayed for the god Majo, who prays for the well-being of sailors, and the god Taese, who prays for the well-being of the year. When visiting a mosque, she changed to fit her religion, including wearing a hijab for the first time in her life, and continued her formidable religious experience in the sweltering heat.
On the second day of the trip, Eun-Pyo Jung's family visited the Taming Sari Tower, an observatory that offers a panoramic view of Malacca, and admired the panoramic view of Malacca. Afterwards, the four of them started with A Famosa, a fortress built by mobilizing natives when Portugal occupied Malacca in 1511 to enjoy Portuguese culture in Malacca. Visit the statue of Francis Xavier. There, Eun-pyo Jeong's family shed tears when they heard the Korean song Arirang, which was resonating abroad. Jung Eun-pyo and his wife, Kim Ha-yan, whose hearts were touched by the melody that wets their hearts, burst into tears.
Like this, Eun-Pyo Jung's family enjoyed the feast of Malacca's colorful fashion and taste 100 times under the guide of Jeong Ji-woong. In the process, Jeong Eun-pyo told his son Jeong Ji-woong, who was worried about not having decided on a major yet, "I hope you don't go all-in on one thing. If you have various experiences, there will be more paths," he gave his father's sincere advice, while the youngest Jeong Ji-hwon said, "If you close your eyes and open them once, you can see hallucinations", "I can see the hallucinations", I'm here to stay, but it's like school. It's so hard," he complained of pain, making everyone laugh.
Kim Seo-yoon, staff reporter seogugu@tenasia.co.kr