ENTERTAINMENT
Lee Chun-soo's 'we're close' attack that even soccer player Son Heung-min couldn't avoid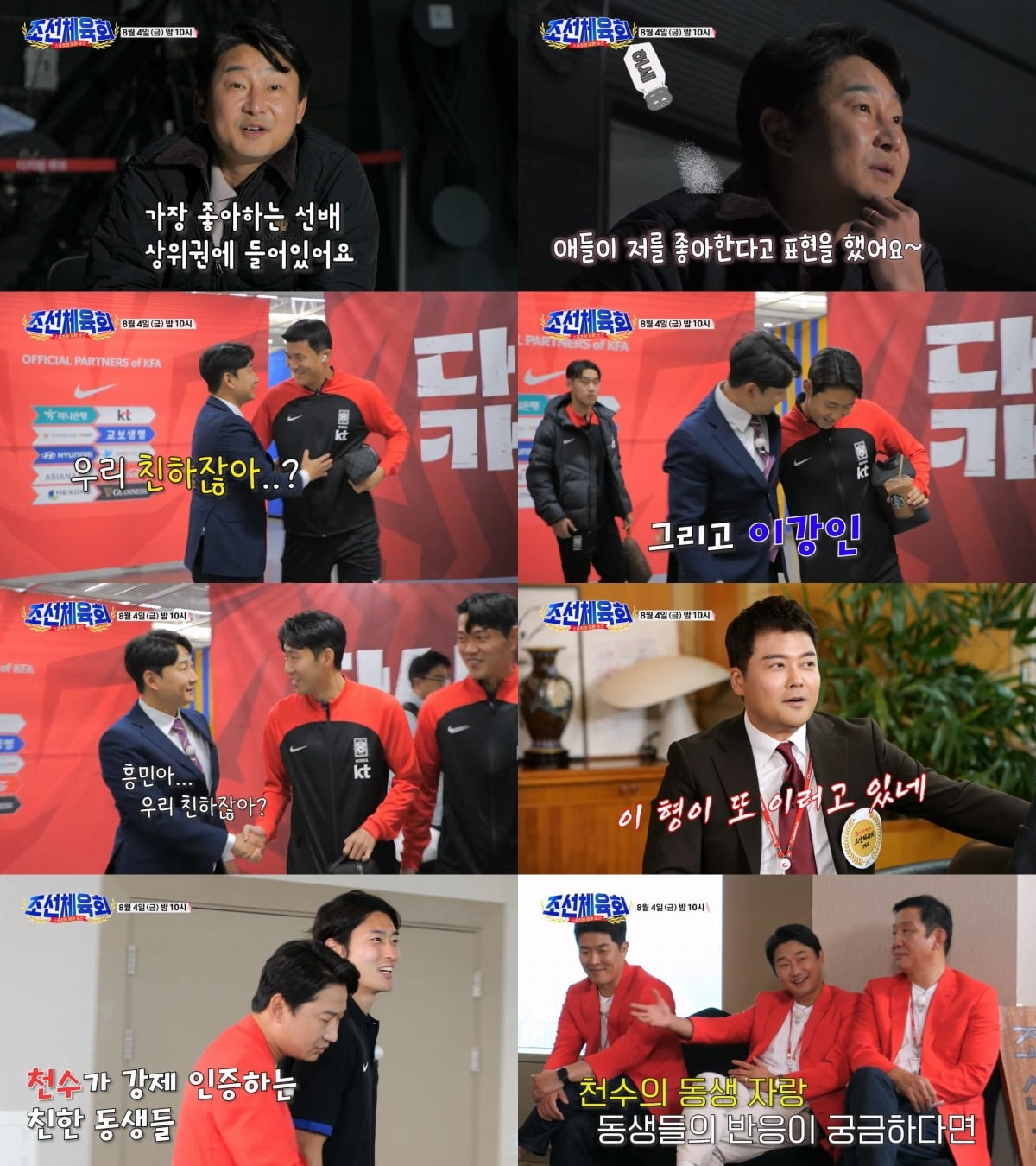 Lee Chun-soo, the soccer team leader of the Chosun Sports Association, relays "We are close" to the juniors at the national university.
Recently, at the launching ceremony commemorating the establishment of TV CHOSUN 'Chosun Sports Association', Lee Chun-soo introduced himself as "the national team's favorite senior" and was confident that he could recruit players from the national soccer team. Chun-soo Lee said, "Son Heung-min, Lee Kang-in, Kim Min-jae... among the national team players' favorite seniors, I wonder if I'll be in the 'top'...", but the production team and members said, "I want to hear from them." laughed it off
Lee Chun-soo, who was waiting for the players before the A-match match, said, "It feels like I'm meeting my first love," and showed a nervous look, but continued to cast "You're close" to the players who appeared one after another. The members burst into laughter at the embarrassing reaction of Kim Min-jae, Lee Kang-in, and Son Heung-min, who met Lee Chun-soo without warning.
First, Chun-soo Lee said to Min-jae Kim, "Min-jae monster, we're close!", and Min-jae Kim smiled and replied, "Yes..." and then disappeared. Then, when I asked Lee Kang-in, a junior in La Liga, "Is your condition good?", Lee Kang-in said, "No..." shyly. When the players seemed surprised to see Lee Chun-soo, Jeon Hyun-moo said, "It seems like he is surprised, saying, 'Is this hyung like this again?'", causing laughter.
Finally, 'captain' Son Heung-min appeared, and Lee Chun-soo greeted him, saying, "Heung-min, we're close." Son Heung-min was surprised and replied, "Suddenly?", but Lee Chun-soo did not give in and tried to talk to Son Heung-min. The players' 'real' reaction to the former legend Chun-soo Lee's 'favorite senior' can be confirmed on the first broadcast of the 'Chosun Sports Association' on the 4th.
Kim Seo-yoon, staff reporter seogugu@tenasia.co.kr