ENTERTAINMENT
'The Uncanny Counter 2' rises in viewer ratings despite Jo Byeong-gyu's risk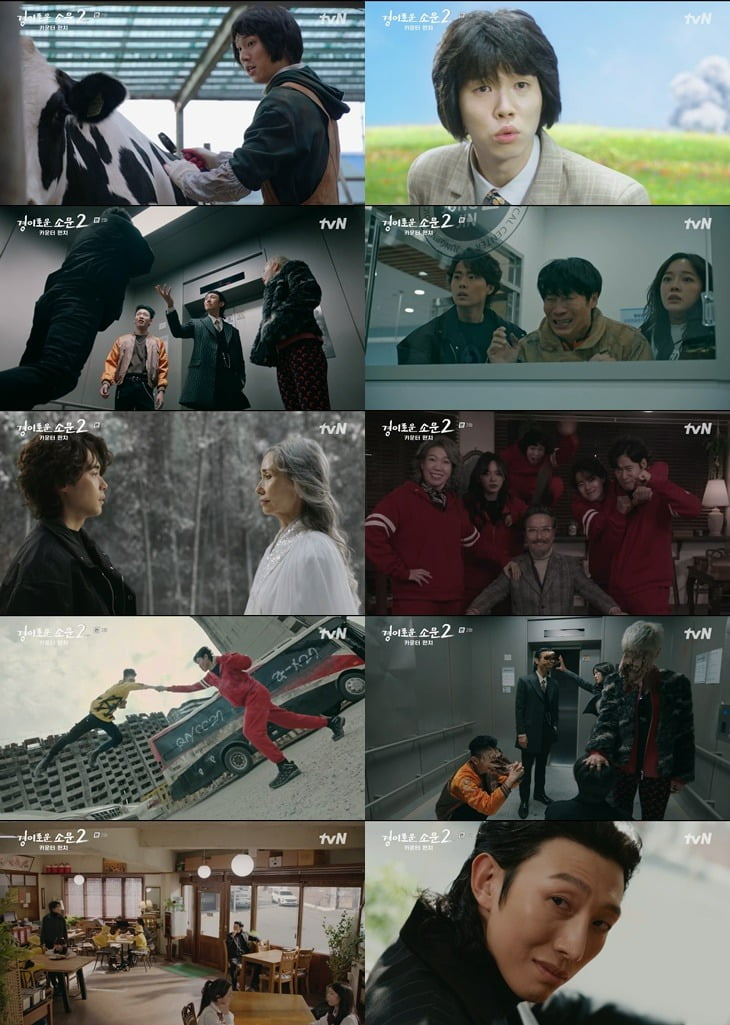 Cho Byeong-gyu and Kang Ki-young, a demon, met.
In the second episode of tvN's 'The Uncanny Counter2', which aired on the 30th, Na Jeok-bong (Yoo In-soo) joined Counters as a new member, and Ma Seok-seok (Jin Seon-gyu) joined Agwiz. Following the loss of his beloved wife (Hong Ji-hee), rumors (Cho Byeong-gyu) and Pil-gwang (Kang Ki-young)'s intense first meeting unfolded.
The second episode of 'Wonderful Rumors 2' recorded an average of 5.5% in the metropolitan area, a maximum of 7.3%, and a national average of 5.4% and a maximum of 6.8%, showing a vertical upward trend. In addition, the TVN target male and female 2049 ratings recorded a national average of 3.4% and a maximum of 4.2%, taking first place in the same time zone, reaffirming the box office power of 'Wonderful Rumors 2' and starting a great move. (Based on paid platform/provided by Nielsen Korea)
Najeokbong, who first appeared in episode 2, is the future of farming that burns with passion for rural development. His greatest concern now is to find a bridesmaid who will marry him for a hundred years, as his old father wishes. Na Jeok-bong went to the meeting place with a swollen dream, but ended up falling into a coma while trying to save the woman who was in danger of being hit by a car. In the meantime, Gamo-tak, who happened to be watching Na Jeok-bong with interest, welcomed the appearance of the new counter person he finally found with cheers, saying, "The holy spirit of sacrifice to save others and deep filial piety."
Na Jeok-bong, who met Wigen (played by Moon Sook) on the border between life and death, started his second life as a counter with a determined determination, saying, "I will work hard with an attitude of being a saint of killing and resolving." However, contrary to expectations for a new life as a cool hero, Na Jeok-bong was knocked down on the first day after joining due to rumors of a senior that was spicier than Cheongyang pepper and Do Hana (Kim Se-jeong)'s Spartan training, drawing laughter. Along with the growth of Na Jeok-bong, which will unfold in the future, Counters' King Jam team play, upgraded by his joining, was predicted, raising interest.
Meanwhile, the demons Pil-gwang, Gelli (played by Kim Hierra), and Wong (played by Kim Hyun-wook) showed off their strong presence by performing heinous acts of evil. In particular, pro-Park (played by Park Jeong-bok) faced the three demons in an elevator while escaping from the victims of the Baekdu Construction sales fraud, adding tension to the play. Above all, Akgwiz was behind the fraudulent sale of Baekdu Communications & Construction. At the moment when Park Pro-ro was strangled by Pil-gwang's telekinetic powers, Maju-seok's wife, Lee Min-ji, got into Ak-Guiz's elevator, causing tension.
At that time, while confronting the victim of the Baekdu Construction sales fraud who was attempting to set himself on fire while shouting guarantees for the right to live, he heard the sudden news that his wife was in critical condition. The majuseok sobbed in a storm and prayed earnestly, "Please save me," but as he lost both his beloved wife and the child in his belly, the viewers' eyes blushed. For Ma Ma Seok, who sent his wife away like that, the comfort around him did not reach his ears. Ma Seok-seok said, "Why is a human who wants to die alive, and our Min-ji who wants to live hard is dead? I can't forgive those who made Minji like that. I will never forget," he vomited. When the news of the sudden awakening of the unconscious Park Pro was heard, the face of the maju-seok soon erased the sadness and the cool anger rose, making him curious about his next move to enter a new phase.
On the other hand, after annihilating the Chinese counters, Akgwiz began to see the energy of the earth while absorbing their abilities. Afterwards, Counters had their first confrontation with Wong while sensing Wong's unusual energy. Wong, the goblin, was fast and strong enough to be pushed back by Gamo-tak (Yoo Jun-sang) and Do-hana's simultaneous attacks. At the moment of imminent crisis, rumors struck Wong, and the confrontation between Agwiz, who revealed his face in earnest, and Counters, exploded into spectacle fun. In particular, Pil-gwang, who was watching their confrontation, said, "The black light coming up from the ground, that's what connects us to them."
Not only that, while Dohana was fighting Wong, he read the meeting between Akguiz and his wife in his memory. Afterwards, rumors and Dohana visited Pak Pro's hospitalization room to reveal the truth of his wife's death. In the end, Do Hana was shocked to learn that the real culprit who killed Ma Ma Seok's wife through Park Pro's memory was Akgwiz.
Meanwhile, at the end of the play, the tension reached its peak when the evil spirit Pil-gwang personally visited the noodle restaurant to meet rumors. Rumors feeling unusual energy and looking back at them collided with Pil-gwang's eyes looking at those rumors, and the noodle restaurant was filled with the bright laughter of children, so it was impossible to act hastily. Attention is focusing on how the confrontation between rumors and Pil-gwang will unfold, with the rumors becoming more and more nervous at the unexpected appearance of Pil-gwang and the ending with Pil-gwang smiling leisurely.
Kim Seo-yoon, staff reporter seogugu@tenasia.co.kr