ENTERTAINMENT
Yoo Jae-seok gave Sayuri a handwritten letter and a large amount of pocket money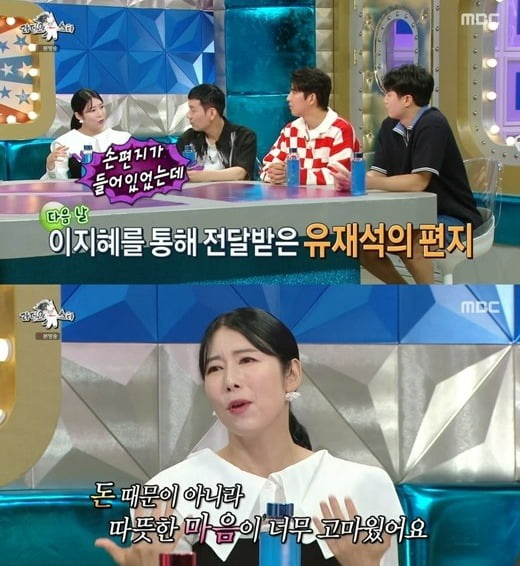 Broadcaster Sayuri told the story of Yoo Jae-seok.
On MBC's 'Radio Star', which aired on the 26th, Sayuri, Jung Sung-ho, Park Joo-ho, and Heo Woong appeared as a special feature of 'Vital Kingdom'.
On this day, Sayuri said, "It's about when Zen is 4 months old." "I was in the park with Lee Ji-hye, and Yoo Jae-seok passed by on a bicycle. So I introduced him as my son."
At the time, he said that he was in a difficult situation because he received a lot of bad comments saying, "Don't appear on the air." Sayuri said, "The day after I met Yoo Jae-seok, I received a handwritten letter from Lee Ji-hye. In the envelope, there was a check with the message 'My brother always supports me', but I was surprised that it contained so much money."
Then, he said, "His heart was so warmer than money. So, since then, when Yoo Jae-seok appears on TV, I call him God."
Sayuri also expressed her gratitude to Park Myung-soo. Sayuri said, "I once appeared as a guest on the radio run by my brother Park Myung-soo. After the broadcast, he gave me an envelope with 1 million won in it." "he said.
Hearing this, Kim Gu-ra said, "I feel embarrassed that I gave 200,000 won in front of the camera."
Kim Seo-yoon, staff reporter seogugu@tenasia.co.kr